New Hampshire Trump 2020 Campaign Official Rips Into Kamala Harris Over Race
Republican New Hampshire Representative Alfred Baldasaro, who chairs Donald Trump's 2020 campaign in his state, attacked Democratic presidential candidate Senator Kamala Harris after she slammed the president for using the term "lynching" last week.
"Kamala, stop using the race card and dividing our country," Baldasaro, who is considered to be one of the most conservative members of the New Hampshire House of Representatives, wrote in a since-deleted tweet on Saturday. "Horse thieves, bank robbers and murders were lynch many years ago. It was the Democrat KKK, that lynched African Americans. Rumor has it Kamala that you are not African American. Is that True? Stop the Political BS! [sic]"
Harris is the daughter of an Indian-American mother and a Jamaican-American father. While many criminals used to be hung in the U.S., "lynching" is directly associated with the routine racially-motivated murders of black Americans, particularly in the south, following the end of the Civil War and throughout the era of Jim Crowe laws, which codified racial segregation. Hate crimes against black Americans are still often described as lynchings by many activists.
Trump controversial argued on Twitter last week that the Democratic-led impeachment inquiry against him was a "lynching."
"So some day, if a Democrat becomes President and Republicans win the House, even by a tiny margin, they can impeach the president, without due process or fairness or any legal rights," he tweeted. "All Republicans must remember what they are witnessing here — a lynching. But we will WIN!"
Harris responded to Trump's comment on Saturday at the Second Step Presidential Justice Forum at Benedict College, a historically black college, where the president had also spoken the day before.
"What do we have in Donald Trump? Someone who dares — dares — to use the word 'lynching' with the blood that has been poured on the soil of South Carolina and so many place," she said in a speech to students and other attendees. "And dares to talk about his victimization and compare it to those who have suffered in a criminal justice system in America that has too often been informed by racial bias and by injustice. And he dares to compare himself to the people who have been at the wrong end of a system that is in need of reform."
During his Friday remarks, Trump attempted to equate the impeachment investigation into his administration with injustice many minorities across the country have faced at the hands of the criminal justice system.
"We'll never let up on our efforts to ensure that our justice system is fair for every single American," Trump said. "And I have my own experience, you know that. You see what's going on with the witch hunt. It's a terrible thing that's going on in our country."
Harris had previously criticized Trump's use of the word "lynching" on Twitter as well.
"Lynching is a reprehensible stain on this nation's history, as is this President. We'll never erase the pain and trauma of lynching, and to invoke that torture to whitewash your own corruption is disgraceful," she wrote.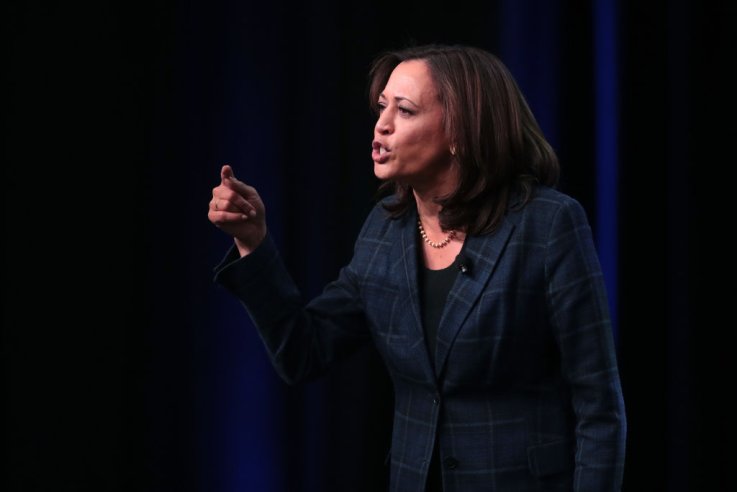 Some people on Twitter criticized Baldasaro's Saturday attack on Harris, arguing that his comment was racist.
"How does @KamalaHarris not just smack these people in the goddam mouth. I mean, really," Democratic strategist Max Burns wrote. "Since the disgusting, racist tweet was deleted, here it is for posterity. No running from your hatred, @Al_Baldasaro," he added in a follow-up tweet, sharing a screenshot of the GOP state representative's deleted post.
"This racist tweet has been deleted, but you don't get to hide from disgracing NH, @Al_Baldasaro," Twitter user Colin Moore wrote, also sharing a screenshot of the representative's post.
Back in 2011, Baldasaro was one of several New Hampshire Republicans who formally petitioned that President Barack Obama not be allowed on the state's ballot. They justified their petition with the debunked "birther" conspiracy, which Trump also promoted, arguing that Obama was not actually born in the U.S. as a citizen.
Baldasaro also said in 2016 that former Demcoratic presidential candidate Hillary Clinton "should be put in the firing line and shot for treason."
New Hampshire Trump 2020 Campaign Official Rips Into Kamala Harris Over Race | U.S.