Majority of New Hampshire Voters Support Trump 2020 GOP Challenger, Poll Finds
Slightly more than 40 percent of registered Republican voters in New Hampshire said they would support a 2020 GOP challenger to President Donald Trump, with a majority of overall voters saying an opponent would be a positive thing.
A new poll conducted by the New Hampshire Journal of 626 registered voters in the Granite State found 47 percent of Republicans see a second GOP option being a "bad thing" 18 months ahead of the state's presidential primary. But about 4-in-10 registered GOP voters said it could be a good thing. New Hampshire hosts the country's first presidential party primary every four years following the Iowa caucuses. With just a handful of notable exceptions, the winner frequently goes on to win their respective party's nomination and the media coverage surrounding the numbers drastically effects front-runner momentum.
New Hampshire's primary is not "closed," which means voting is not solely contained by party lines. Although it is not an "open primary" either, therefore registered Republicans and Democrats cannot vote on the opposite party's candidates. Republican strategists have said the incumbent president, who is undefeated in his last 14 GOP primaries, would not be fazed because "nobody energizes the GOP base more than Donald J. Trump."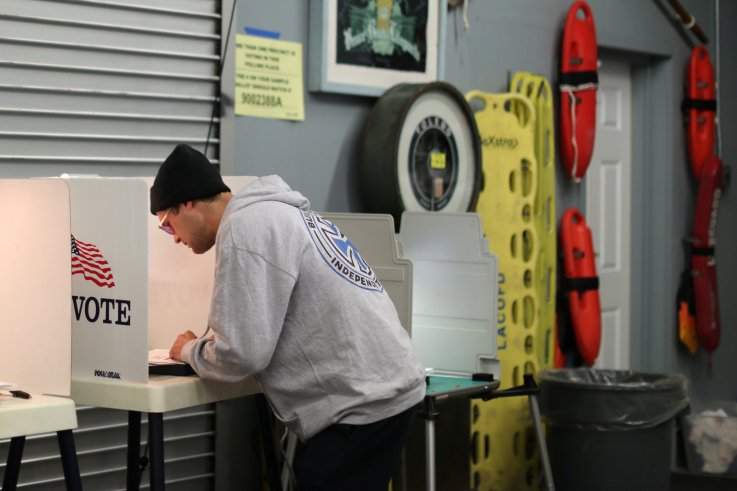 Although 17 percent of online poll respondents said they were "not sure" whether Trump should have a GOP challenger, nearly 56 percent of overall voters said they would support an opponent.
"The fact that 40 percent of Republicans in an early and influential state like New Hampshire think a Trump primary challenge would be 'a good thing' should get the GOP's attention," NHJournal's Politics Editor Michael Graham said in a press release. "The fact that nearly 60 percent of unaffiliated voters—all of whom can also vote in the 2020 primary—agree raises the stakes even higher."
Trump's approval rating among New Hampshire Republicans, 72 percent, stands about 10 points higher than his approval among party members nationwide. Trump's approval rating among overall voters stands at about 41 percent in this most recent poll. In the 2016 presidential election, Democrat Hillary Clinton carried the state with an incredibly slim victory over Trump.
But only 36 percent of overall voters in New Hampshire said they are "very likely" to vote for Trump in the 2020 presidential election process.
Majority of New Hampshire Voters Support Trump 2020 GOP Challenger, Poll Finds | U.S.