All the New 'House of the Dragon' Actors Joining the HBO Show in Season 1
House of the Dragon will soon have a major shake-up of its cast, with new actors taking over the roles of key players in the HBO hit.
While it is not the whole cast, characters like Rhaenyra Targaryen and Alicent Hightower will be portrayed by different actors moving forward in the show.
Here is everything you need to know.
All the New 'House of the Dragon' Actors Joining the HBO Show in Season 1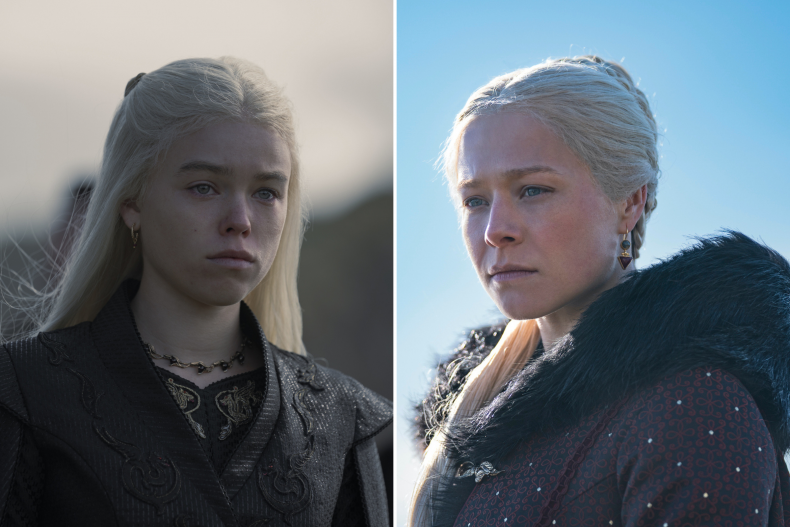 Based on George R. R. Martin's novel Fire and Blood, House of the Dragon is focused on the Targaryen dynasty and the succession of the Iron Throne at the time of King Viserys I's (Paddy Considine) reign.
The ruler chooses his daughter Rhaenyra rather than his brother Daemon (Matt Smith), his closest male next-of kin, to succeed him.
Following his death, though, a bloody battle ensues, a civil war known as the Dance of the Dragons, when Rhaenyra's right to the throne is contested by her father's widow Alicent, who wants their son Aegon to take over instead.
The first half of House of the Dragon focuses on the early years of King Viserys I's reign, and thus follows Rhaenyra and Alicent while they are teens. The pair are portrayed by Milly Alcock and Emily Carey, respectively.
As the story continues there will be a time jump, leading to the introduction of Emma D'Arcy and Olivia Cooke as Rhaenyra and Alicent, respectively.
D'Arcy and Cooke were always intended to take over the roles during their characters' adult years, and the actors have spoken at length about being part of House of the Dragon. So, it should come as no surprise to viewers that they are set to appear in the show's first season.
In an interview with Vogue in August, D'Arcy said of the breakdown of their character's friendship with Alicent: "The foundations for everything that happens are in the wounds and the trauma that are enacted on both of them early on in the story, and those wounds become the mechanism that drives behaviors later.
"When there's been a fundamental hurt that has come to define you, forgiveness is a big ask—even with someone who's been what Alicent is to Rhaenyra."
D'Arcy and Cooke are not the only two actors to join House of the Dragon later on by taking over roles partway through, as this also happens for characters Laenor and Laena Velaryon.
Laenor and Laena are the children of Corlys Velaryon (Steve Toussaint) and Princess Rhaenys Targaryen (Eve Best), and both characters are portrayed by three actors in the show.
Laenor, Corlys and Rhaenys' son, will be portrayed by John Macmillan as an adult when D'Arcy and Cooke take over the roles of Rhaenyra and Alicent. The character is also played by Theo Nate as a teen, and Matthew Carver as a child.
Meanwhile, Laena, Corlys and Rhaenys' daughter, is set to be portrayed by Nanna Blondell as an adult. Savannah Steyn plays the character as a teen, and Nova Foueillis-Mosé as a child.
Later, the show will also see Alicent's children by King Viserys, Aegon, Aemond, and Helaena, grow up, and they will be played by new cast members.
Tom Glynn-Carney is to portray Aegon, Ewan Mitchell is to take on the role of Aemond, and Phia Saban is to play Helaena Targaryen in their adult years. Leo Ashton and Evie Allen portray Aemond and Helaena Targaryen in their younger years.
Other notable additions to the cast include Harry Collett as Jacaerys, Rhaenyra's eldest son, played by Leo Hart in his younger years, Elliot Grihault as her son Lucerys (played by Harvey Sadler as a child), and Ryan Corr as Ser Harwin "Breakbones" Strong.
House of the Dragon airs Sundays on HBO and HBO Max.