New Incase A.R.C. Travel Bags Can Go Anywhere and Do It in Style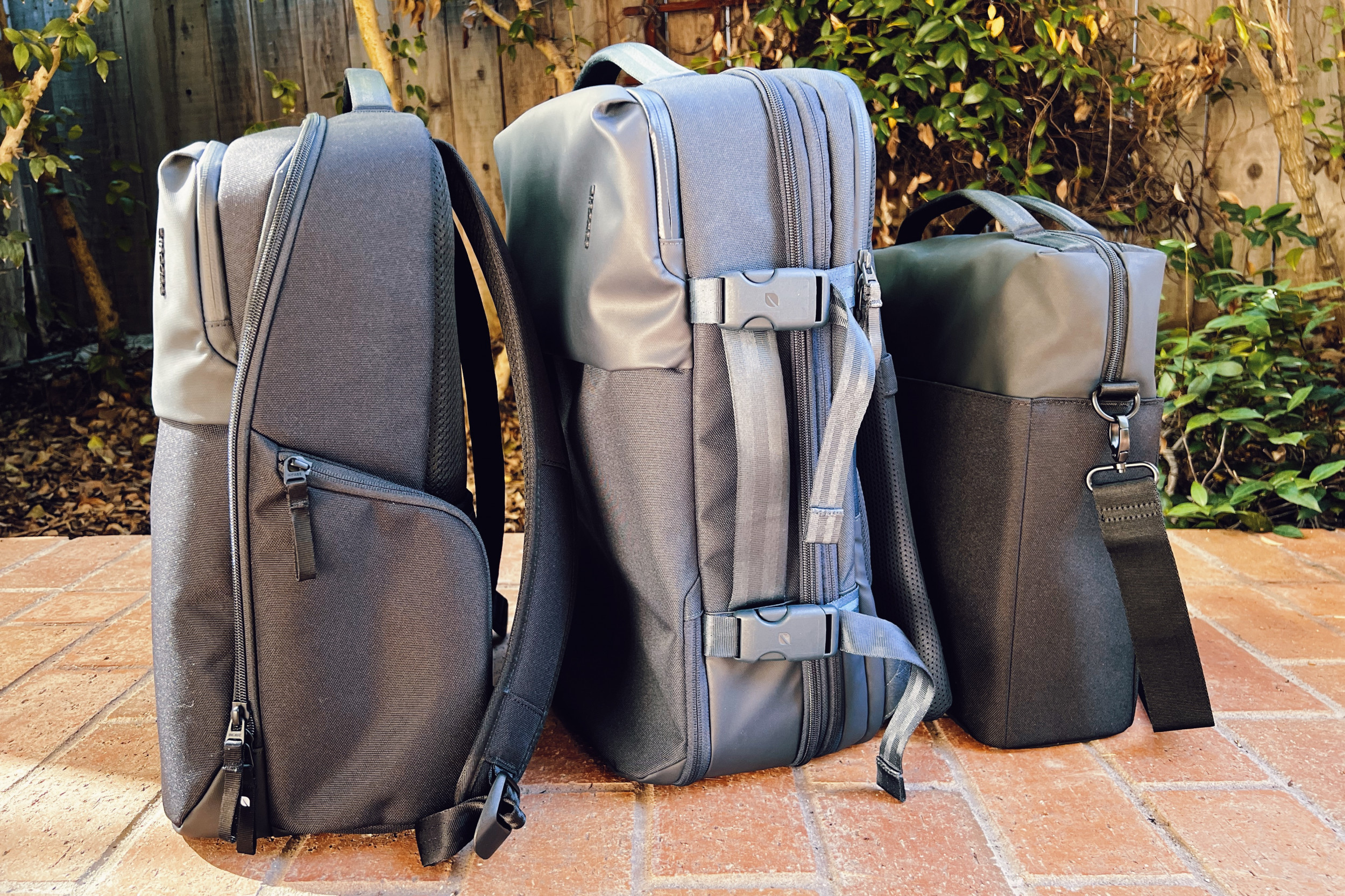 An ultimate travel bag is one that can be a lot of things to a lot of people but does so in a stylish and practical way. In the midst of longer than normal weekends, a good travel bag will be able to expand and accommodate a few extra items. During a single night away, it can shrink to be compact. The new Incase A.R.C. Travel Pack is exactly this kind of bag.
At first glance, the travel pack is a slightly large backpack, but its inside tells a different story. There are separate hidden pockets for a water bottle and shoes. There is a slot for up to a 16-inch laptop and another one for a tablet. An exterior zipper can also be unzipped to expand the main compartment to provide enough space for several days' worth of clothes. It could be a road warrior's dream bag thanks to its versatility.
Beyond the A.R.C. Travel Pack, the A.R.C. collection includes other bags for more specific tasks. There's a small tote, a daily use backpack and a commuter pack. And for those curious, A.R.C. stands for "a responsible carry." The collection uses sustainable materials and has enhanced protection and thoughtful organization.
TL;DR
Pros:
Expandable size
Dedicated pockets for shoes and a water bottle
Comfortable shoulder straps
Cons:
Compression straps and zippers can get in the way
Buy the Incase A.R.C. Travel Pack.
Travel Pack Materials and Organization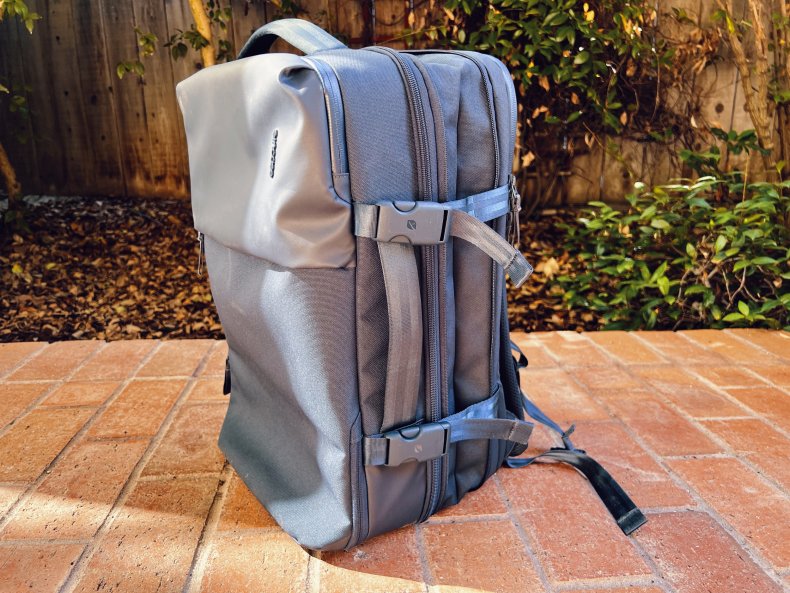 Built into this collection of bags, and into its name, is a focus on sustainable materials. All A.R.C. bags use a mixture of 900- by 1200-denier recycled polyester. There's also a focus on durability and practicality. The main fabric has an exterior water-repellent coating to help keep it dry, in addition to its avoiding stains. There's also a radio-frequency identification (RFID) blocking compartment to guard against digital information theft. OrthoLite Impressions foam is included in the shoulder straps and back panel for comfort.
Even though this collection of bags has an air of sophistication in appearance, it seems quite durable from my initial testing. I took the Travel Pack camping, and it didn't have any trouble keeping up. I used it like I would any utilitarian duffel bag.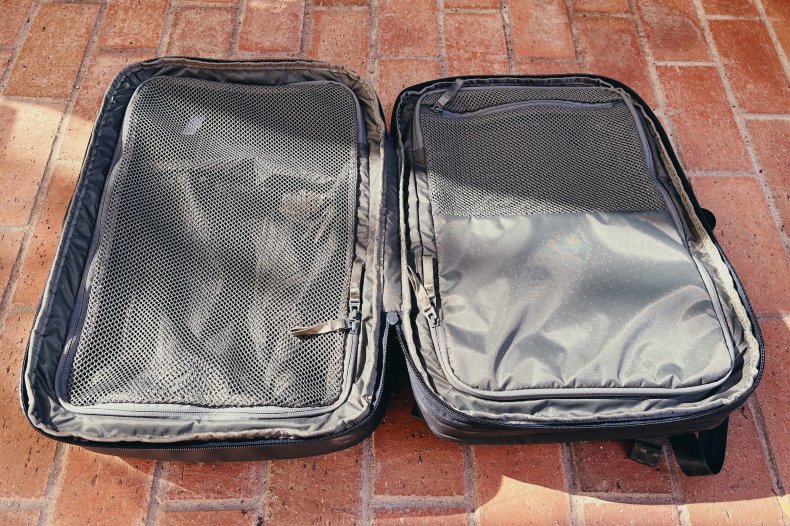 The luggage-like design provided plenty of storage for a weekend. I packed extra running shoes into the dedicated zippered slot, and that kept the dirt contained and away from my other clothes.
With the Travel Pack fully loaded with clothes, the laptop and tablet compartment can be tight. The soft, fuzzy interior helps a laptop slide in, regardless, but I recommend packing the electric devices first and then the clothes.
I really like the hidden water bottle compartment. Instead of being an afterthought attached to the side of the bag, an exterior zippered slot integrates a spot for a bottle inside the bag. This will cut into internal storage, but it also means that a water bottle won't fall out while hurrying through an airport or taking the bag in and out of a cab.
A.R.C. Tech Tote and Daypack Bags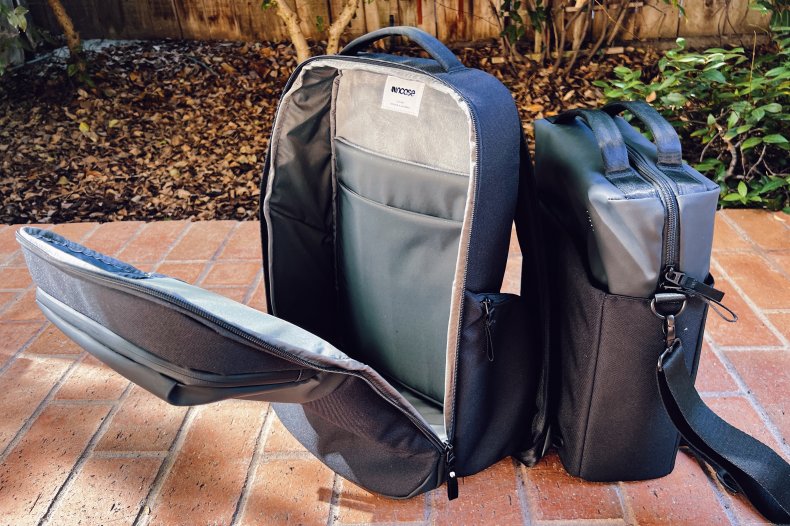 In addition to the Travel Pack, I was able to try the Tech Tote and Daypack. Each of these bags looks similar in color and materials, but each is formed to fit a specific use. I was skeptical of the Tech Tote at first until I slipped in my laptop and grabbed the handles on the top. It's a bag that's made to be moved around quickly.
For casual, daily use, I like the $79.95 Tech Tote to transport a few essential items. For example, I carried a laptop, an iPad mini and a pouch of cables, and the bag was perfect for that use. Sure, it's a little boxy, and the top zippered opening can be a little limiting to get into, but overall it's great for short, quick trips to coffee shops and the like.
The Daypack, on the other hand, is more for being out and about all day. It has room for a jacket and bulky headphones, in addition to a laptop, tablet and cables. I like its side pockets, which can be used for fast access to smaller items or a water bottle. If the pocket is used for a water bottle, it can be loose (on 20-ounce bottles for example), and I wish it was more formfitting to be secure. That's a minor gripe overall for a backpack that retails for $129.95.
Should You Buy the A.R.C. Travel Pack?
The line of A.R.C. bags from Incase are impressive. I like how the four bags will cover nearly all casual, short-term travel scenarios. The sustainable material is nice, but in the end, I really care about making sure the bags are durable and can survive the road. I wasn't able to fly with any of the bags, but they do seem up to the task.
As someone who appreciates a bag that can do it all, I do think the A.R.C Travel Pack is a winner. If need be, it could be used daily in a compressed manner. But, more so, it's great for a one-, two- or three-night getaways. As a backpack or easily carried piece of luggage, it's great.
Buy at Incase for $229.95.
Newsweek may earn a commission from links on this page, but we only recommend products we back. We participate in various affiliate marketing programs, which means we may get paid commissions on editorially chosen products purchased through our links to retailer sites.