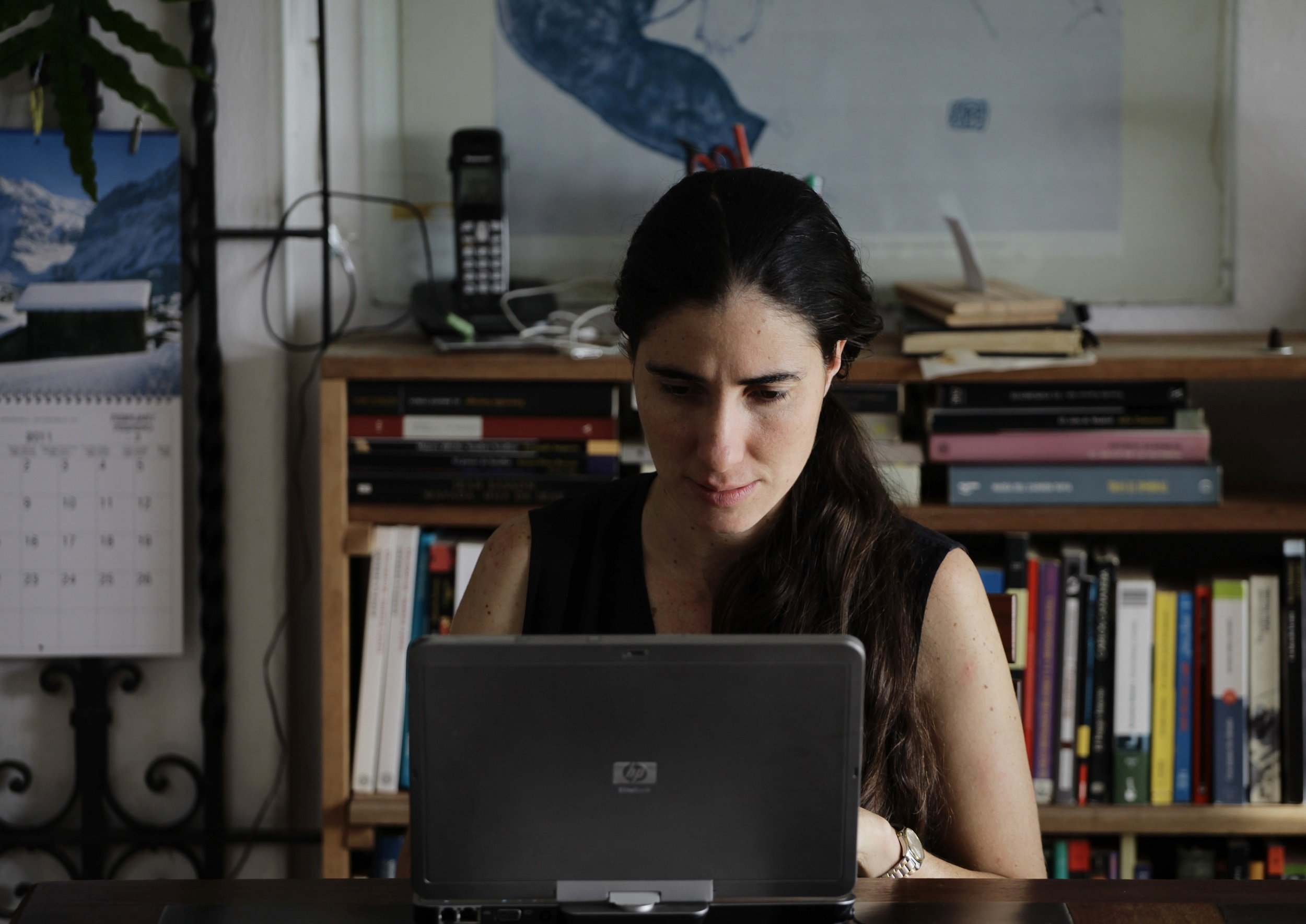 After years of blogging and tweeting about the hardships of daily life in Cuba to a rapidly expanding international audience, writer Yoani Sanchez launched a digital newspaper Wednesday, testing the limits of freedom of speech on the Communist-run island.
It didn't take long for the website, called 14ymedio, to run into trouble.
Underscoring the challenges that lay ahead for an independent newspaper in Cuba, 14ymedio was hacked shortly after going live, according to Sanchez. "Bad strategy by the Cuban government to redirect our web 14ymedio.com from #Cuba nothing more attractive than what is forbidden," she wrote on Twitter. (@yoanisanchez)
"This censorship shows that the Cuban government continues to think that freedom of expression is a concession that is granted by the authorities, not a human right," wrote Claudio Paolillo, chairman of the Inter American Press Association's Committee on Freedom of the Press and Information.
Asked whether the government interfered with 14ymedio, Isis Perez, director of institutional communications at Cuba's Ministry of Communications, said she had no knowledge of the situation.
Freedom of expression advocates lauded the project as exciting but warned that Sanchez will face legal and technical obstacles. "This is a breath of fresh air for freedom of expression in Cuba. It's something really unusual," said Carlos Lauria, Americas senior program coordinator at the New York-based Committee to Protect Journalists.
Even more challenging than government tampering may be the issue of distribution. How do you get an online journal into the hands of people for whom Internet access is prohibitively expensive, maddeningly slow and largely unavailable? According to data from the Cuban Ministry of Communications, for every 1,000 inhabitants in 2011, 70 had computers and 232 had access to the Internet.
One solution for Sanchez and her contributors was to make the first edition of 14ymedio, which takes its name for the year of its launch and the Spanish word for media, available in PDF format, which can easily be distributed on memory sticks.
Sanchez has become both the international face of dissent on the Caribbean island and a beacon of hope. For the past seven years, she has written a scathing blog called Generacion Y, which President Barack Obama praised for providing the world with a window on the realities of life in Cuba in 2009.
"Little by little, information paves its way…the wall of official censorship increasingly showing cracks," tweeted Sanchez earlier this month as she geared for the launch of 14ymedio.
Sanchez's international star has risen even as she has faced growing opposition in Cuba, including beatings and arrests. In 2008, she received the Ortega y Gasset Prize, one of Spain's highest awards for journalism. In 2010, she was named a World Press Freedom Hero by the International Press Institute. Last year, she received the Maria Moors Cabot Prize, the oldest international prize in journalism.
Well-known film directors from Mexico and Spain, renowned Latin American writers (including Mario Vargas Llosa) and former Polish president Lech Walesa have signed a statement of support on the website. "We are sure that this initiative will contribute to the peaceful transition toward democracy and the construction of a new country," they wrote.
For the newspaper's first feature story, reporter Victor Ariel Gonzalez spent a night at one of Havana's hospitals. He writes about victims of gang wars, sickly old women and the prominent presence of policemen.
Gonzalez's chronicle is peppered with digs at the country's shortages, well-documented abroad ("People stand by the infirmary doors watching, as privacy is a nonexistent luxury like many others, including good manners"), and largely ignored social issues ("A government that declared racism banished has been unable to change the fact that the most marginalized population, and least likely to overcome overwhelming misery, is fundamentally black. The emergency room is a reflection of this social injustice.").
There is an interview with Angel Santiesteban, a Cuban writer and reporter who has been incarcerated for 15 months. His was a "judicial process which his lawyers deem to be Kafkaesque," writes Lilianne Ruiz, who gained access to the dissident.
The website also lists the prices of certain products, such as pork, zucchini and tomatoes, in different parts of the country. It has a culture section that lists concerts, movie times and art exhibits. There is a section for online debates, which largely takes place in a comment section but also includes several polls. A tip sheet—this week's topic is how to maintain healthy hair—adds some levity.
In the opinion section, Miriam Celaya gives an analysis of recent reforms. In recent years, Cuba has been inching its way toward capitalism. In 2011, the government passed a law allowing residents to buy and sell real estate. In December, the government announced that citizens would be allowed to purchase modern cars without requiring permits (though with the average monthly salary at less than $20, the $30,000 price tag ensures that they will remain little more than a dream). And in March, Cuba approved a foreign investment law that slashed taxes on profits from 30 percent to 15 percent for foreign and mixed-ownership companies.
That Sanchez was allowed to travel to Mexico, Europe and the United States, where she met with Vice President Joseph Biden, also signals a major shift.
But, Celaya writes, "certain foreign media magnify the process, multiplying the fable of the effects of these government measures as though there was an effective socioeconomic change. Unfortunately for Cubans, such changes are more nominal than they are real."
While there are changing forces slowly propelling Cuba forward, connectivity remains a problem. Experts say authorities both at home and abroad have held back progress.
"Our commercial embargo really limits the ability for Cubans to communicate among themselves," said Marc Hanson, a senior associate for Cuba at the Washington Office on Latin America. In 2009, the Obama administration began allowing U.S. telecommunication firms to enter into roaming service agreements with Cuban providers. It is Venezuela, however, that has made the biggest strides, installing a high-speed fiber-optic cable on the island. Still, Internet connection prices remain sky-high: An hour at a government-owned Internet-access center costs $4.50, the one-time home installation fee is $20.
If, as is expected, only a small sector of Cubans are able to access 14ymedio, the real impact of the online journal will be felt most among large communities of expatriates in the United States, with what may be counterintuitive results.
"It would force some Cuban-Americans in Miami and New Jersey to confront a reality that the government in Cuba is not as brutal on free speech if she is permitted to do this without too much antagonism," said Hanson.