New ISIS Video Shows British Captive Cantlie 'in Kobane'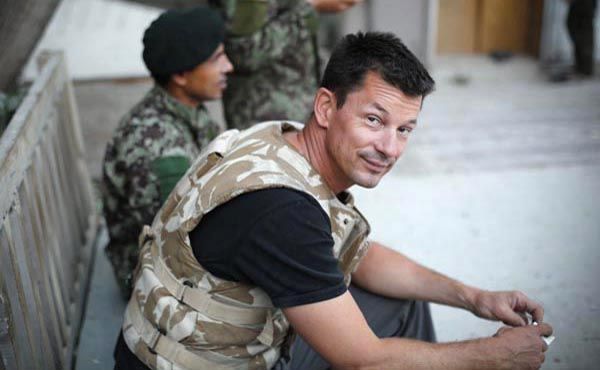 A propaganda video purporting to show British ISIS captive John Cantlie warning that "the battle for Kobane is coming to an end" began circulating on ISIS's social media channels on Monday evening.
The video features an aerial view of an empty devastated city which the recording claims to be the Syrian border town of Kobane, taken from an ISIS drone.
The camera then zooms in on Cantlie supposedly reporting from Kobane that the PKK "safe zone" is "now controlled entirely by the Islamic State", although the background looks suspiciously like a green screen.
"The mujihadeen are just mopping up now street to street, and building to building," Cantlie says, walking towards the camera.
"It is not an all-out battle now, it is nearly over," he says, with faint gunfire audible in the background.
In the video Cantlie dismisses reports by "western media" which have claimed ISIS are now retreating from Kobane and rubbishes claims allied air strikes have succeeded in pushing ISIS militants back.
"For a month now the soldiers of the Islamic State have been besieging this key Kurdish city and despite american air strikes which have cost over a billion dollars in total, the mujihadeen have pushed deep into the city," Cantlie says.
"They now control the eastern and southern sectors."
"The mujihadeen are being resupplied by the hopeless United States air force who parachuted two crates of weapons and ammunition into the outstretched arms of the mijihadeen," Cantlie adds.
"All I've see here inside the city of Kobane is mujihadeen. There are no YPG, PKK or Peshmerga in sight. Just a large number of Islamic State mujihadeen and they are definitely not on the run."
Cantlie then tells US efforts are "not enough" to keep Kobane from falling under ISIS control before branding Turkish President Erdogan "Kurdish-hating", in reference to Turkey's reluctance to participate in repelling ISIS from Kobane.
مؤسسة الاعتصام تقدم من داخل عين العرب عين الإسلام كوباني from ebnal7jaz2012 on Vimeo.
In previous videos, Cantlie has said that he is speaking under duress, but will be making a series of programmes revealing "the truth" about Islamic State.
John Cantlie's father, Paul, who passed away last week after suffering pneumonia-related complications, recorded an impassioned plea for his son's release from his hospital bed.
The Kurdish Syrian city of Kobane has been under siege by ISIS troops for nearly a month. Last week, Turkey announced that it would allow Kurdish troops from northern Iraq to assist anti-ISIS resistance in Kobane.
The UN Secretary General's Syrian envoy warned earlier this month that it would be a "humanitarian catastrophe" if Kobane were to fall into ISIS hands resulting in the "massacre" of more than 12,000 Kurds.