New 'Jeopardy!' Promo Airs Without Host As Champ Matt Amodio Is Made Star of the Show
A new promotional clip for Season 38 of Jeopardy! has been unveiled—and it doesn't feature a host, as the search continues for a permanent presenter.
Current reigning champ Matt Amodio was instead made the star of the show in the seconds-long trailer, which was posted on the Facebook account of Fox-affiliated station WYST in Syracuse, New York, over the Labor Day weekend.
Announcing that the popular syndicated quiz show would be making its way back to screens on September 13, a voiceover announced Amodio as the returning "18-game Jeopardy! champion" as the camera panned to him and other contestants.
A wide shot of the studio showed that the lectern—at which an array of celebrity guest hosts have stood since the start of the year—was empty.
As has been well documented in recent weeks, Jeopardy! executive producer Mike Richards was announced as the replacement for late host Alex Trebek, following a high-profile search that saw several stars try out for the coveted role.
In an August 11 announcement, it was revealed by Sony Pictures Television that Richards would host the syndicated nightly show, while Mayim Bialik would helm Jeopardy! primetime specials and tournaments.
However, Richards' past came under scrutiny in the days surrounding the news, beginning with reports that he was accused by multiple models of discriminating against them when he was the producer on The Price Is Right.
Following this, The Ringer published an article that detailed a series of offensive comments he had made on a podcast he hosted in 2013 and 2014 called The Randumb Show. The report led to heightened backlash.
It was subsequently announced on August 20 that Richards was stepping down from his role as presenter. It was subsequently revealed that he was also out of his position as executive producer of the show.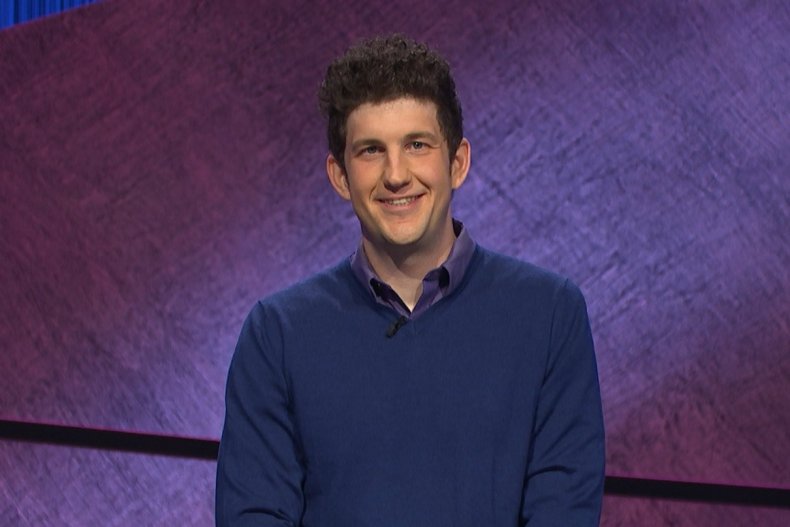 In the interim, The Big Bang Theory star Bialik will initially present Jeopardy! before another round of guest hosts are rotated in.
Away from the ongoing host search, Amodio has become a fan favorite, thanks to his phenomenal 18-day win streak that has earned him a total of $574,801—making him the third-highest earner in regular season play in Jeopardy! history.
The computer science Ph.D. Yale student's impressive run on the show led to him having his Twitter account officially verified late in August.
As well as winning an army fans through his victorious streak, Amodio has also garnered attention for his unusual way of answering clues on the show.
With the Jeopardy! rules requiring that contestants answer clues in question form, Amodio caused a stir throughout his run for starting each of his answers with "what is"—even when answers pertained to people.
In an interview with the Yale School of Engineering and Applied Science this summer, Amodio revealed that he kept his answers consistent so that he could focus on the meat of the clue.
"I have a strategy where I form all of my questions with a 'what's' at the beginning, then I can focus on the rest of the clue," he said. "Other people have been very upset about me being robotic instead of forming a question differently each time.
"I was glad that Jeopardy! said this was perfectly within the rules. I've watched Jeopardy! every day of my life, so I knew it was OK."