New Jersey AG Spent $270,000 to Investigate Media Reports on Top State Cop
The New Jersey Attorney General's Office spent nearly $270,000 to investigate coverage from Newsweek and other outlets regarding the acting head of the New Jersey State Police's handling of a corruption case.
News of the probe and its price tag come amid calls for police reform and transparency nationwide, including in New Jersey, where Acting State Police Superintendent Patrick J. Callahan has not received a confirmation hearing in three and a half years.
Newsweek first reported on June 16 of last year that Callahan, then deputy superintendent of operations, held an informal sitdown in March 2017 with Sussex County Prosecutor Francis A. Koch and two other officials at a Bound Brook diner, where Callahan revealed that one of his troopers had filed corruption charges against the prosecutor's office. The charges surrounded the handling of a quashed sexual assault case involving a New Jersey woman and the son of a former Morris County official but would never see the light of day.
Six days after Newsweek's article was published and just one day after The Star-Ledger also covered the incident, documents obtained by Newsweek show that the Attorney General's Office retained the services of Chiesa Shahinian & Giantomasi law firm on June 22, 2020.
The services, which ran a total bill of $268,828.02, were "performed in investigating & preparing the report 'Investigative Report Regarding a 2017 Sexual Assault Allegation & its Handling By the Sussex County Prosecutor's Office and the New Jersey State Police.'"
This report, authored by lawyer Matthew Beck, was published on February 8 and featured interviews with Callahan, Koch and other individuals involved in the series of events that played out four years ago but still haunt state officials. It "concluded that there is no evidence of any improper or corrupt influence that impacted the decisions made by either the SCPO or senior NJSP officials."
Neither the New Jersey Attorney General's Office nor the law firm it retained responded to Newsweek's request for comment.
But experts and officials recently interviewed by Newsweek had lingering questions regarding Callahan's behavior. In light of new details regarding the New Jersey Attorney General Office's efforts to investigate the claims, others too have raised the alarm as to what's going on in the Garden State.
"Unfortunately, NJ Politics is well known for its cronyism," Lauren D. Fraser, a partner at the New Jersey-based Javerbaum Wurgaft Hicks Kahn Wikstrom & Sinins law firm, told Newsweek.
"While we all wish that the notion of the 'good 'ole boy network' was a thing of the past, it just doesn't seem that way when the taxpayers are shouldering a $270K bill to clear top officials in the administration of wrongdoing in this matter," she added. "When the administration appoints its buddies into positions of high authority and then has to work this hard to justify keeping them in those positions, the entire situation sounds like classic cronyism."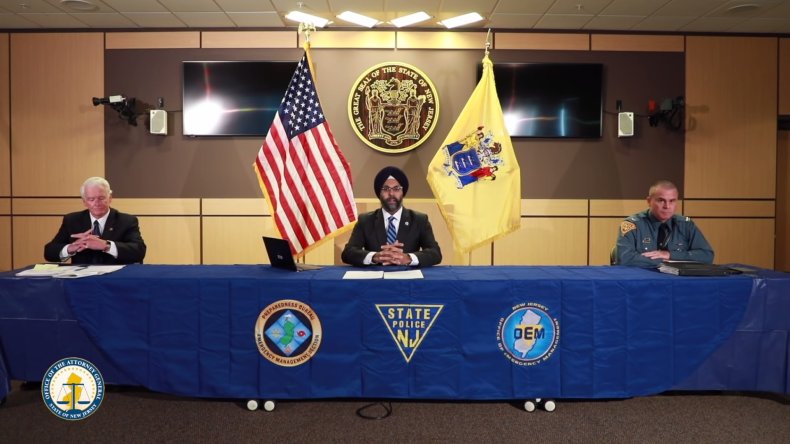 Since the initial affair played out in 2017, most of the troopers involved accused of subverting New Jersey State Police command by pursuing the sexual assault case despite Callahan's ruling were cleared in a grievance hearing. Charges against two remain pending.
Callahan, for his part, was promoted to colonel and acting superintendent in October 2017. Going on four years now, however, he appears nowhere closer to being sworn in.
New Jersey Senate Majority Leader New Jersey Senate Loretta Weinberg said she did not think this was "normal."
"In fact, it's the state police who do the background checks on every other nominee," Weinberg told Newsweek.
When it comes to whether or not a candidate is approved by votes, she argued this is "an important distinction, which is why you have the word 'acting,' because they can be removed in a moment."
"They've never been subject to public questioning by the legislative body, the Senate, that is charged to do that, and they've never been subject to a vote of the Senate," she added. "So if I were a governor, I wouldn't want a whole cabinet of or even one or two members who still have the acting titles next to their names."
With no hearing announced by April 2021, nor any indication that one was being organized, Weinberg said that "there are reasons for delay."
"I do think that it is not very appropriate to have 'acting' with the superintendent of police," she said. "I keep coming back to the fact that this is law enforcement, these are the people who carry guns and judge everybody else's behavior."
And while the exact reasons for the wait remain unclear, the optics are beginning to have an effect on the public perception of New Jersey's leadership, including Governor Philip Murphy, who inherited Callahan after he was promoted by former Governor Chris Christie.
The impact is amplified by broad calls for changes in police conduct and structure stemming from an ongoing series of high-profile incidents involving Black people who have been killed and maimed by white police officers. One such incident occurred just last May in New Jersey when a trooper shot dead Maurice Gordon Jr., whose family is now suing the state in a case alleging race played a factor in his death.
The killing occurred just two days before the death of George Floyd in Minneapolis, an event that sparked nationwide protests and resulted in the firing and conviction of former police officer Derek Chauvin.
Both Murphy and New Jersey Attorney General Gurbir Grewal have since pushed forward a number of police reforms over the past year including the expansion of body-cam usage, access to violent incident data and protocols limiting the use of force. But some see an oversight in the unwillingness to address the status of the state police's owning unconfirmed leadership.
News commentator and radio host Roland Martin said, if left unaddressed, the hesitance to bring Callahan's nomination to a vote could alienate disaffected voters as Murphy faces reelection later this year. He said every New Jersey voter should ask the governor: "Why are you unwilling to put a new leader in charge of the State Police?"
"Governor Phil Murphy enjoyed significant African American support when he ran for office last time," Martin told Newsweek, "he is going to have to explain to African Americans why he has not replaced the interim superintendent with one who can be confirmed, and with a stellar record that can actually lead them in New Jersey into a new phase of police accountability."
What this new phase looks like is subject to intense public debate in every state of the union, and there has been resistance, especially in conservative circles toward measures that would be seen as too restrictive of police abilities to do their jobs. When it comes to the job of the New Jersey State Police's top cop, however, elected officials have yet to weigh in.
In the meantime, Martin called on public institutions in New Jersey and elsewhere to step up efforts to ensure public officials were held accountable for their actions.
"First and foremost, thank God for the media, serving as the proper watchdog of public officials," he said. "But you should have checks and balances in the system, to where it doesn't require a story or a series of stories to be done to expose wrongdoing."
And the wrongs he believes the systems need to right are bipartisan.
"What we have is too much of an incestuous relationship, whether people are Democrats or Republicans, what they are comfortable with power, and that is a problem," Martin argued. "This comes down to public trust of our institutions. If we cannot trust the leaders of those institutions, then how can we trust the institution itself?"