New Jersey's governor said Monday that the state has begun flattening the coronavirus curve as its rate of new cases go down, but he encouraged residents to continue practicing strict social distancing.
Governor Phil Murphy said there were 3,663 new cases and 86 deaths, bringing New Jersey's case total to 41,090 and its death toll to 1,003. But he said the country's second-hardest-hit state is beginning to move closer to best-case scenarios mapped out by Institute for Health Metrics and Evaluation (IHME) models. By comparison, just last week New Jersey was seeing a 24 percent daily increase in positive cases, which was the figure on March 30. That number, as of Monday, has been cut in half to 12 percent.
Murphy, echoing information from the IHME models showing best- and worst-case scenarios, tweeted Monday that strict adherence to social distancing practices over the next week will determine which outcome is more likely.
"If we keep up with our current practices, we can get through the peak with the hospital beds that we're preparing. If we relax our social distancing, we will overwhelm the system to the point that ALL of our contingency plans, and then some, will need to go into effect," Murphy wrote Monday, displaying a graph labeling social distancing a "life and death decision."
"What we have seen in the past week is a decline in the growth rate of new cases. The overall curve that we fit into the data is beginning to flatten," the governor added.
The worst-case scenario for New Jersey shows the state peaking at 36,000 hospitalizations on April 28, while best-case scenario would cap hospitalizations at 9,000 on April 10.
The governor and state officials took several actions over the weekend to help slow the virus' spread, including giving local and county governments the power to restrict short-term rentals, effective Sunday night. Murphy explained that South Jersey shore communities had reported that residents were temporarily relocating there, placing a dangerous stress on towns that lack the health care infrastructure to deal with surges in patients.
Murphy also signed an executive order allowing retired public employees to return to work in order to assist health care facilities in any way.
In neighboring New York, Governor Andrew Cuomo said Monday that the country's hardest-hit state has shown signs its own curve is flattening, but he joined Murphy in urging residents not to let up on the social distancing habits that got them there. "It would suggest an overall flattening of the curve," Cuomo announced, pointing to a slowing rate of daily case increases and a brief decline in daily deaths over the weekend.
The IHME data indicate that New York may have already hit its apex of cases, while New Jersey is about one week behind and will peak in the middle of the month.
"The curve is flattening. But this is no time to spike any footballs or to take our foot off the gas. We still have a week and a half to go, at least, until we hit the peak. This isn't over – not by a long shot," Murphy tweeted Monday afternoon.
The federal government shipped an additional 500 ventilators to New Jersey over the weekend to assist the state's critically ill patients. Additionally, Murphy said, President Donald Trump granted his request to secure beds for New Jersey residents aboard the USNS Comfort hospital ship, which is docked in New York Harbor.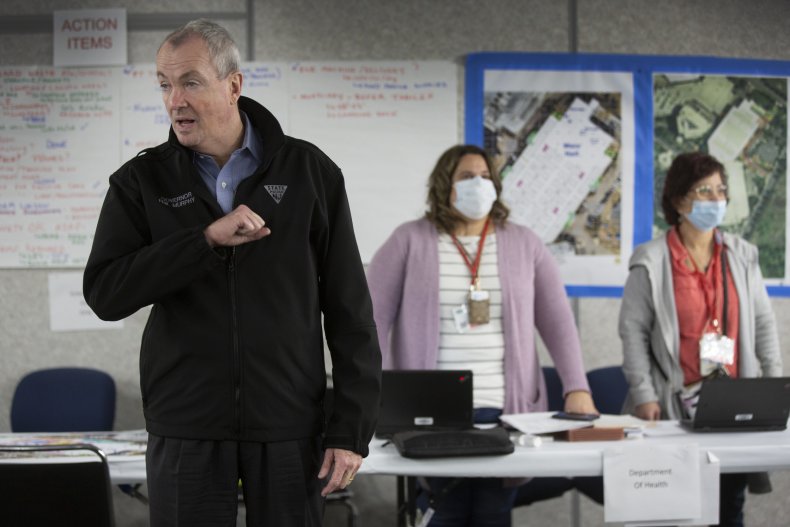 About the writer
Benjamin Fearnow is a reporter based out of Newsweek's New York City offices. He was previously at CBS and Mediaite after working as a news curator at Facebook. Fearnow has pieces published in The Atlantic as well as stories published about him in Wired and The New York Times. He attended the Columbia University School of Journalism after graduating from Indiana University-Bloomington. Email: b.fearnow @ newsweek [dot] com.