New Jersey Cardinal Says Catholics Can 'in Good Conscience' Vote for Biden if They Choose
New Jersey's highest-ranking Catholic leader said that Catholics can "in good conscience" vote for Democratic presidential nominee Joe Biden in November's election, following comments by several clergy members that doing so would be considered a sin.
"I think that a person in good conscience could vote for Mr. Biden," said Cardinal Joseph Tobin, Archbishop of Newark. "I, frankly, in my own way of thinking have a more difficult time with the other option."
Tobin made the comment during a panel discussion Tuesday co-sponsored by several colleges, titled, "The Church and Catholic Voters in the 2020 Election." The discussion was held partly in response to recent statements made by other Catholic leaders about the November election.
Father James Altman, a Catholic priest in Wisconsin, released a nine-minute video August 30 in which he attacked the Democratic Party.
"Here's a memo to clueless baptized Catholics out there. You cannot be Catholic and be a Democrat. Period," Altman said. "Their party platform absolutely is against everything the Catholic Church teaches."
Altman called out the "many Godless politicians out there" as images of House Speaker Nancy Pelosi and Biden flashed across the screen. Both Democrats have publicly said they are Catholic.
The priest encouraged viewers to "repent of your support of [the Democratic] Party and its platform, or face the fires of Hell." He went on to falsely label the Deferred Action for Childhood Arrivals, an Obama-era immigration policy, as meaning "criminal illegal aliens." Altman also called climate change a "hoax," and abortion a "diabolical agenda."
Catholic Bishop Joseph Strickland in Texas retweeted Altman's video earlier this month, which has been viewed on YouTube more than 760,000 times, and encouraged his followers to "heed this message."
Catholic leaders in Rhode Island and Tennessee have questioned both Biden and Pelosi's status as practicing Catholics.
Bishop Thomas Tobin of Providence, Rhode Island, tweeted: "Biden-Harris. First time in awhile that the Democratic ticket hasn't had a Catholic on it. Sad."
Bishop Richard Stika of Knoxville, Tennessee, wrote: "It really confuses me that both Joe Biden and Nancy Pelosi time and time again state that they are faithful Catholics and yet promote unlimited abortion as well as deny so many of the teachings of our faith."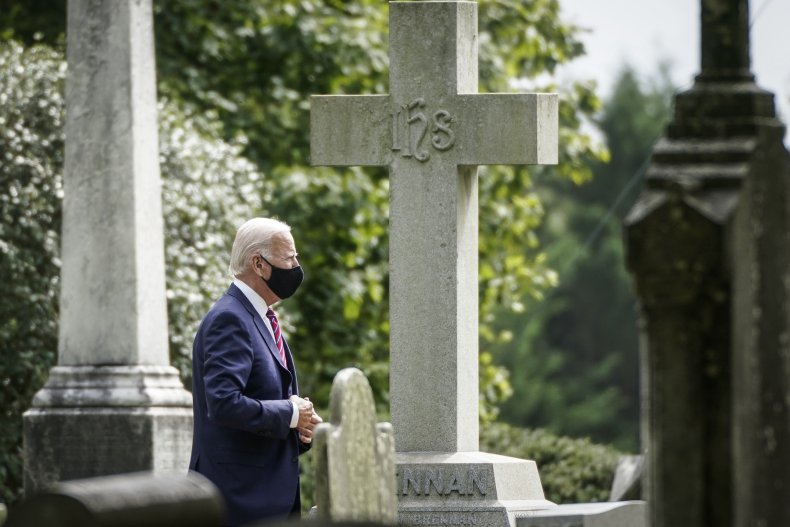 Other Catholic leaders, like Cardinal Tobin, have moved to defend Biden. Father James Martin, whom Altman attacked multiple times in his video as a "hyper, confusing spreading heretic," urged fellow Catholics and clergy against claiming that voting for Biden would be a "mortal sin."
Martin, a Jesuit priest and Vatican consultant, made the comments on September 3, days after Altman released his video. Martin was invited to speak at this year's Democratic National Convention, where he led the Benediction during the event's final night.
Martin told Newsweek earlier this month that he and fellow Catholics feel compelled to help on "any issues where life is endangered," which he said should include caring for the poor, the homeless and LGBTQ community—not just abortion.
Cardinal Tobin also touched on this sense of moral duty during Tuesday's panel discussion, where he acknowledged that "no political party represents fully the Catholic tradition."
He referenced one party's aim to "remove the unborn child from the moral equation," and the other party's failure to treat migrants with dignity by taking "away their faces, their significance," according to the National Catholic Reporter.
But Cardinal Tobin called voting a "sacred act" and maintained that Catholics should not be casting their vote based on a candidate's position on a single issue. "I don't think that we can reduce [it], at least in the current panorama of issues, to how a candidate stands on a single issue," he said.
The Archdiocese of Newark released a statement the following day addressing Tobin's comments during the panel discussion, emphasizing that the church leader was just trying to remind Catholics of their responsibility to vote.
"Cardinal Tobin has neither endorsed nor opposed any candidate running for public office. He has simply reminded Catholics of our responsibility to take part in the elective process," the statement said.
Newsweek contacted the Biden campaign for comment, but did not hear back in time for publication. John McCarthy, the campaign's deputy political director, previously spoke to Biden and Senator Kamala Harris' "vision for America," which "aligns with the values" of the Catholic faith, he said.
"That vision is rooted in the ideals of loving our neighbor as ourselves, being our brother's and sister's keeper, caring for the poor and vulnerable, repairing the world around us, sweeping down walls of oppression and injustice, and ensuring everyone has the chance to reach their God-given potential," McCarthy said in a statement Tuesday.