Couple Claims Cruise Ship Left Them in Mexico After Wife Fell Ill, Cruise Says She Refused Local Treatment
A couple from New Jersey claim they were kicked off a cruise ship in Mexico while one of them was having a medical emergency.
Carol Palk and her husband, Bertram, from Whippany, New Jersey, set sail from Miami on January 6 aboard Royal Caribbean's Allure of the Seas seven-day cruise headed for the Bahamas, Mexico and Honduras, according to New Jersey's The Record, but when Palk appeared at risk of needing a blood transfusion days later, the cruise allegedly kicked the couple off the ship.
The 79-year-old reportedly noticed blood in her stool, a possible sign of internal bleeding, on January 9, three days after the ship's departure.
"I knew the signs, and I suspected it was a bleeding ulcer," Palk told Yahoo Lifestyle.
Palk visited the ship's infirmary, and the doctor began monitoring her red blood cell count, according to The Record. She said the doctor told her that if it dropped to a certain level, she would have to be removed from the ship, because it was not equipped to handle her medical needs if she should need a transfusion.
"They weren't equipped if I had needed a blood transfusion, so they wanted me off the ship," Palk told Yahoo Lifestyle. "The doctor said he would 'kick me off.'"
In a statement to Newsweek, a spokesman from the cruise line said the doctor determined a hospital in the area would be better suited to treat Palk, but she had allegedly declined immediate treatment.
"Our onboard medical team initially treated the guest in our medical facility, then determined that, for the guest's health and safety, additional medical attention was needed that could best be provided by a hospital in the area," the statement read. "The guest declined our professional medical recommendation to seek immediate local care and decided instead to return home."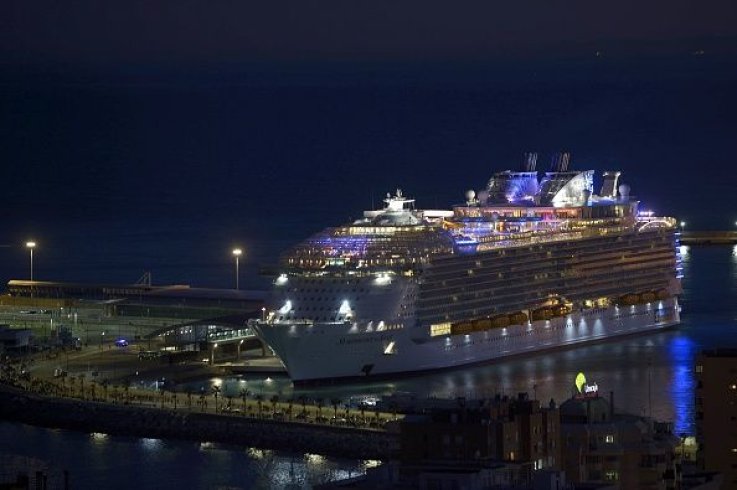 The couple was removed from the ship on January 11 in Puerto Costa Maya, Mexico, The Record reported. The ship was two days away from arriving back in Miami.
A police officer reportedly charged the couple $75 once they got off the ship to enter Mexico. They then took a five-hour cab ride from Puerto Costa Maya to Cancun, which cost them $600, and took a flight from Mexico City to Miami for $1,039 with a layover, according to The Record.
The couple landed in Newark, New Jersey, on January 12 and went to a hospital, where Palk had an endoscopy, Yahoo Lifestyle reported. They reportedly spent more than $3,000 just to get back to the U.S. but were reimbursed $1,300 by their travel insurance, the publication reported. The couple also said the Royal Caribbean issued them $314 in credit and a 20 percent coupon off their next cruise. Palk told Yahoo Lifestyle she has no plans to go.
"We don't want to go," Palk told the publication. "If they were worried, they could have airlifted us. But they didn't want the responsibility."
Couple Claims Cruise Ship Left Them in Mexico After Wife Fell Ill, Cruise Says She Refused Local Treatment | U.S.