New Jersey Democrats Look to Ban Trump From Hosting More LIV Golf Events
A new bill introduced by two Democratic state senators from New Jersey would prevent former President Donald Trump from hosting additional events for the controversial LIV Golf tour at his Bedminster club.
The proposal from Andrew Zwicker and Richard Codey would ban professional sports organizations that are operated with funds primarily from "sovereign wealth funds" from hosting sports or athletic events in the state.
Because LIV Golf is financed by Saudi Arabia's Public Investment Fund, events held as part of the tour would be prohibited under the legislation if it ultimately goes into effect.
"We do not need competitions in NJ that are bankrolled by repressive governments in a shameful 'sports-washing' endeavor," Zwicker, who is listed as the bill's primary sponsor, tweeted Tuesday.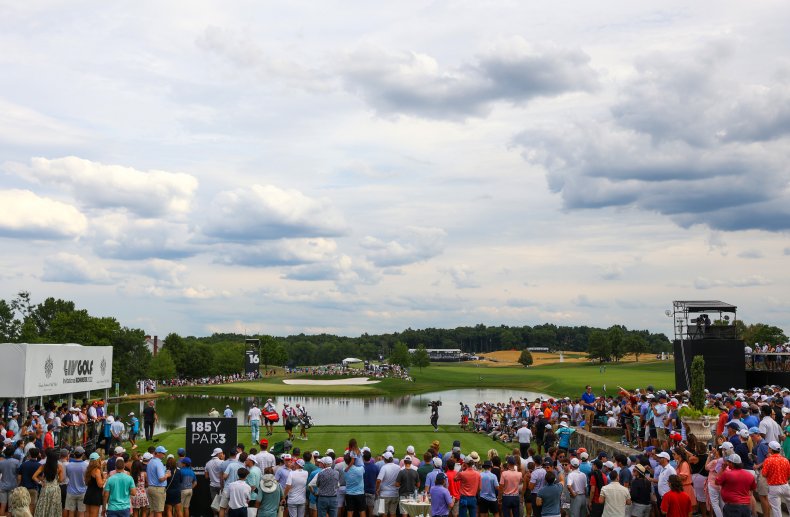 Trump and professional golfers who defected from the PGA Tour to join LIV Golf have faced sharp criticism for their involvement with the tour over its ties to the Saudi government.
A coalition of survivors and family members of 9/11 victims, 9/11 Families United, said that a document declassified by the FBI last year shows that the Saudi government was involved in the attacks. The partially redacted FBI document, which discussed contacts between the 9/11 hijackers and Saudi associates, does not allege that Saudi Arabia's government played a role in the attacks. The Saudi government has also denied any involvement.
Still, in a July 26 Bedminster press conference ahead of the LIV tournament that took place in the final days of last month, members of 9/11 Families United expressed their outrage over the event being held near the site of the World Trade Center attacks.
While delivering remarks, Alison Crowther, whose son was a volunteer firefighter "known for saving as many as 18 lives during the September 11 terrorist attacks in which he lost his own life," said that Saudi Arabia was trying to clean up its image by pouring money into "sport-washing," according to a press release.
Matthew Bocchi, a New Jersey native who lost his father on 9/11, also delivered remarks.
"We are here to voice our concerns about accepting LIV and to declare that we, as 9/11 families, are not going away," he said. "We have had every president since 9/11 evade holding the kingdom responsible for their role in the attacks of September 11th, and we believe they need to be held accountable for murdering our loved ones and injuries to others.
"As 9/11 families, we are all survivors of the trauma we experienced and are relentless in our pursuit of justice. We are infuriated, hurt, and feel as if we have been let down again by professional golfers partnering with the country responsible for our pain and suffering."
The New Jersey bill banning such events in the state would need to pass the Democratic-controlled state Senate and Assembly and receive Democratic Governor Phil Murphy's signature in order to become law. It would give the state's attorney general the authority to ensure that governments, organizations, municipalities and other parties comply with its restrictions, NJ.com reported.
When asked for comment on the proposal, LIV Golf shared the following statement with Newsweek: "Fans in our host markets have embraced the return of big-time golf to their regions and LIV has loved entertaining them."
Newsweek reached out to Zwicker, Codey and a Trump spokesperson for comment.
Update 8/18/22, 10:30 a.m. ET: This story was updated with a statement from LIV Golf.