New Jersey Gov. Says State Will Not Fly Mississippi Flag, Here Are The Places In The Magnolia State That Also Forgo The Flag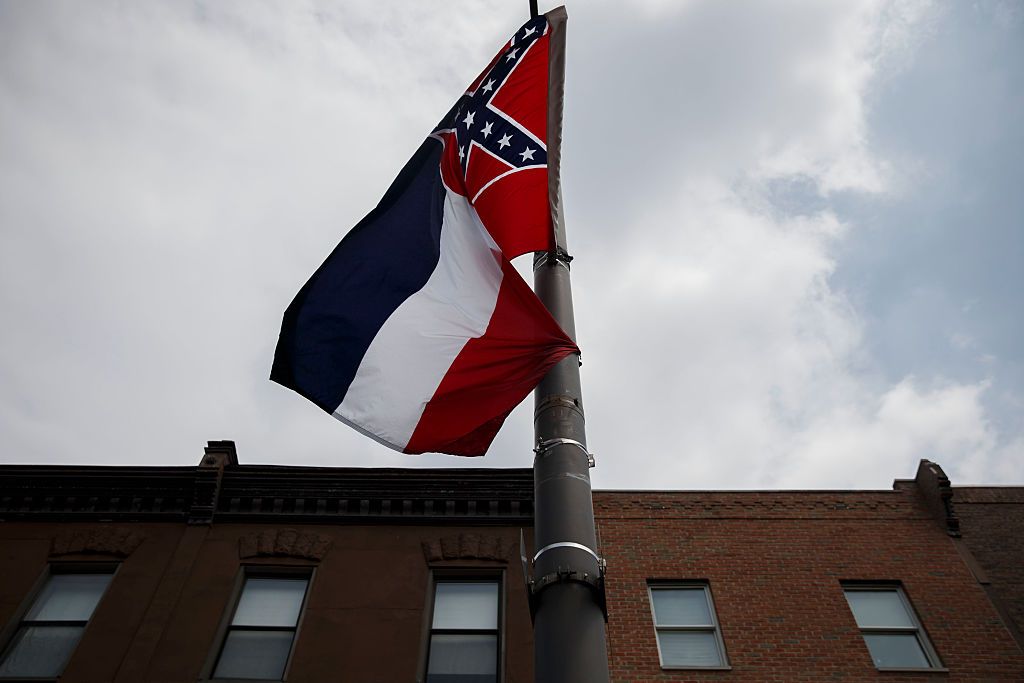 A yearly New Jersey tradition will be one flag short this year as Mississippi's state flag has been banned from Liberty State Park.
Every spring, Liberty State, which overlooks the Statue of Liberty in New York Harbor, has raised flags from each of the 50 states and kept them up until the fall. However, this year, New Jersey governor Phil Murphy ordered that Mississippi's flag be left out.
The reasoning, Murphy said, is due to the Confederate battle emblem located in the upper left corner of the state's flag. Mississippi is the only state to still carry the symbol on its flag.
"Today I ordered the Mississippi state flag be replaced by the American flag at Liberty State Park. The Confederate symbol does not reflect New Jersey's values of inclusivity and equality," Murphy said in a statement posted to his Twitter account.
The governor also credited New Jersey state Senator Sandra Cunningham for "bringing the issue forward."
"The Confederate flag symbolizes an era of hate, violence and division. I thank Gov. Murphy for his commitment to tolerance and equality and for the decision to remove this hateful symbol from Liberty State Park. Hate has no home in New Jersey," Cunningham said in a statement, reported NJ.com.
Mississippi's current flag has contained the battle emblem, a blue X, dotted with 13 stars on a red background, in some form since 1894. Calls for the flag to be redesigned are frequent in the state, though the last vote for the Magnolia State's flag to be changed came in 2001 and was defeated 64 to 36 percent.
However, Mississippi Governor Phil Bryant recently approved a measure to allow an alternate flag — commonly know as the Stennis flag — to be allowed as an option among several choices for a license plate in the state. The Stennis flag gets its name from its creator, Laurin Stennis, the granddaughter of former U.S. Senator John C. Stennis, who spent much of his career as a segregationist.
Stennis' design features one large blue star on a white field with 19 smaller stars surrounding it and two vertical red bands on each side.
Repeated attempts to adopt the Stennis flag as Mississippi's state flag have been presented by state lawmakers, but none have made it to either chamber for a vote.
However, some politicians currently running for state office are calling for the flag to be changed, including Attorney General candidate Andy Taggart.
Speaking to The Clarion-Ledger, Taggart said that Mississippi's current flag is a "snapshot" of the state, which calls back to the Civil War and the state's history of slavery.
"Unlike monuments, unlike street names, unlike building names, our state flag is supposed to be the banner under which all of us march and is a symbol of unity for all of us in the state of Mississippi," Taggart said. "And no matter how strongly people feel as though we ought to keep the current state flag, every objective observer would have to agree: Our current state flag is not a banner that unifies Mississippians."
Bryant has repeatedly called for a state-wide vote to determine if the Mississippi flag should be changed. He echoed those sentiments on Friday in a statement to the Associated Press.
"I'm disappointed in Gov. Murphy's actions. As I have repeatedly said, the voters of Mississippi should decide what the state flag is or is not," Bryant said.
The decision in New Jersey echoes one already made by many cities in Mississippi and all eight of the state's public universities. While three of Mississippi's historically black colleges — Jackson State, Alcorn State and Mississippi Valley State — had stopped flying the flag in previous years, the state's remaining public colleges — The University of Mississippi, Mississippi State University, The University of Southern Mississippi, Mississippi University For Women and Delta State University — all removed the flag from their campuses following the 2015 church shooting in Charleston, South Carolina, where nine black churchgoers were killed by a white supremacist.
Jackson, Mississippi's capital and most populous city, does not fly the official state flag, nor do three of Mississippi's five largest cities: Biloxi, Tupelo, and Meridian. Many smaller towns have also chosen to forgo flying the state's flag, including Oxford and Starkville.