New Jersey Governor Phil Murphy Thanks Ivanka Trump for Helping Feed Health Care Workers on Coronavirus Frontlines
Health care workers across the country are working long hours to help patients battling COVID-19 and New Jersey Governor Phil Murphy applauded first daughter Ivanka Trump for helping to feed them.
Trump joined a call with New Jersey's response team on Tuesday to thank them and all of the first responders. She reportedly pledged federal support to New Jersey and later posted on Twitter that the Garden State's frontline response team a "shining example of perseverance, resilience and love in the face of a great challenge."
Murphy wasn't on the call but during a press briefing later that day that he wanted to "give a shout out" and acknowledge Trump. He said he understood that she and her children provided meals to New Jersey's front line health care workers, something he knew "was all very much appreciated."
In her personal capacity, Trump purchased a total of 800 meals from two small businesses, according to a source familiar with the matter. They were delivered to St. Francis Medical Center in Trenton on Friday and Tuesday and were accompanied by thank you notes that were, in part, authored by her children.
"First and foremost, she wanted to do something for the front line workers who are in one of the hardest-hit areas of the country and to support the small businesses that are struggling in this time," the source told Newsweek. "And she certainly wanted it to be a moment where her kids could be in on giving back and a teachable moment on generosity, but also a lesson on how our health care workers are heroes."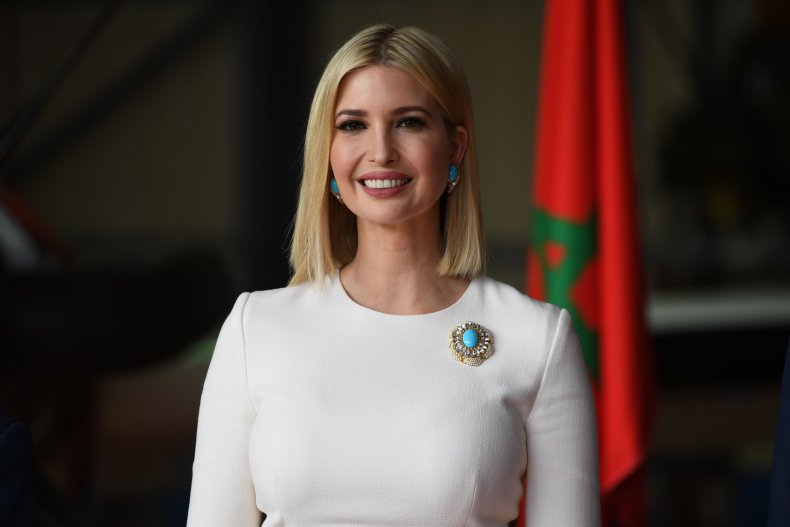 New Jersey, with 113,856 cases, is dealing with the second-largest outbreak in the U.S. While the state has seen days of decreased new cases, there hasn't been the sustained downward trend that the White House Coronavirus Task Force's guidelines suggest there to be before states can begin to reopen.
"But, our economy is going to get a restart. It is not a matter of if, it is a matter of when," Murphy said on Tuesday.
The day before, Murphy released his "Road Back" vision, a six-point plan to guide the process for reopening New Jersey. The principles and benchmarks for reopening are largely in line with the Task Force's guidelines and require a downward trend in cases, expanded testing capacities, robust contact tracing and ensure people can be isolated and quarantined if needed.
Murphy's stay-at-home order that was issued on March 21 will remain in place until further notice, but he estimated the state will start the reopening process in a "number of weeks." However, the governor cautioned residents that the virus could come back and reopening doesn't mean the outbreak is over.
Colonel Patrick Callahan, superintendent of the New Jersey State Police, said in a statement that New Jersey couldn't manage the crisis without assistance from federal partners. Along with Trump's call being a reminder of that fact, Callahan added that it was "readily apparent that New Jersey has a special place in Ivanka's heart."