New Jersey Health Department Announces 1,900 Probable Coronavirus Deaths
An investigation by the New Jersey Department of Health revealed that 1,900 additional people have died from coronavirus in the state than previously thought, Governor Phil Murphy said during a press conference Thursday.
The announcement marked the first time state officials publicly confirmed the number of suspected deaths due to the virus that were never confirmed by lab testing.
"[The probable deaths] represent the toll this pandemic has had on our New Jersey family," Murphy said.
Local health department officials discovered the new number after conducting several investigations into recent New Jersey deaths, Dr. Edward Lifshitz, medical director for the state's health department, explained at the press conference.
The probable death figure describes three different groups of people: those who died and had a less-specific test relating to coronavirus done, those who were never tested but had suggestive coronavirus symptoms and those whose death certificates revealed a link to the virus upon further examination, Lifshitz said.
The last group takes the longest to investigate.
"After somebody dies, a physician has to certify a cause of death," Lifshitz said. "Sometimes that information has to be cleaned up, sometimes it's not clear. That information then has to be checked against the other information that we have in our system to see if we already know about this person, in which case the death would be confirmed because they already had a test, or not."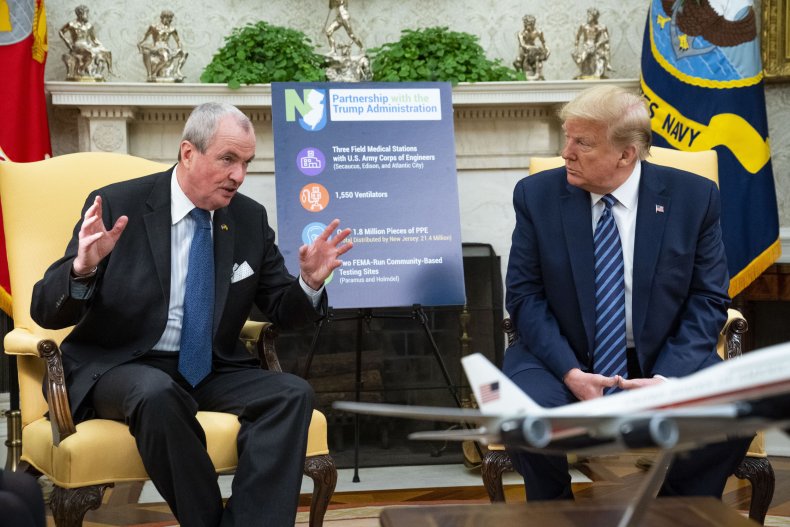 After looking at the numbers from each of the three groups, the New Jersey Department of Health has confirmed a total of 1,854 probable coronavirus deaths since the pandemic began in March, Murphy said.
This is a number that is not static, but is not likely to change too drastically in the coming months as more deaths are examined. The probable fatalities data will continue to be shared with the public on a weekly bases, Murphy and Lifshitz said.
Murphy said that his decision to begin reporting the number had been out of a shared "solemn sense of duty" amongst state officials.
As of now, the local health departments are essentially caught up with investigations into the death certificates, Lifshitz said.
With the addition of the new numbers, New Jersey has an updated total of 14,872 coronavirus deaths, an increase from the 13,018 current confirmed deaths.
When the probable fatalities are factored in, the state's coronavirus death toll rises around 14 percent.
"We make no claim that we can possibly count every single person who's been affected or every single person who's died," Lifshitz said.
Newsweek did not receive additional comments from the New Jersey Department of Health before the time of publication.
Many states are not currently reporting their probable death numbers, despite urges from the U.S. Centers for Disease Control and Prevention to do so.
In April, as coronavirus infections soared across much of the world, the CDC advised states to count both probable cases and deaths in addition to the ones confirmed by tests, The Washington Post reported.
New Jersey began reporting its probable numbers to the CDC May 15, but did not publicly announce them until Thursday.
According to a June 9 report, at least 24 states have not yet followed the federal guidelines, with some saying that they hadn't had any probable cases or deaths, the Post reported.