New Jersey Man Facing DUI Charge Allegedly Tells Cops He 'Drank Too Much Because the Jets Suck'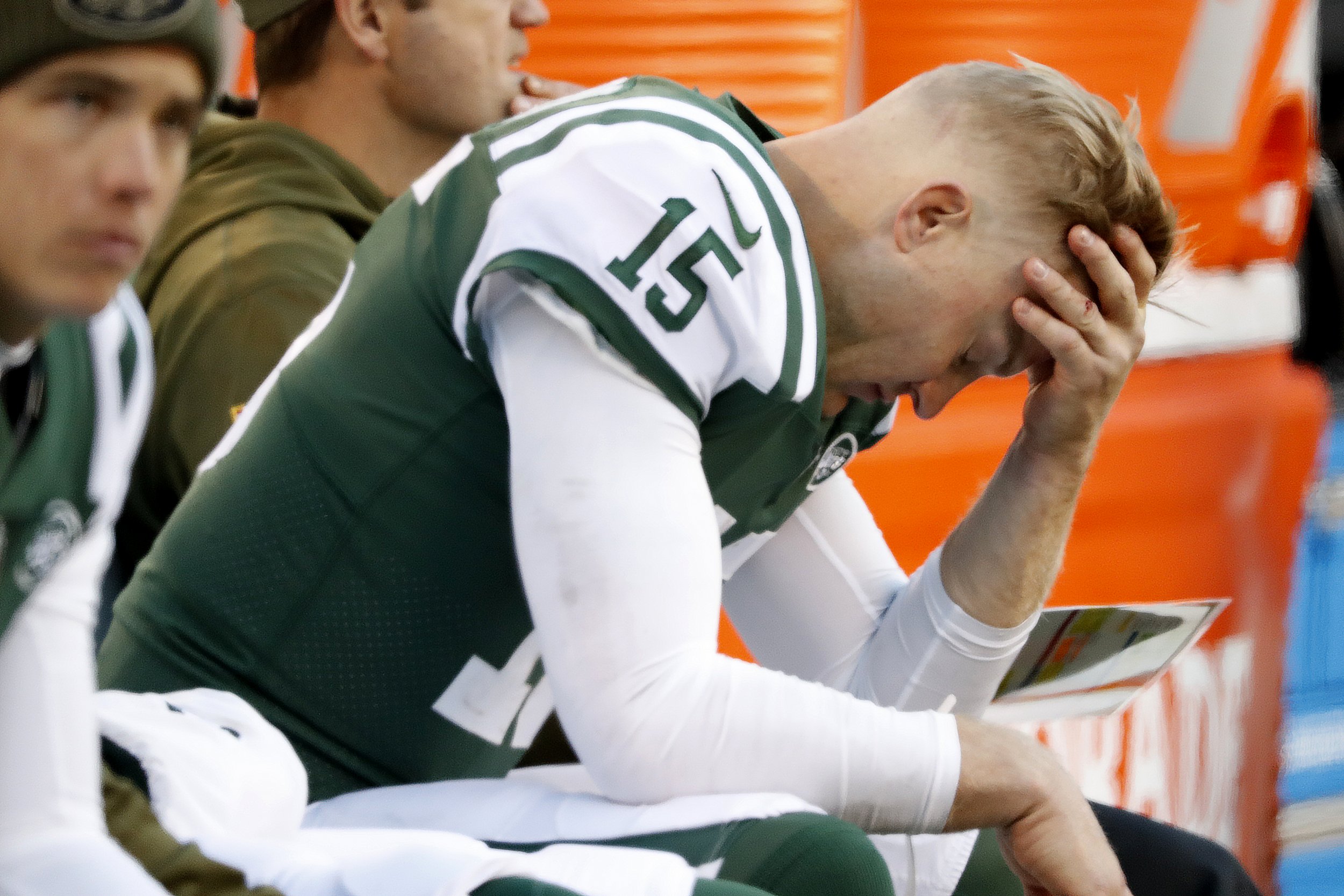 It's tough being a fan of the New York Jets and apparently one New Jersey resident used it as an alibi.
Christopher J. Grayshock, 57, of West Milford, was arrested on a DUI charge after allegedly telling police officers that he "drank too much because the Jets suck," according to Wayne police captain Larry Martin.
Grayshock is facing assault by auto, possession of marijuana, possession of drug paraphernalia, driving under the influence, reckless driving and open container of alcohol in the motor vehicle charges following an arrest on Sunday afternoon.
Wayne police responded to a vehicular accident with injuries at Alps Road and Route 23 at approximately 5:15 p.m. EST, about an hour after the Jets' suffered a 41-10 home loss to the Buffalo Bills in Week 10.
Upon arrival, Wayne First Squad assessed an injured female and another person who was lying on the grass near the scene of the accident. Authorities claim that they could smell alcohol on Greyshock's breath and noticed "stains of liquid" on his clothes.
During a field sobriety test, police claim Greyshock was "staggering and swaying, unable to walk straight in danger of falling onto the highway" and blew a 0.13 percent for blood alcohol concentration, 0.05 more than the New Jersey state legal limit.
During the test, Greychock allegedly blamed his favorite team for his lack of sobriety, claiming "I drank too much because the Jets suck!" He was initially arrested for driving while intoxicated and causing injury in a motor vehicle prior to a search of his automobile.
Police reported the search found a bottle of Bulleit Bourbon Frontier Whiskey placed on the front passenger seat that was 3/4 full. Authorities also noted that a marijuana "roach," a clear zip lock bag of suspected marijuana and two packages of EZ wider rolling papers were also discovered during the search of the vehicle.
Greyshock's car was impounded following his arrest and police added the additional charges against him. There is currently no immediate attorney information for Greyshock, according to NBC 4 in New York.
The Jets have lost four consecutive games as of Sunday, which has put head coach Todd Bowles on the hot seat following a 5-11 finish in 2017.
Defensive captain Jamal Adams, who was a rookie first-round pick last season, was critical of the team's struggles during an appearance on WFAN's "Carlin, Maggie & Bart Show" on Tuesday.
"Honestly, I could sit here and sugarcoat everything, but things have not changed," Adams said. "Obviously, we're still losing. I'm not saying we have guys like that in our locker room, but at the same time, it's not changing. It hasn't changed. We're still losing.
"At the end of the day, we're going to get it fixed. The sun will shine."
Perhaps not for Greyshock, who will be facing serious legal troubles for how he handled the team's struggles on Sunday.
New Jersey Man Facing DUI Charge Allegedly Tells Cops He 'Drank Too Much Because the Jets Suck' | Sports