New Jersey Orders Face Masks in Grocery Stores After Largest Spike in Deaths Amid Coronavirus Pandemic
Democratic New Jersey Governor Phil Murphy on Wednesday issued an order for all residents to wear face masks or face coverings in grocery stores after the state saw another record increase in coronavirus deaths.
State officials reported 275 deaths caused by COVID-19 today, the highest increase in 24 hours to date. New Jersey state has the second-most number of deaths caused by the virus, with a total of more than 1,500. New York state has the highest number of deaths, with 6,268 as of Wednesday afternoon.
Murphy announced the passing of an executive order that would expand social distancing measures and delayed the state's primary election from June 2 to July 7. During a press conference, he noted that the new election date will allow for more people to vote in-person and will enable officials time to better prepare for a potential mail-in ballot system if the coronavirus outbreak does not subside by then.
All grocery store employees and customers are required to wear face coverings or masks under the order, and businesses are expected to limit the number of people in locations to 50 percent of capacity. In addition, essential stores will need to put up physical barriers to protect cashiers.
"We're also aiming to mitigate overcrowding at essential retail stores–particularly in our grocery stores. Under this Executive Order, all essential retail must indefinitely limit the number of customers allowed in their stores to NO MORE than 50% of their approved capacity," Murphy tweeted.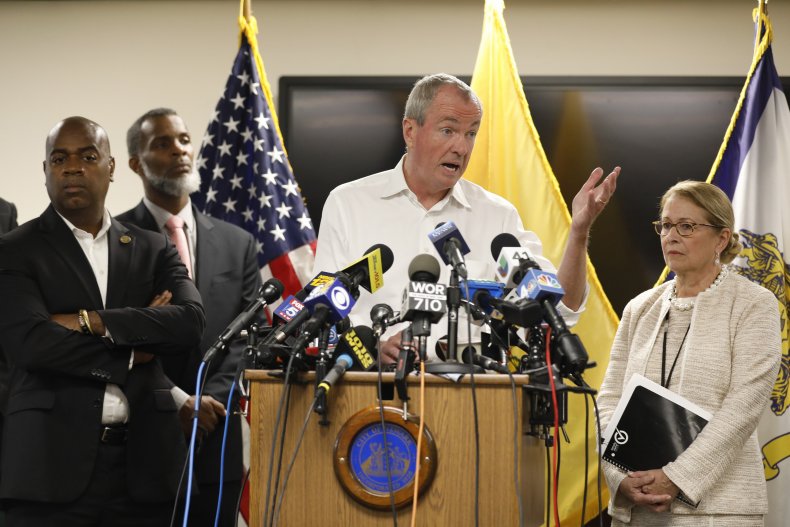 "Exceptions include projects at our hospitals and schools, in our transportation and public utility sector, the building of affordable housing, other individual housing sites that can adhere to strict limits on the number of workers on-site, and other limited instances," the governor added.
During his Wednesday briefing, Murphy said that citizens that enter an essential store without a face covering will be "asked to leave." Children under the age of two are exempt from the rule, as well as anyone who can prove a medical reason for not doing so.
Nonessential construction across the state will also be ordered to stop indefinitely from 8 p.m. local time on Friday, Murphy said. Hospital, school and affordable housing projects are among those considered essential.
Newsweek reached out to Murphy's office for additional information, but did not receive a response in time for publication.
On Wednesday afternoon, the U.S. had confirmed more than 425,000 coronavirus cases, with just over 14,600 deaths, according to a tracker maintained by Johns Hopkins University. New Jersey now has at least 47,437 confirmed cases.