New Jersey Parent Coalitions are Organizing Lawsuits to Reopen School Districts
Remote learning is tough on students, but for children like the daughter of attorney Keri Avellini Donohue, the pandemic-imposed classroom alternative has proven nothing short of an ordeal.
The 11-year-old has an Individual Education Program (IEP), an alternative learning plan for students in special education. After a year of watching her daughter suffer emotionally and academically under virtual learning, Avellini Donohue and several other families are suing the South Orange-Maplewood (SOMA) School District in New Jersey to restore its pre-COVID schedule.
"She started off the year trying to do it, by Thanksgiving it was obvious she couldn't do it anymore. That's where the school refusal started," Avellini Donohue told Newsweek.
When a planned January return to in-person classrooms was again delayed due to conflict between the district and its teachers union, Avellini Donohue saw her sixth-grader decline further. A visit to the emergency room after a bad reaction to the antidepressants her daughter was prescribed was the catalyst for Avellini Donohue to file the federal suit.
Now, she and parent leaders from more than 15 districts across the states are commanding organizing efforts to do the same in their townships. More than 30 overall from in and outside New Jersey have reached out to Avellini Donohue, who said she was inspired by a separate suit filed against the Scotch Plains-Fanwood School District in December 2020.
She is the second in her state to file in federal court against a school district to reopen full-time, in-person learning. New Jersey Gov. Phil Murphy has recommended all schools return to full-time in-person schedules for the 2021-2022 school year, but at this time, 90 of 811 are still remote, according to statewide data, and the decision is ultimately left to the individual districts.
"I was watching what was going on in my district, and I knew about the Scotch Plains case and I saw what they had done," she said. "I said, 'I'm a litigator, I know how to do this,' and I sent an email and got a group together."
Avellini Donohue is representing parents in the SOMA suit, another in Montclair filed in February and three others in Verona, Randolph and Nutley being filed this week, all pro-bono. It's a strategy proving effective at doing what few have managed to accomplish successfully during the pandemic: bring the community, the district, teachers unions and other stakeholders to the table to create a plan of action.
"Underneath it all is the same helplessness I heard from all the parents. It was heartbreaking, they felt like they had no recourse to make the situation better for their kids," Avellini Donohue said. "Their pleas to their board of education or superintendent go unanswered. Nothing gets done, and here we are in March trudging along."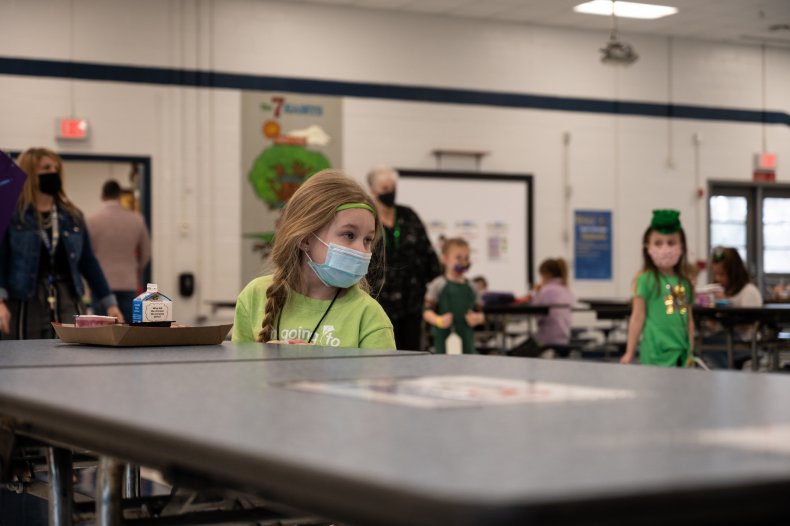 Steven Baffico, the parent leader in the Montclair suit helping facilitate the "groundswell" of frustrated parents through the organization Jersey1st, where he sits on the board, said the litigation is a tool to resolve conflict, not exacerbate it.
He said in his community and many others he hears from, families feel only the interests of the district and the teachers unions are being considered. The motivations of the suits are to ensure plaintiffs a seat at the negotiating table and clear policy guidelines.
"You have to look at it clinically—it's an effective tool when other things fail. We haven't even been very punitive in this lawsuit," Baffico told Newsweek. "We've simply said: 'Five days, in-person, full days, now. Better yet, yesterday.'"
Prior to the Montclair suit, the district and the Montclair Education Association (MEA) were deadlocked on a hybrid back-to-school agreement, which like SOMA had also been scheduled for January. The Montclair Board of Education filed suit against the MEA, which said in a statement this month that their noncompliance was due to a lack of planning and transparency from the district.
"Prior to a return to in-­­person instruction, the district promised the MEA a report from EI following building remediations, collaboration on a sound educational plan, and superintendent informational meetings with each building," the MEA said. "The follow­­through on these items would have gone a long way in building trust and demonstrating a desire for authentic collaboration Unfortunately, none of these things occurred."
A judge sided with the teachers union after finding the district failed to show how it was adhering to safety guidelines.
SOMA's delayed return in January also resulted from a similar clash between the district and the teachers union over concerns about proper ventilation in the schools. Litigation from the district against the union is pending.
Baffico, Avellini Donohue and the parents they represent say teacher safety is important to them. Based on information from the Centers for Disease Control and Prevention and the state, as well as teacher vaccine priority, they feel that what they're requesting is safe for teachers and students.
According to New Jersey Health Commissioner Judith Persichilli, multiple studies have shown that transmission within school settings is typically lower than or at least similar to levels of community transmission when mitigation strategies are in place in schools. Fewer than 1,000 COVID cases have been linked to school transmission to date.
"There are still going to be parents who make the decision not to send their child to school. For 80 percent of the community, there is no choice right now," Baffico added.
Shawn Haas, the team leader for the Verona School District group planning to file this week, said she and the six other families organizing for reopening are pushing for a return to normal by fall 2021. While Verona is currently hybrid, families are unsatisfied with the reality of what Haas called a "failure."
"I signed [my son] up for the hybrid plan twice. He went in and he was in a classroom with two other students he didn't know. He basically came home upset and said, 'I'm in a classroom with two other students and I'm sitting on a computer,'" Hass told Newsweek.
Montclair has a soft return date for part-time elementary students April 12 and Avellini Donohue said she will argue on behalf of the 17 families in the SOMA and Montclair suits on April 7.