New Jersey Pastor That Defied State Order to Reopen Says 'Church is Essential,' People 'Want To Be With Their Pastors'
A New Jersey pastor that defied the state's orders and reopened his church said that houses of worship are essential services and that members of the congregation want to attend and "be with their pastors."
The comments came from Pastor Charles Clark III of Solid Rock Baptist Church in Berlin, Camden County, which recently opened its doors to residents in defiance of New Jersey Governor Phil Murphy. Clark appeared on CNN's New Day on Tuesday to speak about the church continuing services in violation of the state's order to limit indoor gatherings to no more than 10 people.
"We decided that it was time for our church to reopen, and we feel that we have our First Amendment right to open up our church at this time," Clark told CNN.
Newsweek was informed via email that there were approximately 250 people in the auditorium during the service on Sunday. The auditorium seats 1,000, according to the church.
Sunday's service did include social distancing measures, Clark told CNN.
"Our people came in and parked where we were socially distance parked, a spot in between each spot. You had a reservation for your seat, you came in, your family had already had their reservation made. We had numbers on the end of our pews, we went every other pew. Everyone in the auditorium had a mask on," Clark said. "There was a touch-less entry. We took temperatures, touch-less temperatures at the door. 100.4 [degrees] no one would have come in."
Clark added that the bathrooms were sanitized after each use and the auditorium is filled with Hepa filters that filter the air in the room every three hours.
"Church is essential. Our people are New Jersey citizens.....as Jersey citizens they are being told their church is not essential. I understand that a lot of people don't understand why it is so important to us, but as believers we assemble together and these people have discouragement and depression and problems, including economic problems. They want to be with their pastors, and we are doing the best as we possibly can," Clark told CNN anchor Alisyn Camerota.
In an email sent to Newsweek, Clark stated that the closure of churches during the coronavirus pandemic is "discriminatory," and "unconstitutional."
"The First Amendment puts religion at the front of the line. Governor Murphy has taken us out of the line. The NJ Constitution also guarantees our religious liberty. The governor cannot oppress religion," Clark said in the email.
"No one in our church is being pressured to come. People want to be in church. They understand that we cannot make any guarantees of safety. However, we are trying to be as safe as possible, sanitized, and using social distancing. They are making reservations for themselves and their families. This is their right as an American. This is their right as a Christian. According to the Constitution, these rights cannot be infringed upon," Clark added. "The virus is real. We grieve for those who have lost their lives and who have been hurt by the virus. However, we must continue to function as a culture, and this includes having our right to attend church to be recognized and respected."
The decision to reopen Solid Rock Baptist Church came shortly before President Donald Trump pushed for the reopening of churches across the country.
"Allow these very important, essential places of faith to open right now for this weekend. If they don't do it, I will override the governors," the president said at the White House on Friday. "In America, we need more prayer, not less."
In New Jersey, Murphy has never deemed churches and other places of worship as nonessential, but in March the state prohibited gatherings of more than 10 people in an effort to stop the spread of the novel coronavirus, forcing churches and houses of worship across the state to close down or hold services online. On Friday, Murphy increased the number of people allowed for an indoor gathering to 25.
Churches and other places of religious worship have been identified by the Centers for Disease Control and Prevention (CDC) as key mediums for transmission of the novel coronavirus. A recent study conducted by the CDC found that 35 of the 92 attendees, or 38 percent, that were present at church services in rural Arkansas tested positive for the virus.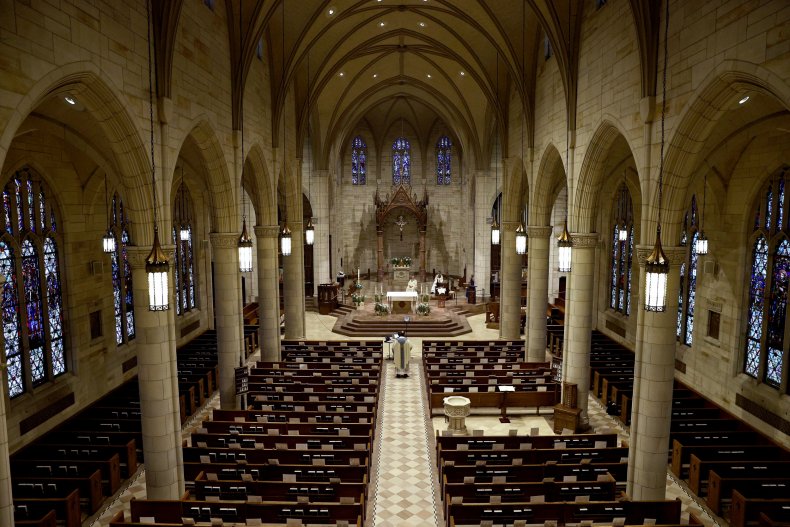 "This outbreak highlights the potential for widespread transmission of SARS-CoV-2, the virus that causes COVID-19, both at group gatherings during church events and within the broader community," the study writes. "These findings underscore the opportunity for faith-based organizations to prevent COVID-19 by following local authorities' guidance and the U.S. Government's Guidelines."
Newsweek reached out to New Jersey Governor Phil Murphy's office for comment on this situation but did not receive a response in time for publication.
5/26/20, 12:48 p.m.: This story has been updated to include comments from Pastor Charles Clark II.
5/28/20, 11:10 p.m.: This story has been updated to fix errors in Pastor Charles Clark's name, the number of people limited to indoor gatherings and when Solid Rock Baptist Church made the decision to reopen.