New Jersey Police Bust Illegal Bar With 200-Plus Partiers for COVID Violations
New Jersey police busted an illegal bar early Sunday morning after it violated the state's coronavirus restrictions.
Detectives of the Newark Police Vice Crimes Task Force investigated reports of a large gathering at a warehouse located on Libella Court at approximately 12 a.m. EST on Sunday, according to a press release emailed to Newsweek from the Newark Department of Public Safety on Monday.
Once inside, detectives found over 200 people eating, drinking and participating in illegal gambling. The patrons violated the state's current coronavirus rules prohibiting large indoor gatherings.
Detectives also reported two women—26-year-old Denisse Tinizaray and 28-year-old Katherine Tinizaray—selling alcoholic beverages from behind a makeshift bar in the warehouse.
Neither woman was able to provide detectives with the appropriate paperwork to prove they had a license to sell alcohol. As a result, both women were then arrested.
They face charges of maintaining an illegal alcohol establishment, illegal possession of alcohol and illegal sale of alcohol, according to the department's release.
"These charges are merely accusations. Each suspect is presumed innocent until proven guilty in a court of law," the release noted.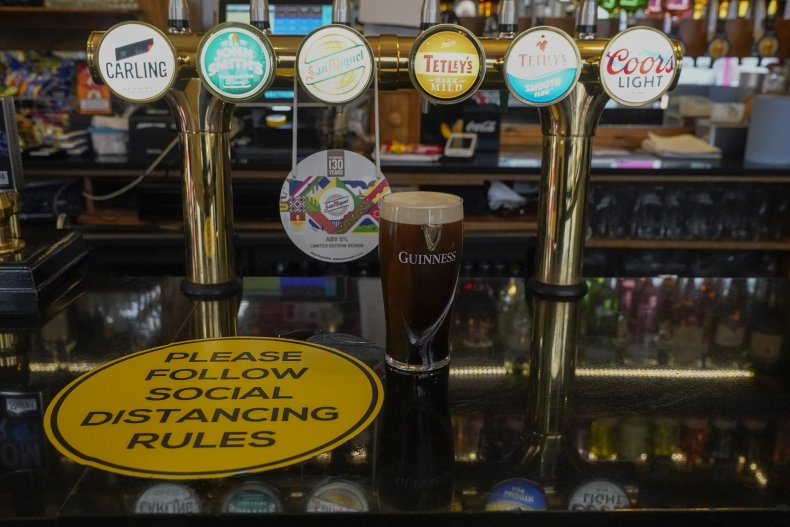 New Jersey Governor Phil Murphy limited indoor gatherings to 25 people on December 7 in response to the surge of COVID-19 cases in the state.
Following the governor's order, New Jersey reported a record number of single-day cases on December 16, according to data from The New York Times. The state saw over 5,700 new COVID-19 that day, with an average of 4,804 daily coronavirus cases that week.
The state has since mitigated its surge. On December 27, New Jersey reported over 2,320 new cases and 17 deaths, according to the Times. Over the past week, the state saw an average of 4,095 cases per day, a 12 percent decrease compared to two weeks prior.
In November, Murphy said nearly 7 out of 10 New Jersey residents choose not to cooperate with coronavirus contact tracers.
"This is not a witch hunt. This is about protecting you, your loved ones, and your community. Take the call," Murphy posted on Twitter alongside a screenshot of New Jersey Department of Health's COVID-19 data.
This wasn't the first illegal bar busted in New Jersey this month.
On December 14, Trenton police arrested a resident of Chambersburg, a neighborhood in Mercer County, after responding to neighbors' complaints, according to NJ.com.
The police found 45 people inside the home, where the suspect was charging $5 a beer. Officers then confiscated $942 in cash and 82 small bags of cocaine.