New Jersey Police Dog Mauls Small Terrier for 30 Seconds, Breaking its Ribs
A police dog has attacked a woman's 15-pound Yorkshire terrier in New Jersey, reportedly leaving it with broken ribs and a punctured lung, after breaking free of its leash.
The K-9 violently shook the other animal for 30 seconds before it was rescued by its owner and taken to the vet.
Megan Ginchereau said the incident happened on February 2 when she was outside her home in Franklin Township. Her neighbor's dog entered her yard and attacked the 2-year-old terrier, named Charley.
"I heard my neighbor yell 'No!' and then his dog came around to our yard, and I just saw him pick up my dog in his mouth and started shaking him around," Ginchereau told NBC New York.
"He finally dropped him after like 30 seconds or so, and I picked my dog up and ran into the house screaming, and my mom came downstairs."
The animal reportedly belonged to an officer with the Glassboro Police Department, who lives next door to Ginchereau.
Reports said the animal broke free from its leash before attacking the small Yorkie, who was rushed to the vets for emergency surgery.
Charley is being given pain and anxiety medicine but is reported to still be visibly scared, including shaking in his crate.
According to NJ.com, Glassboro's police chief said the department would pay for the vet bills.
"I just sat there crying," Ginchereau told the news website of her visit to see Charley during his week-long stay at the animal hospital. "My daughter couldn't go. She's still a hot mess."
The police dog has been approved to resume duty with the force and safety measures have been put in place, including a new fence outside the officer's home. However, the dog is currently staying at the police department.
Glassboro Police Chief John Polillo told NJ.com: "Other safety measures have been put in place at the K9 handler's property, as well as the actual handling of the K-9.
"As for the K-9, an electronic collar as well as a two-point lead with flat collar and a metal chain collar."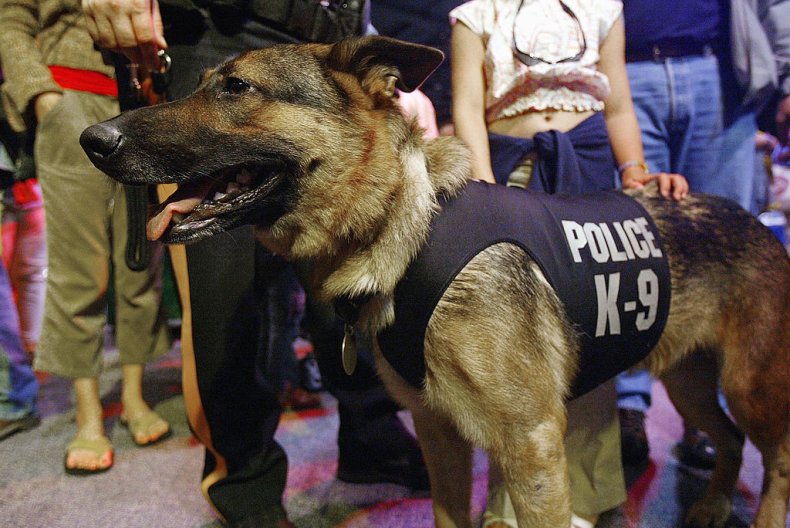 The Ginchereau family is said to still be concerned for the safety of their dog and have requested a fence be installed in their yard as well.
"That would be the only way I would feel safe," Christina Ginchereau, Megan's mother, told NBC. "He can do fencing on his property but the reality is the dog got off his leash, in the front yard and charged into my yard.
"There are times where he [Charley] is just terrified, and I can't get him out to go to the bathroom, I can't get him out to do anything. He just sits there, scared."
Newsweek has contacted the Glassboro Police Department for comment.