New Jersey Police Trooper Pulls Over Retired Officer Who Helped Deliver Him 27 Years Ago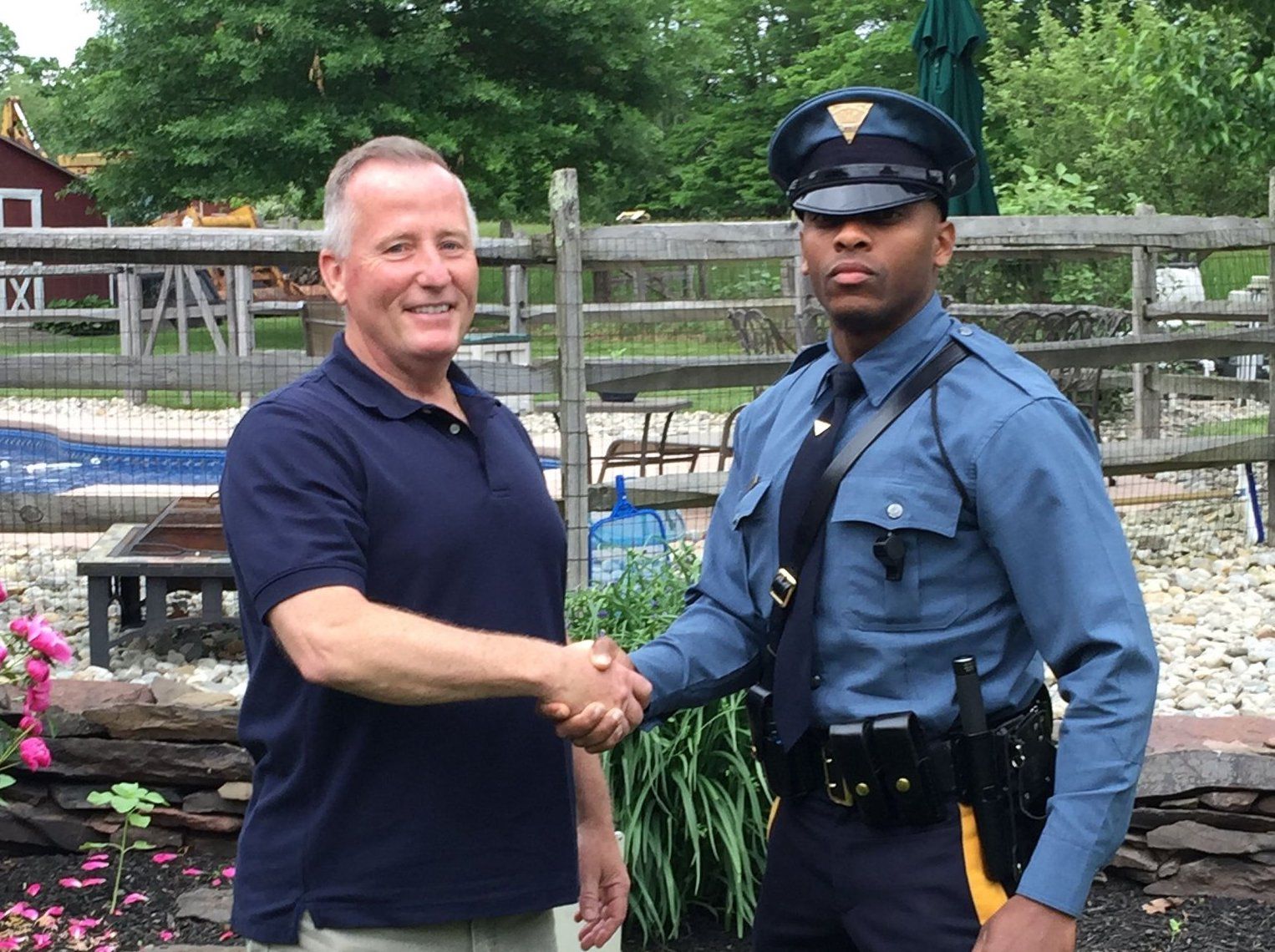 A New Jersey State Police trooper inadvertently reunited with a retired police officer who helped deliver him 27 years ago. The trooper learned of the connection when he pulled over the former officer for "a minor motor vehicle violation," New Jersey State Police said.
In a Facebook post, New Jersey State Police said Trooper Michael Patterson stopped Matthew Bailly on June 1 for a vehicle violation in Kingwood. The two began talking and realized that Bailly was a former officer in Piscataway, where Patterson is from.
"Mr. Bailly asked Trooper Patterson where he used to live. When Trooper Patterson told him that he grew up on Poe Place, Mr. Bailly said that he remembered that street, because he helped deliver a baby there 27 years ago when he was a rookie cop," the post said. "He was even able to describe the color, style of house, and the baby's name, Michael."
Patterson then reportedly extended his hand and told Bailly, "My name is Michael Patterson, sir. Thank you for delivering me."
The trooper's mother, Karen Patterson, was out shopping on October 5, 1991, when she went into labor. After arriving home, her husband, Bobby Patterson, called a doctor, who talked Bailly through Patterson's birth.
"Needless to say, Trooper Patterson, Matthew Bailly, and both of their families were ecstatic about the reunion," the post said. The two families reunited and took some photos together.
The story had garnered 21,000 reactions on Facebook and 1,700 comments by Thursday. Many agreed that the account was a "heartwarming" and "beautiful" story.
"Beautiful story, kinda surreal Michael became a police officer too. Just awesome," MsMonique Y Thompson wrote.
Marianne Hucaluk-Salter wrote, "Wonderful story. God wanted these two people to meet again. God bless you both."
Other commenters wondered if Patterson had given Bailly a ticket for the vehicle violation. New Jersey State Police Department confirmed to Newsweek that Bailly had been pulled over because of his vehicle's tinted windows but was not issued a ticket. The BBC reported that Bailly was advised to change the glass.