Two New Jersey Policemen Convicted of Official Misconduct After Video Evidence Emerges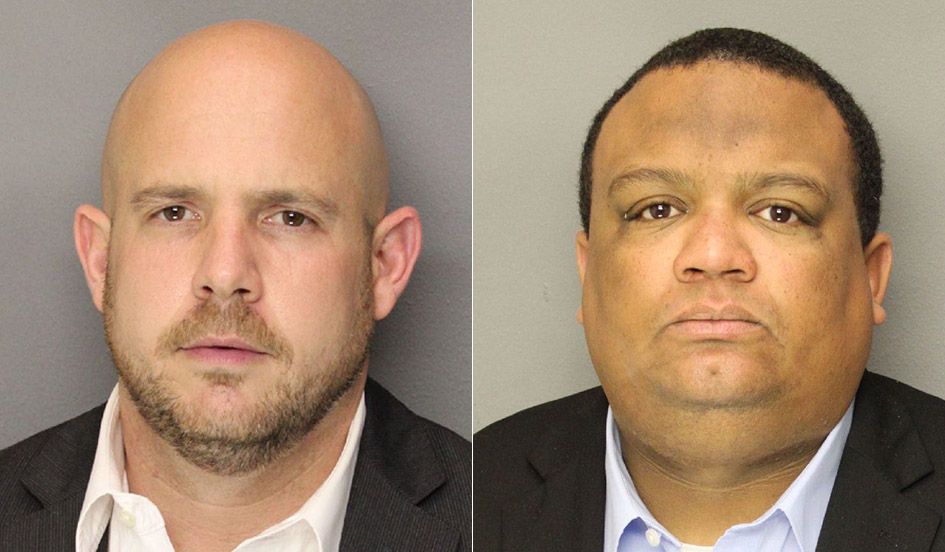 A jury on Friday convicted two New Jersey policemen for falsely accusing a man of attempting to grab one of their guns during a traffic stop in 2012, after dashboard footage showed the suspect with his hands in the surrender position, according to the Essex County Prosecutor's Office.
After a five-week trial, an Essex County jury found Sean Courter, 35, of Englishtown, and Orlando Trinidad, 34, of Bloomfield, guilty of official misconduct, tampering with public records, falsifying public records and false swearing. Trinidad also was found guilty of simple assault. They face minimum prison sentences of five years.
A third police officer, Albert Sutterlin, pleaded guilty in October 2013 to falsifying and tampering with records. He resigned from the police department, according to the prosecutor's office.
The officers initially said the motorist, Marcus Jeter, tried to grab Courter's gun and struck Trinidad during a traffic stop on the Garden State Parkway in June 2012.
For almost a year, officials had to rely on dashboard video footage only from Courter's vehicle. Based on the initial police reports, Jeter was charged with eluding, resisting arrest, aggravated assault and attempting to disarm an officer. He later was convicted and sentenced to five years in prison.
But Jeter's lawyer requested video footage from a second camera, which was on the dashboard of another police vehicle that arrived on the scene. The footage clearly showed Jeter holding his hands in the air during the stop.
Based on the newly discovered video evidence, the prosecutor's office dismissed the charges against Jeter and opened an investigation into the officers. An Essex County grand jury indicted the policemen in January 2014.
The incident began when police were called to Jeter's Bloomfield home, where he and his girlfriend were having a verbal dispute, prosecutors said. Jeter voluntarily left the premises, and Courter followed and stopped him on the parkway. The officer asked Jeter to leave his vehicle, but the man refused, saying he feared for his life, prosecutors said.
When Trinidad arrived on the scene, he hit the front of Jeter's car, then broke the window and, along with Courter, pulled the man from his car.
"These officers give a bad name to all the good, honest, decent police officers," Assistant Prosecutor Berta Rodriguez said in a statement.
On Friday, the officers were ordered held without bail until their sentencing on January 11.
Lawyers for the police officers hadn't issued a statement about the verdict as of press time, and there was no word on whether Jeter's lawyer plans to take further action.
Two New Jersey Policemen Convicted of Official Misconduct After Video Evidence Emerges | U.S.