New Jersey Relaxes Coronavirus Restrictions, Allowing Nonessential Retailers to Open Next Week
New Jersey Governor Phil Murphy said Wednesday the state was ready to slowly begin lifting coronavirus restrictions after reporting a steady decline in its number of cases and deaths since reaching a peak last month.
Drive-in and drive-through events, including movie screenings and religious services, would be first to return, with restrictions lifting immediately upon Murphy's expected signing of an executive order later Wednesday. Next week, construction workers and nonessential retail employees will be permitted to return to work under new guidelines that take effect May 18 starting at 6 a.m.
"The data that we are seeing gives us confidence that we can begin the careful and responsible restart of our economy to get people back to work and to begin to set the stage for the steps to come," Murphy said during a Wednesday news conference.
"We are taking these steps because we are confident we can maintain the standards of social distancing that have been so important in meeting our data benchmarks," the Democratic governor added.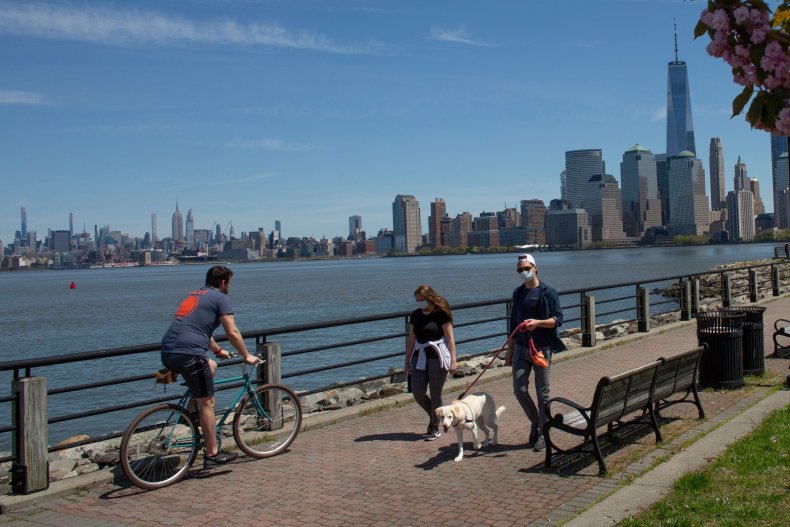 Murphy and New Jersey Department of Health Commissioner Judith Persichilli emphasized the importance of continued social distancing during Wednesday's conference, while also reminding residents that asymptomatic individuals can spread the virus.
With those warnings in mind, Murphy said that while gatherings of vehicles would be allowed under his new executive order, passengers must continue to keep their distance by keeping windows and sunroofs closed when within 6 feet of other vehicles. Aside from vehicle gatherings that abide by these social distancing guidelines, his mass gathering ban would remain in effect, the governor said.
When nonessential construction projects resume work on May 18, Murphy said, workers must wear facial coverings and practice social distancing, with shifts and breaks staggered as much as possible. Equipment must be frequently sanitized, and visitors to work sites would not be permitted, he noted.
Although nonessential retail stores would also be allowed to reopen on May 18, Murphy said owners must adapt to allow curbside pickup only. Customers will not be allowed inside the stores, he said.
The governor said the state's progress in flattening its coronavirus curve made him hopeful he would be able to announce the lifting of additional restrictions later this week.
According to data from Johns Hopkins University, New Jersey has the second highest number of coronavirus cases in the U.S. As of Tuesday, state health officials reported 141,560 cases and 9,702 deaths. Data shared Wednesday by Murphy and Persichilli showed the number of new cases reported daily has declined by nearly 70 percent since the state was at its peak, with 1,028 new cases and 197 new deaths reported Tuesday.
Though the number of new cases has declined in recent days, Persichilli said during the news conference that emerging reports of Kawasaki disease, a rare illness that was first reported in New York in mid-April, presented a new cause for concern. Eighteen potential cases were reported in the state in children between ages 3 and 18 on Tuesday and Wednesday, with four confirmed COVID-19 cases among them.
"There will be more reporting on that as the CDC identifies a case definition and we finish our case investigation," Persichilli said, referring to the U.S. Centers for Disease Control and Prevention. She added that the potential for Kawasaki disease to spread could contribute to the state's social distancing regulations moving forward.
While Murphy had a cautiously optimistic tone on Wednesday when announcing the relaxing of some regulations, he said it was important that the state doesn't move too quickly in its reopening plans. He also reminded residents that a second wave was possible.
"We are not out of the woods yet," Murphy said. "When compared with other states, we see that New Jersey still bears a significant burden from COVID-19. So keep up with the social distancing. It is essential as we move forward."