New Jersey UFO Sighting Turns Out to Be Goodyear Blimp
New Jersey residents were convinced a flying saucer was hovering over their state on Monday, with footage of the supposed extra-terrestrial incident going viral on social media.
However, thankfully it is unlikely that aliens are planning any abductions over the East Coast, as the UFO was just a Goodyear blimp.
TikTok user @.babyjennie shared a video of what appeared to be a flying saucer in the distance and captioned the video: "Who else saw the UFO today in Jersey on 21? People were dead stopped on the highway recording." The TikTok video has more than half a million likes.
A Twitter user shared a video with footage of the "UFO" film from a car before the driver pulls over for a better look, and said: "I still can't believe a UFO was spotted in New Jersey today!"
In a video that has been viewed more than 300,000 times on Twitter, people can be seen standing on the side of the highway filming what looked like an alien spaceship. The person filming says that the whole street has stopped.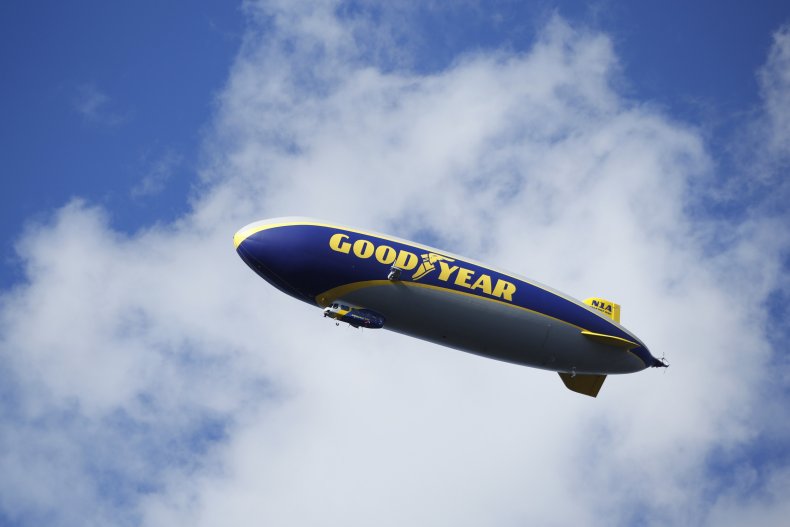 Another video posted to Twitter that has been viewed more than 100,000 claims that the "UFO" was flying over Teterboro Airport. In the video, the man says: "This is literally a f****** UFO. It's just floating. The ship was closer, it went up, a light was like shining from it, like a beam. This s*** is just f****** flat and it was moving in like circles."
In another TikTok video shared to Twitter, a man says: "Everybody's stopped to see the aliens, that's what everybody's saying. I don't know if that's true or not, but everybody's blocked the highway, saying the are aliens are coming."
However, despite the otherworldly nature of the social media footage, the unidentified flying object is not a flying saucer, but a Goodyear blimp. Other New Jersey residents, seemingly closer to the object, shared videos that clearly show the UFO's true identity.
Twitter user @linobrescia shared a video and said: "Wingfoot Two straight up just floating backwards...Why? Because he can. BOSS!!!"
Another said: "The amount of dumb***** in New Jersey who think they saw a f****** UFO, it was a f****** Goodyear blimp. All you had to do was have a high def camera or keep it still enough you can see what's on the side."
Others reported that the blimp had flown over the Giants vs Steelers game at the MetLife Stadium in East Rutherford, New Jersey, which is just north of Highway 21. Newsweek has contacted Goodyear for comment.