New Jersey Salon Owner Says He's Opening With or Without Governor's Approval: 'I've Had Enough'
Many New Jersey establishments have yet to receive reopening instructions from Governor Phil Murphy, but some business owners intend to follow their own plans.
George Verdis, who co-owns the Parsippany hair salon Brick and Mirror Beauty Bar, told NJ.com that he will resume operations on June 1. Verdis said his employees will return to work regardless of the state's coronavirus regulations, according to the outlet, and noted that he has secured "a legal team" should the salon face pushback from law enforcement or legislators.
"I've had enough," he said. "We've closed long enough."
Verdis co-owns Brick and Mirror with partner Nicholas Mirabella. Speaking to Newsweek on Monday, Mirabella confirmed the salon's plan to reopen on June 1, referencing efforts to "exercise our constitutional rights."
Along with New Jersey businesses deemed nonessential under the governor's stay-at-home order, Brick and Mirror closed its doors March 19, after the state began seeing serious impacts from the coronavirus outbreak. Although New Jersey has confirmed the nation's second-highest incidence of infections, behind New York, Murphy recently announced upcoming reopening procedures that will relax functional limitations for certain industries and public areas. New Jersey has reported fewer new cases of the virus daily in May, compared with April.
"I've been clear that data will determine dates, and what we are seeing gives us confidence that we can begin the careful restart of our economy," Murphy said in a May 12 statement. "Over the past eight weeks, New Jerseyans have taken our stay-at-home order seriously and have created the conditions that make this next phase possible. The steps we are taking allow for important standards of social distancing to continue with the return of safe, responsible business operations."
The governor's statement was accompanied by guidelines for New Jersey businesses reopen, or expand operations, since closures were initially mandated two months ago. Hair salons and other personal care service facilities were not mentioned in the guidelines, which apply to only a few industry sectors.
Starting Monday, Murphy said, construction projects can resume with additional mitigation policies in place, which include physical distancing and heightened sanitation requirements to prevent further transmission of the virus. In addition, nonessential retail businesses are allowed to offer curbside pickup, though their stores will remain closed to customers. In addition, Murphy's May 12 order also provided clarity regarding car gatherings, which he said do not inherently violate social distance directives as long as vehicles are closed or occupants maintain 6 feet of space between each other.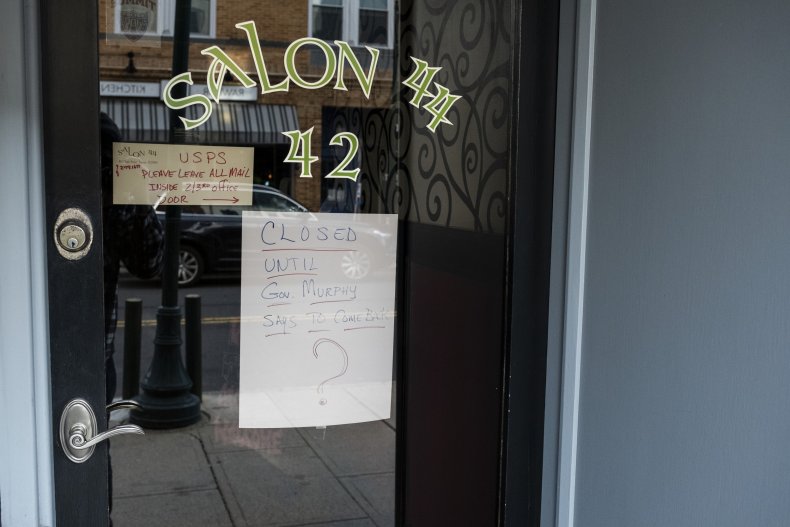 On May 14, the governor announced that New Jersey beaches, boardwalks, lakes and lakeshores will remain open through the summer, with regulations limiting physical interactions between visitors. That order will take effect May 22, just before the Memorial Day weekend.
Monday's report describing Brick and Mirror's reopening plan followed a New Jersey gym owner's unauthorized reopening that morning. A number of pictures and videos shared on Twitter show locals gathering outside the Atilis Gym in Bellmawr to support the facility's decision.
New Jersey confirmed it had 1,272 positive cases and 107 deaths on Sunday, Murphy said during a press conference.
As of Monday, more than 146,504 people have been diagnosed with the virus in New Jersey since the start of the pandemic, according to a Johns Hopkins University tracker. Of those, at least 10,363 have died, while 23,399 have recovered.