Exclusive: Top New Jersey State Police Officials Stalled Corruption Probe, Documents Show
In January 2017, Laura Gallagher told New Jersey State Police troopers she was a victim of sexual assault. The detective who interviewed her believed her account and secured a warrant for the suspect. His work on the case won him a commendation. But three-and-a-half years later, Gallagher's alleged assailant is still free.
Interviews with state troopers, prosecutorial staff and other individuals involved in the case—all of whom requested anonymity for fear of reprisal—and a review of hundreds of pages of confidential documents appear to show that officials in the highest echelons of the State Police stymied a corruption complaint against the county prosecutor's office that had been lodged by troopers handling Gallagher's case.
In a deposition in a related proceeding, Acting State Police Superintendent Patrick J. Callahan, the force's top official, recalled an exchange with the prosecutor's office shortly after the suspect was charged.
A transcript of the October 2018 deposition, which was obtained by Newsweek, shows that Callahan intervened in the burgeoning dispute between Sussex County prosecutors and state troopers over whether to pursue Gallagher's claims. During the deposition, Callahan agreed that "we'd look into it."
Callahan's involvement damaged morale among the rank and file at Sussex Station, the State Police barracks. Ultimately, the assault case was left unresolved, the troopers grounded and the corruption complaint buried.
Internal dissension from several investigators who came to Gallagher's defense resulted in the transfer of six state troopers, a decision that has spawned several lawsuits and a labor grievance against the State Police, all of which are still ongoing.
'The U.S. attorney should look into this'
Presented with Newsweek's findings, New Jersey Senate President Stephen M. Sweeney said that evidence of potential impropriety was persuasive enough to warrant an investigation. "If these allegations are true, then the U.S. attorney should look into this," Sweeney said. "The allegations are extremely troubling."
Here's what happened. On January 31, 2017, Gallagher identified her alleged assailant as Ian Schweizer, son of the former executive director of the Morris County Municipal Utilities Authority. Troopers quickly tracked down Schweizer and, after an interrogation, determined there was enough probable cause to pursue charges.
In a lawsuit Schweizer filed against Gallagher for defamation, he strenuously denied assaulting her. Additionally, he has since sued the state troopers involved in his detention, alleging false imprisonment. Those cases are still pending.
The day after Schweizer was released and officials in the Sussex County Prosecutor's Office refused to bring charges, troopers suspicious of their motives phoned Detective Sergeant Tom Donnelly at the Official Corruption Bureau of the New Jersey State Police.
Shortly after the call between troopers and Donnelly, the Corruption Bureau formally opened a corruption probe into the actions of the prosecutor's office. Yet, over three years later, that probe is dormant and it appears no investigative work is being done. Officially, the case remains open.
What is clear, however, is that in the weeks after the corruption probe was initiated, Callahan, then the deputy superintendent of operations, became closely involved.
At a previously undisclosed March 2017 meeting at the Golden Corner Diner in Bound Brook, New Jersey, Callahan huddled with his second in command and two officials from the Sussex County Prosecutor's Office: Francis A. Koch, the chief prosecutor in Sussex County, and Thomas McCormick, the chief of detectives.
As recounted in the depositions, over cheese omelettes, the four discussed a complaint of corruption that had been filed against Koch's office—following its move to scrap the sex assault case—which centered around suspicions of political influence in prosecutorial decision-making.
In his testimony, Callahan acknowledged that they "probably did" discuss the nascent corruption probe. He claimed that he did not believe he was revealing its existence to potential targets or witnesses "for the first time." But as McCormick would tell it, in response to a question about whether his team was learning about the probe for the first time: "Yes," they were.
Callahan described his role in the luncheon as one of diplomacy, referring to his effort to mend fences as "an apology" for the fact that his own troopers would allege impropriety at the prosecutor's office. Callahan downplayed the severity of the allegation to Koch and McCormick, characterizing it as a vengeful act and questioning its underlying merits.
In his own deposition, McCormick said Callahan also announced that an internal affairs probe would be commenced against the Sussex Station troopers because of their decision to file the charge of corruption.
McCormick was asked whether Callahan told him the corruption report was what prompted the internal affairs probe."That's what he told the prosecutor and I. Yes."
The transcripts further show that Callahan deemed the troopers "frustrated" and alleged they were motivated by a desire to "get back at this prosecutor's office." Callahan said the complaint was a "major" factor in his decision to disperse the Sussex troopers to different stations.
The troopers viewed this as an unlawful act of retaliation for blowing the whistle on what they believed to be a mishandled approach to a straightforward case of sexual assault.
'You would start a war'
The case seems to have gone off the rails from the start, after Trooper Justin DeLorenzo interviewed both Schweizer and Gallagher and spoke with the prosecutor's office to seek approval for charges. According to State Police supplemental reports obtained by Newsweek, Assistant Prosecutor Seana Pappas told DeLorenzo after the interrogation that there was not enough probable cause to prosecute Schweizer and demanded his immediate release.
You would "start a war" if you moved forward, Pappas said before hanging up, according to the reports.
McCormick, who was present during the call, said in his deposition that he did not remember her using that language.
Despite a new bail reform law requiring Pappas' assent to seek charges for an indictable offense, DeLorenzo took his case to Wantage Municipal Court Judge Glenn Gavan. Gavan, however, agreed with the troopers about probable cause and signed off on a complaint-warrant.
Schweizer was then transferred to the Sussex County jail and held overnight. But at the prosecutor's office, officials were working to undo a case they believed had been brought unlawfully.
That same evening, Callahan received a text from McCormick, the chief of detectives. Callahan called back and arranged for McCormick to bring a DVD of Schweizer's interview to State Police headquarters, according to the depositions.
"It wasn't [McCormick's] case, he had no business," a senior New Jersey State Police official with direct knowledge of the investigation told Newsweek. "The Sussex County detectives shouldn't have been involved."
If the Sussex County Prosecutor's Office did have a problem with the way DeLorenzo handled the case, they should have gone to the Sussex Station troopers themselves, not Callahan's office in Trenton, the official said.
With Schweizer free, Pappas and an investigator, Lieutenant Jennifer Williams (now a captain), met with Gallagher in what she would later describe as an effort to persuade her to lessen the charges or drop them altogether.
The pair offered Gallagher a letter of apology from Schweizer and, after she refused, "she said they were basically going along the lines of saying that her case wasn't possible, that there was no way, that it would be better if she just dropped it all along," New Jersey State Police Sergeant Shane Krisanda wrote of the meeting after Gallagher relayed the encounter to him.
In a statement sent to Newsweek, Sussex County Prosecutor Francis Koch defended his office's actions.
"The decision to not immediately charge this individual was made solely in consideration of our ethical obligation not to prosecute any citizen where we feel we cannot sustain our burden of proving a complaint beyond a reasonable doubt," Koch said, stating that "additional investigative options" were given to State Police as well.
"Despite our advice and denial of authorization, the NJSP went forward and obtained a warrant for the suspect's arrest. The next day after having reviewed all the taped statements, I moved to dismiss the charges," Koch said.
"Any allegation that our decision was based on any improper motive is fully denied. There is no truth to the baseless allegation and there is no evidence to support the same," he said. "Any investigation into our actions, motives, and good faith decisions in this matter would support the same and would eviscerate the groundless claims by the troopers in this matter."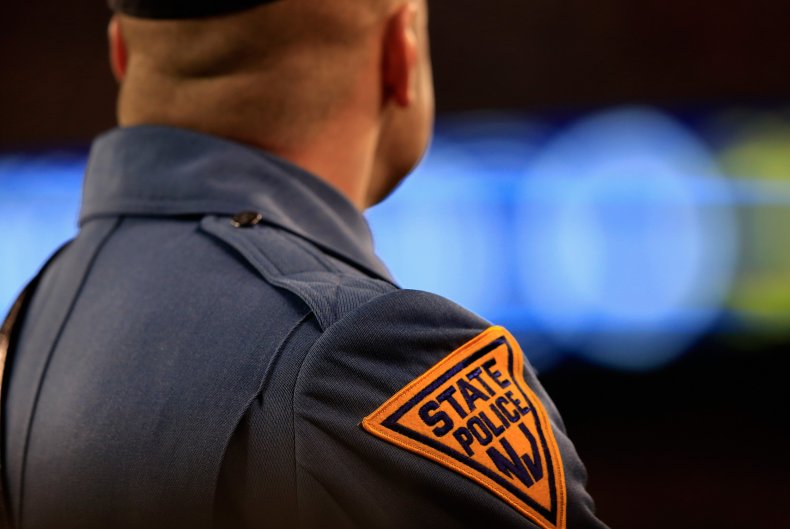 'They told me no one would believe me'
For Gallagher, that meeting with the prosecutor's office still evokes painful memories of her original trauma.
"I couldn't believe it," Gallagher told Newsweek. "They told me no one would believe me. That what I said happened was impossible. That it wasn't that bad—he didn't fully rape me. That I needed to take back my accusations. That I had to drop the charges against him."
"But I still wouldn't do it," she said. "I left there shaken and ashamed and once again, scared for my safety. I went there for help and I feel I was victimized all over again."
After the meeting, during which Gallagher was asked to hand over her phone for data analysis, she returned to Sussex Station, calling "with an overwhelming concern of how two women from the Sussex County Prosecutor's Office attempted to 'coerce' her into dropping the charges against the accused and how she was 'assaulted again' by the two women," New Jersey State Police Detective Darran Crane wrote in a supplemental report obtained by Newsweek.
The troopers, until now uncertain as to the reason behind the irregularities surrounding this case, began to suspect that prosecutors were influenced by Schweizer's father and his political stature.
Crane noted in his report that Gallagher said "she was concerned that the accused was hooked up due to his father being an attorney or having some type of political ties, thus 'getting away with all the crimes he has committed.'"
"The behavior of the Sussex County Prosecutor's Office was so abnormal, so outrageous that they could only draw one conclusion—that the prosecutor's motive was potentially corrupt," the State Police official with direct knowledge of the case told Newsweek.
Despite their suspicions, no evidence of direct or indirect influence from Schweizer's father on charging decisions has been produced. The prosecutor's office firmly denies any allegation of improper influence on its deliberations. The troopers' chief concern, in any case, was how their complaints were handled by senior officials.
'Shut it down'
Concerned not only about Gallagher's plight but for what they considered the integrity of their own organization and the potential cost of inaction on their part, the troopers—including Crane, DeLorenzo, Krisanda and three others—chose to turn to the Official Corruption Bureau. Crane made the call.
When the troopers presented their work on Gallagher's case to supervisors, DeLorenzo was issued a commendation "for his investigative, interview and interrogation skills in getting a confession from a sexual assault suspect which is, within itself, inherently difficult," according to a copy of the February 13 document obtained by Newsweek. "Det. DeLorenzo's dedication to duty not only brings credit upon himself, but also the Division of State Police."
But after Detective Thomas Donnelly at the Official Corruption Bureau interviewed the troopers that same day, gathered the trove of audio and video evidence and presented the charge, he was soon shut down. Major Matt Lubertazzi, then a captain and head of the corruption unit, gave the order, according to a trooper with direct knowledge of the situation.
"Shut it down, this is bigger than all of us!" Lubertazzi said, per two troopers not present but subsequently briefed on the exchange who spoke to Newsweek on the condition of anonymity. "Shut it down now."
The New Jersey State Police did not respond to multiple requests for comment about the allegations against Lubertazzi when contacted by Newsweek.
Donnelly was notified that what was intended to be a corruption probe of the Sussex County Prosecutor's Office would instead be pursued as an internal investigation against the very troopers who raised the alarm, according to an individual familiar with the matter. This would apparently be overseen by Callahan himself.
"The suggestion that Callahan ordered an internal investigation of the Troopers, who saw what they believed to be an injustice occurring, in order to quash an official corruption investigation, stinks of that same alleged misconduct or corruption the Sussex Troopers were complaining about. And Gallagher is collateral damage," attorney Laura Fraser, who represents Gallagher, said in a statement.
According to documents reviewed by Newsweek and sources with direct knowledge of the probe, there was no substantive investigative work done on the corruption case.
In his deposition, Callahan recalled phoning Chris Porrino, then New Jersey's attorney general, after the diner sit-down in early March 2017. Callahan testified that the conversation ended with a mutual understanding that the attorney general's Division of Criminal Justice, not the State Police, had jurisdiction over an investigation into county prosecutors.
Callahan indicated he would initiate a transfer of the corruption probe from the State Police to the attorney general, "and that's what happened," according to his deposition testimony.
But when McCormick checked in with the Division of Criminal Justice one week before his February 2019 deposition, he said he was told that no corruption probe there had ever been opened against the Sussex County Prosecutor's Office.
In a June 2019 subpoena response seen by Newsweek, Porrino said he remembered speaking with Callahan but could not recall the substance of the discussion nor taking any notes or creating a report based on it.
Reached for comment by Newsweek, the office of the New Jersey attorney general said it can "neither confirm nor deny investigations."
'I hope these people are held accountable'
Today, McCormick remains in his position at the Sussex County Prosecutor's Office. Callahan, after being promoted by then-Governor Chris Christie to State Police superintendent in October 2017, was chosen to remain in his position by current Governor Phil Murphy.
Lubertazzi, who according to the troopers with knowledge relayed the command to quash the corruption probe, was promoted to his current rank of major and is now in charge of the governor's security detail.
Schweizer was again arrested in 2019 after police say he struck a state trooper's hand with his car.
Gallagher, whose initial ordeal was never brought to court, did appear before a judge in an attempt to obtain a permanent restraining order against Schweizer in May 2017. The second-highest ranking official at the Sussex County Prosecutor's Office was called to present evidence on Schweizer's behalf, including text messages the office had previously obtained from Gallagher's phone that could "call into question" her "credibility and character."
The judge ultimately denied Gallagher's request, leaving her, her mother and her legal representation in tears. Today, she still believes there were other forces at play in her odyssey.
"I really hope these people are held accountable," Gallagher said. "They took a horrible event in my life and made it that much worse. They should be ashamed and punished."