New Jersey Strip Club Issued Citation for Having Over 300 People Inside, Authorities Say: 'Many Without Masks'
A strip club in New Jersey was issued a citation for having more than 300 people at the establishment, violating Governor Phil Murphy's limits on social gatherings, although the club said there was not one patron inside.
Lookers Men's Club in Elizabeth received the citation for having up to 400 people inside, with a majority of them not wearing face coverings, according to authorities.
"Elizabeth (police) responded to Lookers, that reportedly had 300 to 400 people inside, many without masks," New Jersey State Police Superintendent Colonel Patrick Callahan announced at a Wednesday briefing.
While Callahan did not specify when the incident occurred, his coronavirus update was for the "past few days."
However, the club has disputed the state's assessment, arguing that there was not a single patron inside the establishment.
"Governor Murphy's executive order allows for up to 500 people outside, socially distanced. Our patrons were outside," a spokesperson for Lookers Men's Club told Newsweek. "Our only violation was not having enough man power working to control approximately 300 to stay seated and be 6 feet apart."
The spokesperson said that the ticket was written for a broad "executive order-Covid 19 violation" and that 400 people would not even fit inside the establishment.
Murphy's latest executive order, issued August 3, limits indoor gatherings to 25 percent capacity, which cannot exceed 100 people, and outdoor gatherings to 500 people.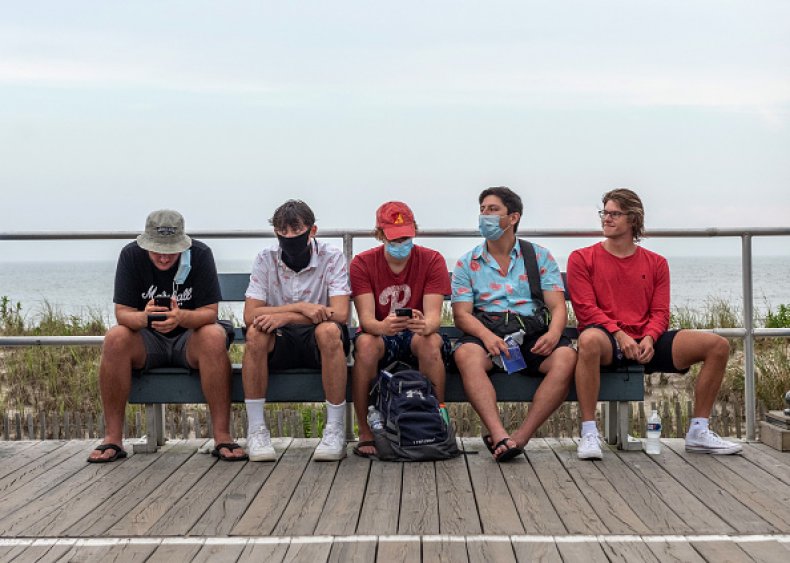 On Monday, the governor threatened to shut down a number of Jersey Shore bars after NJ Advance Media reported long lines of young people outside the bars without masks.
"This is not a game," Murphy said at a daily coronavirus briefing. "Standing around maskless in a crowd outside a bar is just as big a knucklehead move as standing around maskless inside one."
"But if we have to shut places down to protect public health, then we will," he continued. "Consider this your warning before you go out drinking this weekend."
The crowded nightlife at the Jersey Shore caused Murphy to put the state's reopening phase on hold back in mid-July. New Jersey is still in Stage 2 and indoor dining has been paused indefinitely.
"Now, certainly, I recognize that there are many establishments whose owners, managers, and customers have been responsible, and who have lived up not just to the letter of the guidance we have released, but to the spirit of community in helping to protect patrons and residents," Murphy said on June 29.
"But, others scenes cannot continue, and we cannot move forward unless there is complete compliance," the governor added. "So, unfortunately, the national situation, compounded by instances of knucklehead behavior here at home, are requiring us to hit pause on the restart of indoor dining for the foreseeable future."
Murphy was one of the last governors to lift the state's stay-at-home order, and the state remains one with stricter coronavirus restrictions. As of Tuesday, there are currently 33 states on New Jersey's 14-day quarantine travel advisory list. Self-quarantine is voluntary.
As of Wednesday, the state has reported 185,938 confirmed cases of COVID-19 and 15,842 associated deaths, according to the New Jersey Department of Health.
Update 11:05 a.m. ET: This story was updated with comments from Lookers Men's Club.