Phil Murphy Widens Lead in NJ in Rare Good News for Democrats
The only two U.S. states with regularly scheduled gubernatorial elections this fall could both lose Democrat leaders during their November 2 elections, which recent polling indicates are growing more competitive.
Both New Jersey and Virginia currently have Democrat governors, with Phil Murphy serving in New Jersey and Ralph Northam in Virginia. Murphy is running for re-election against Republican Jack Ciattarelli, a former member of the New Jersey General Assembly.
Virginia does not allow its governors to serve consecutive terms in office, so Northam is not running in this year's race. However, a former Virginia governor, Democrat Terry McAuliffe, is striving for a second term after serving his first from 2014 to 2018. McAuliffe is running against Republican Glenn Youngkin.
Of the two elections, the race in Virginia has grown closer in recent polls, with some voter surveys conducted earlier this month suggesting McAuliffe and Youngkin are tied among likely voters. Other polls have placed McAuliffe slightly ahead of Youngkin, with polling averages estimating him to be less than 2 points ahead as of Wednesday.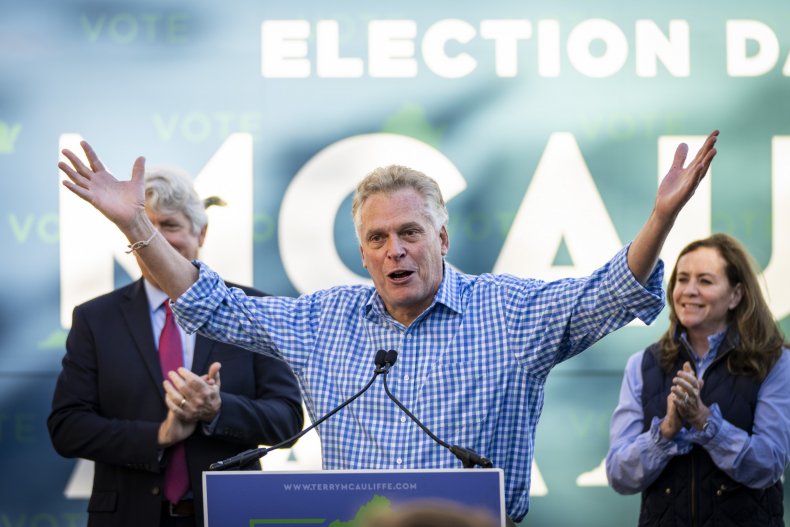 Though the gap between voter support for McAuliffe and Youngkin has narrowed over the last few weeks, summer polling suggested the candidates have been within 10 points of each other for months. McAuliffe has typically polled in the lead, Youngkin gaining as Election Day approached.
Surveys of New Jersey voters have suggested their state's election is not as competitive. Murphy frequently polled double digits ahead of Ciattarelli through the summer. A couple of polls conducted in September and early October indicated Murphy's lead was shrinking to less than 10 points, and one mid-October poll from Emerson College said the candidates were just 4 points apart when undecided voters leading toward supporting one campaign or the other were factored in. The Democrat's lead jumped back up to 11 points in a subsequent poll released Wednesday by Monmouth University, less than one week before the election.
Though more media attention has been paid to the race in Virginia, President Joe Biden visited both states earlier this week and has encouraged voters to back the Democrats running. Some political strategists have suggested the Virginia race, in particular, could serve as an indicator of how the 2022 midterm elections will go for members of Congress as Democrats strive to defend their slim majorities in the House and Senate.
After the 2020 election, the U.S. was comprised of 27 Republican-led states and 23 led by Democrats. Looking ahead to November 2, the chairs of the Democratic National Committee (DNC) and the Republican National Committee (RNC) both encouraged voters to participate in the off-year elections, with DNC Chair Jaime Harrison campaigning alongside McAuliffe and RNC Chair Ronna McDaniel phone banking for Youngkin in Virginia days ahead of the election.
DNC spokesperson Will Baskin-Gerwitz told Newsweek the DNC "is taking nothing for granted" when contacted for comment about the New Jersey and Virginia races.
"On Tuesday, voters in both New Jersey and Virginia will choose a science-based pandemic recovery and an economy that grows from middle out over the Trumpian delusions and conspiracy theories that remain the only thing the modern GOP has to offer," Baskin-Gerwitz said. "In both states, the DNC is taking nothing for granted, and that's why we've made unprecedented investments in both Virginia and New Jersey to ensure Terry McAuliffe, Phil Murphy, and their allies in Richmond and Trenton will spend the next four years continuing to deliver results for working families."
Editor's note: The headline for this story has been updated to reflect new polling results released Wednesday for the New Jersey race.
Update (10/27, 7:43 p.m. ET): This article has been updated to include comments from DNC spokesperson Will Baskin-Gerwitz.