New Jersey Woman Allegedly Coughs on Police Officers, Falsely Claims She Has Coronavirus After Being Arrested
A New Jersey woman allegedly coughed on police officers and told them she had infected them with coronavirus after being arrested.
Lea Piazza, 28, was arrested on on suspicion of driving while intoxicated on March 12 after a car crash involving a single vehicle in Hanover, NJ.com reported.
She allegedly coughed on officers from the Hanover Township Police Department as they tried to process her. Piazza grew belligerent as officers tried to question her and breathed on an officer despite being repeatedly asked to stop, Capt. Dave White told NJ.com.
While she was being processed at the police department, Piazza again started breathing, he said. According to the outlet, she coughed on one officer and told him, "Oh by the way, I have the coronavirus and now so do you."
Piazza told police that her boyfriend had the virus and was in hospital, White added.
Three officers who had come into contact with Piazza since she was arrested were told to self-quarantine. But after investigating, police determine that everything she had said was "100 percent false," White told NJ.com.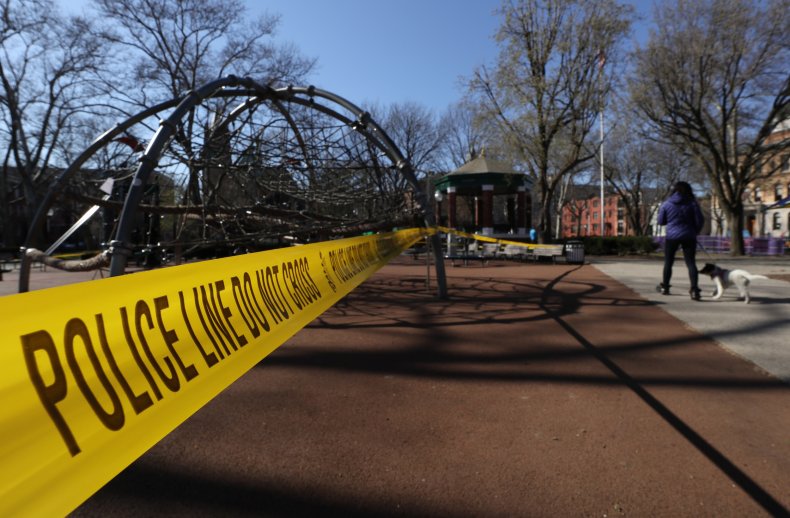 The man Piazza claimed was her boyfriend told police he had gone on one date with her and was in hospital for an unrelated dental issue.
Piazza, of Wayne, was charged with driving while intoxicated, careless driving, reckless driving and refusal to take a breath test, the website reported. She was also charged with causing a false public alarm over the comments.
White said Piazza, who was released from custody after being charged, later called police to apologize for her behavior. But he said that police "are not taking this stuff lightly." He added, "If anything, this sets an example. Don't screw around."
Newsweek contacted the Hanover Township Police Department for additional comment.
New Jersey had 267 confirmed cases of coronavirus as of 2 p.m. ET on Tuesday, according to the New Jersey Department of Health. The state has had three coronavirus-related deaths.
In a news briefing on Tuesday, New Jersey Governor Phil Murphy announced he was ordering the closure of all indoor shopping malls and amusement parks. A day earlier, he activated the National Guard, and urged all residents to stay home after 8 p.m.
"This is not a curfew, but it is strongly recommended, and travel is strongly discouraged. If you don't need to be on the roads, you should not be on the roads," he said.
"If alternatively you are a healthcare worker or other employee essential to our response, we still need you to get to work and to the vital jobs you are doing. And from the bottom of our hearts we thank you and recognize that you are the frontlines in this fight. But for those who do not need to be out, please, please, please just stay home."
Also on Monday, Governor Murphy announced that all casinos, racetracks, movie theaters, performing arts centers, nightclubs, and gyms would be closed to curb the spread of the virus. All other non-essential businesses must close by 8 p.m. starting Monday.
The state has also banned gatherings of more than 50 people.
The new coronavirus has infected more than 198,000 people around the world and killed almost 8,000, according to Johns Hopkins University. More than 81,000 people have recovered.
In the U.S., 6,496 cases had been confirmed as of Wednesday morning and the death toll has climbed to 114. Seventeen people have recovered so far.
World Health Organization advice for avoiding spread of COVID-19
Hygiene advice
Clean hands frequently with soap and water, or alcohol-based hand rub.
Wash hands after coughing or sneezing;
When caring for the sick; before; during and after food preparation; before eating; after using the toilet; when hands are visibly dirty; and after handling animals or waste.
Maintain at least 1 meter (3 feet) distance from anyone who is coughing or sneezing.
Avoid touching your hands, nose and mouth. Do not spit in public.
Cover your mouth and nose with a tissue or bent elbow when coughing or sneezing. Discard the tissue immediately and clean your hands.
Medical advice
If you feel unwell seek medical care early and call local health authorities in advance.
Stay up to date on COVID-19 developments issued by health authorities, follow guidance.
Mask usage
Healthy individuals only need to wear a mask if taking care of a sick person.
Wear a mask if you are coughing or sneezing.
Masks are effective when used in combination with frequent hand cleaning.
Do not touch the mask while wearing it. Clean hands if you touch the mask.
Learn how to properly put on, remove and dispose of masks.
Clean hands after disposing of mask, do not reuse single-use masks.