New Jobless Claims Remain Over Seven Times Higher Than Before Pandemic
Even as the U.S. continues to reopen and many Americans return to work amid the coronavirus pandemic, unemployment remains at historic levels, with more than seven times as many initial jobless claims filed last week, compared with early March.
The Department of Labor on Thursday morning reported that just over 1.5 million initial jobless claims were filed during the week ending June 13. Comparatively, the week ending March 7, less than two weeks before stay-at-home orders began in parts of the country, had just 211,000 initial unemployment claims. New jobless claims continued to be more than seven times higher last week, even as President Donald Trump has hailed the start of an economic recovery.
"Today's unemployment report provided the latest evidence that, despite some leaders' dreams of moving beyond the COVID-19 crisis, the United States is still in the throes of a major, ongoing joblessness crisis," Andrew Stettner, a senior fellow at the Century Foundation, told Newsweek.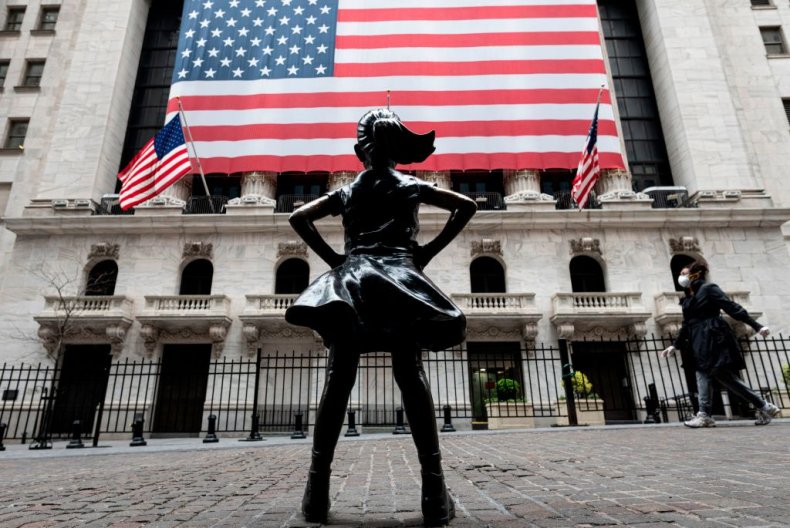 "This report confirms that labor market problems have shifted away from mass closings and layoffs in immediate response to shutdown orders and toward still-catastrophic numbers of new layoffs related to the long-term, reverberating effects of a recession," Stettner said.
Trump and his supporters have pointed to the decline in new jobless claims as a sign that the economy is returning to a semblance of normalcy, even as new cases of the novel virus continue to surge in states across the country. While weekly new claims fell from a record high of 6.6 million during the week ending March 28, millions of Americans remain unemployed as economists warn of the long-term economic fallout from the pandemic.
"All told, more than 31.9 million Americans are either newly filing or continuing to claim benefits, a staggering 20 percent of the entire workforce, which did not budge from this high level over the last week," Stettner said.
Mark Hamrick, Bankrate.com's senior economic analyst, told Newsweek that "the decline of just 58,000 [initial jobless claims] feels less like an improvement than what we'd seen in previous weeks."
"Like the threat posed by the virus, we must not become complacent about the level of human suffering associated with the economic downturn simply because of its persistence," Hamrick said.
Officially, the nation's unemployment rate was reported at 13.3 percent for May. But the Bureau of Labor Statistics has said its workers were making an error in data collection and now estimates that the actual rate was above 16 percent.
"All in all, today's UI [unemployment insurance] data highlight the deep recession we are now in," Heidi Shierholz, senior economist and director of policy at the Economic Policy Institute, wrote in a Thursday morning blog post.
"Policymakers need to act decisively to fight this recession and set our economy up for a strong recovery, which will not happen without substantial additional fiscal aid," Shierholz cautioned.
The graphic below, provided by Statista, shows how the number of jobless claims has changed throughout 2020 so far.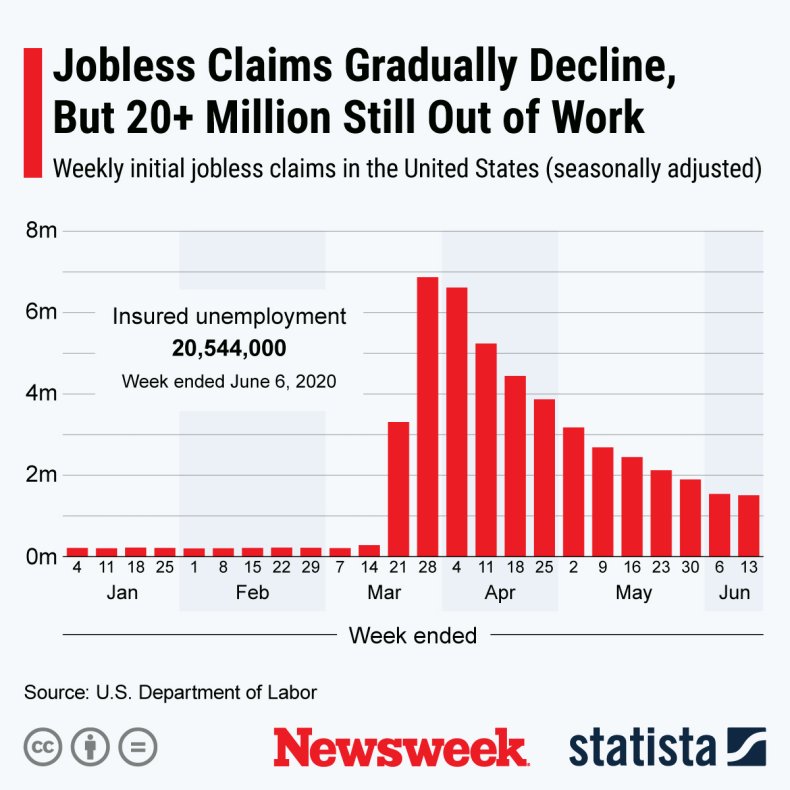 This article has been updated with a graphic from Statista.