New Joe Rogan Firestorm as Podcaster Chimes in on What It Means to Be Black
Fresh off of one controversy involving legendary singer Neil Young and Spotify, Joe Rogan finds himself at the center of another. The popular podcast host talked about what it means to be Black in a recent episode of The Joe Rogan Experience.
On Tuesday, while speaking to author and psychology professor Jordan Peterson, the topic of race came up. Rogan began by bringing up Peterson's odd career trajectory and how he went from university professor to worldwide fame in his late 40s. Rogan mentions how Peterson is such a polarizing figure, where he's either loved or hated by people for his work.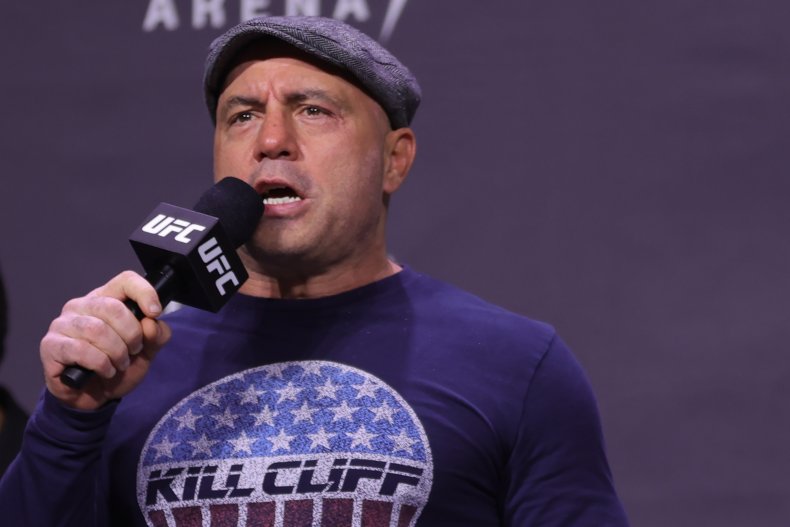 Political commentator and professor Michael Eric Dyson's name is then brought up as someone, according to Peterson, who referred to him as a "mean, angry white man." Peterson and Rogan go back and forth for a few seconds as they discuss to what degree they are white. Peterson eventually moves on to state that "he," referring to Dyson, "was brown, not Black."
Rogan retorts by saying, "There's such a spectrum of shades of people. Unless you're talking to someone who is, like, 100 percent African, from the darkest place, where they are not wearing any clothes all day and they've developed all that melanin to protect themselves from the sun, you know, even the term Black is weird. When you use it for people who are literally my color, it becomes very strange."
To respond to the segment on which his name was brought up, Dyson appeared on CNN with Don Lemon. Dyson said Rogan and Peterson "unsuccessfully challenged my Blackness, they damn sure proved their whiteness—indifferent to history, oblivious to truth and indifferent to reality."
Dyson went on to say that the views Rogan and Peterson espoused are prevalent in society today.
"This is the same kind of ignorance that fuels the belief that [Critical Race Theory] is being taught in elementary schools. This is the same kind of ignorance that would have us believe that 1619 is anti-democratic, anti-American project. This is the nature of the whiteness we continually confront. This is willful ignorance. This is not, 'Oh my God, I just don't understand it. It's just too complicated.' No, what's too complicated is to acknowledge your whiteness. Your privilege. Your perspective. The shades through which you view the world and the ways in which whiteness provides a kind of lens through which we view it."
Trevor Noah, the host of The Daily Show, also responded. He cited Rogan's massive audience and called some of what's said on the program, as far as COVID goes, "a little suspect." Noah used comedy in his segment saying, "I know a lot of people are upset about this but look at the upside: at least Joe Rogan wasn't talking about vaccines."
Newsweek reached out to Joe Rogan for comment but did not hear back before publication.