New 'Killing Eve' Sneak Peak Teases Eve's Fate as Season 3 Approaches
AMC and BCC America released the new teaser, titled "Hallelujah," for their spy thriller, Killing Eve, ahead of the Season 3 premiere. Let's find out if the new promo answered the really big question: Did Eve (Sandra Oh) survive the second season cliffhanger?
Before the third season premiere airs on Sunday, April 26 at 10pm, BBC America released an all-new promo. In the short video, Villanelle (Jodie Comer) presses her lips against a small and stylish blade before looking directly at the camera. Eve herself (Sandra Oh) appears to be in a state of distress. In quick flashes, the two actresses are seen, both wearing striking red ensembles. A remix from the oratio from Handel's "Messiah" can be heard in the background.
Towards the end of the video, Villanelle's facial expressions range from sweet to deadly. She smiles sweetly at the camera before moving as if to stab the lens with her knife.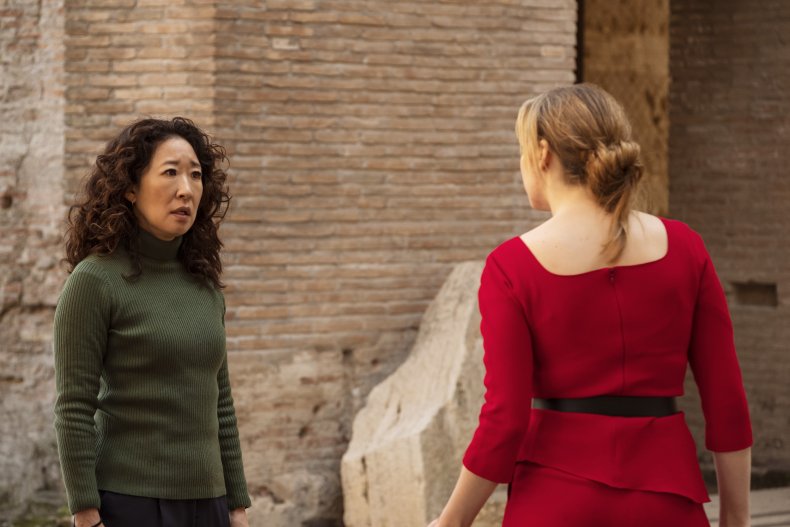 In a recent interview from Vanity Fair, Sarah Barnett, President of AMC Networks, revealed that Eve is still alive. When we last saw her, she had been shot by Villanelle. Barnett was tight-lipped but was still able to tease, "The season does open with our two leads in really very different places to where you've seen them before."
Barnett disclosed how the third season will examine the multi-talented serial killer, Villanelle, "One of the things that was so interesting right from the beginning was, how do you make an audience interested in a lead character who's a psychopath?"
Barnett added that the drama will "peel back a few layers around who Villanelle is, and why Villanelle is the way she is."
In an official statement released on February 20, 2020, BBC America announced Laura Neal (Secret Diary of a Call Girl) as the new lead writer on the award winning drama.
Executive Producer Sally Woodward Gentle praised Neal's writing in the upcoming third season, "She's wicked and wild, emotional and provocative. The stories we are already creating for season four promise a pitch-black riot."