The COVID-19 pandemic has left pain and tragedy in its wake. But it has also created a unique opportunity to address the country's persistent class divides, thanks to a persistent lack of labor resulting from the pandemic. In a world economy that has seen labor's share of income drop for generations, this labor shortage could provide some restored leverage for both white and blue collar workers.
The labor shortage was a reversal from the earlier impact of the pandemic on labor. Initially, COVID-19 devastated the working class and parts of the private sector middle class; the harsh lockdowns imposed in many places caused upwards of one third of small businesses to close down permanently and decimated the service industry.
But as the economy has recovered, despite high unemployment over 6 percent and over 8 million fewer positions, there's a shortage of workers, including 7.4 million unfilled jobs. And it's not relegated to any one industry. Companies like John Deere, its order book strong due to a worldwide surge in commodity prices, are struggling to find workers willing to take jobs in its Iowa factories, a phenomenon common across the industrial economy. We're seeing a massive shortage of virtually every kind of labor, including blue collar jobs. What this means is that companies have to work harder to attract workers; even fast-food restaurants like McDonald's are offering low end service workers signing bonuses, higher wages and more humane working conditions.
And the blue-collar jobs gusher could just be beginning. Arvind Kaushal, leader of the manufacturing practice at Booz & Company, has estimated that as many as 600,000 new manufacturing jobs cannot be filled. The current shortage of welders alone is expected to grow to 400,000 by 2024. Much the same can be said about logistics, which basically kept the country running amidst the pandemic lockdowns: A shortage of tanker drivers threatens gas deliveries this summer. The shortfall is now so severe that Amazon has set up its own incubator for new trucking companies.
Moreover, the shift to work from home that the pandemic birthed represents a huge opportunity for white collar workers. Once dragooned into offices far from affordable homes, many office workers have embraced new hybrid models, working remotely not only from home but from dispersed offices and coffee shops. Stanford economist Nicholas Bloom has suggested at least 20 percent of the workforce will work remotely even after the pandemic ends, up from 5.7 percent in 2019. And there's evidence that remote workers have been more productive, with many executives surprisingly pleased with the results.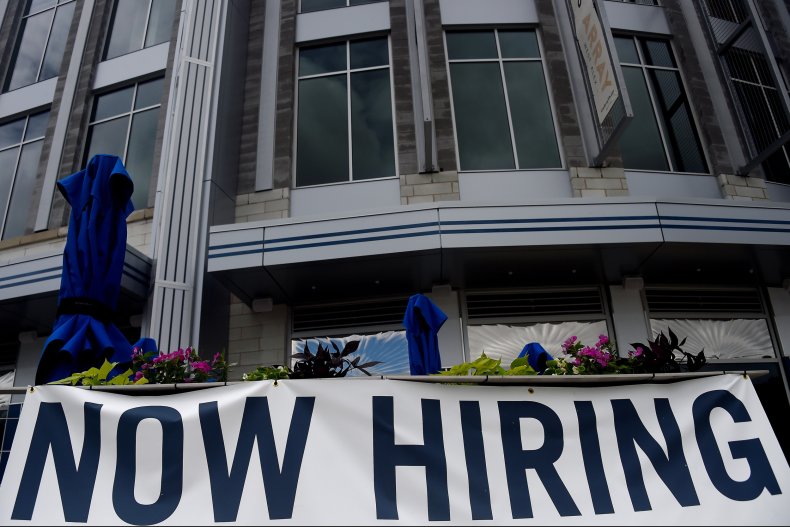 Besides surprising productivity gains registered during the pandemic, many workers are creating an enhanced "life-work balance" thanks to remote working. This is critical to millennials and women with children trying to get back into the labor force once schools reopen. And they're not willing to give it up now that the pandemic is over; in a recent survey of over 5,000 employed adults, four in 10 American workers expected some level of remote work flexibility post-pandemic.
You can expect to see a new conflict between the boomer bosses and their less pliant employees in the coming months. The big bosses like J.P. Morgan's Jamie Dimon and Tim Cook at Apple, not to mention the beleaguered owners of commercial office space, want to frog march people back to the cubicle. But HR managers are already warning of push back, and many workers seem ready to resist, including at firms like Apple, while some cities are offering $10,000 or more for talent willing to relocate. The recent reopening of one Valley software firm found just two percent of its 5,000 workers ready to come back.
Some of these workers may go off on their own. There are already signs of something of an entrepreneurial revival throughout the country. Across the U.S., about 4.4 million applications for new businesses were filed last year, compared to roughly 3.5 million in 2019. We may see the rise of a whole new set of startups that remain dispersed in their operations, saving money on rent and locating more work in more affordable places. Some three quarters of venture capitalists and tech firm founders expect their ventures to operate totally or mostly online, one recent survey found. There could also be new opportunity even in Manhattan, where newly abandoned storefronts and lower rent could help spark new opportunities.
The question now facing President Biden and his advisers as well as business and political leaders is how to accelerate these positive trends. For the boon for workers isn't a sure thing. The Biden Administration's obsession with race, for example, is a potential pitfall, in that it misses the point that it's class, not race, that defines reality for most workers.
The less educated of every race have been the losers in the 21st century economy, not only earning less relative to the upper classes but suffering health and other challenges. Meanwhile, race differentials have actually narrowed. The Biden Administration should focus on favoring the working class, which is not always the same thing as backing organized labor in a country where barely six percent of private sector workers are unionized. This would also naturally help minorities, who by 2032 will constitute half the U.S. working class.
But there's another potential pitfall, in progressives' emphasis on redistribution, rather than cultivating new opportunities for work. This is a mistake: We can either seek to expand and make more lucrative blue-collar work, or we can allow the vast majority of Americans to become dependent on what Marx called "the proletarian alms bag."
The notion of an providing a stipend for the those choosing not to work seems misplaced at a time when manufacturing employment is expanding more rapidly than it has in almost four decades, with job openings for the industrial sector up 75 percent since last February.
One clear step that is strongly supported by the public and by large parts of both parties is to bring more production, both in goods and services, back to the United States. A recent survey by the left-leaning Center for American Progress found far more American prioritize protecting U.S. jobs and reducing illegal immigration than such progressive mainstays as climate change and improving relations with allies.
Policy needs to aim to make work, not sloth, pay. Employers, unionized or not, certainly will need to pay higher wages. But the government can make work pay by expanding credits to households with children, providing greater health care support, and encouraging dispersed and online work with better broadband, which also could support climate goals.
America has a unique opportunity to reverse the long-standing feudalization of our society. But to do this, business, government, and workers themselves need to take advantage of the new conditions.
Joel Kotkin is the Presidential Fellow in Urban Futures at Chapman University and executive director of the Urban Reform Institute. His new book, The Coming of Neo-Feudalism, is now out from Encounter. You can follow him on Twitter: @joelkotkin.
The views expressed in this article are the author's own.