From New Laptops for Congress to Cannabis Studies, The New Stimulus Bill Funds Many Non-Stimulus Projects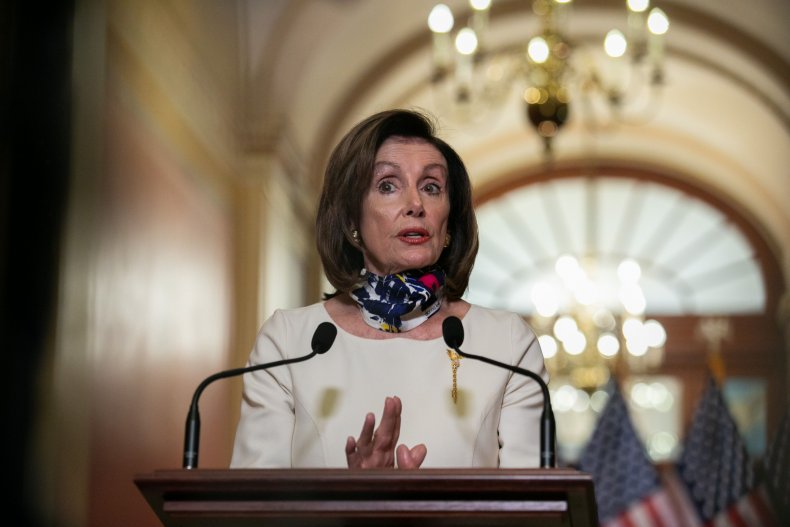 Five million dollars for new laptops and other tech equipment for members of Congress.
Money to study diversity in cannabis businesses.
Ten million for the National Endowment for the Arts and another $10 million for the National Endowment for the Humanities—that's on top of the $75 million for the humanities endowment in an earlier stimulus package this year.
House Democratic leaders have put together a $3 trillion coronavirus stimulus package that is chock-full of items that have little connection to combatting the deadly outbreak or helping Americans who have been hit-hard by the pandemic and its economic fallout.
Republicans have slammed the proposal that was drafted by Democratic House Speaker Nancy Pelosi and the top leaders of her chamber without input from the White House or Republican leadership.
Speaking from the House floor Friday, Representative Virginia Foxx (R-North Carolina) called it a "socialist wish list."
A "parade of absurdities," Representative Joe Wilson (R-South Carolina) said when it was his turn to speak.
It has no chance of ever making it into law, Senate Majority Leader Mitch McConnell (R-Kentucky) and President Donald Trump have both repeatedly vowed.
A $2 trillion relief package that Congress approved in March with bipartisan support similarly included items not directly related to the coronavirus outbreak, like a provision to allow Food and Drug Administration to consider new over-the-counter sunscreen ingredients.
Aside from items intended to directly aid the nation's coronavirus recovery like rental assistance, student loan bailouts, cash payments to Americans and money for state and local governments whose budgets have been wrecked by the pandemic, some of the priorities that Democrats tucked into the latest 1,800-page proposal include $50 million in "environmental justice" grants to study how communities with disproportionate environmental issues for poor and minority residents were impacted by COVID-19.
Another $40 million would go the U.S. Geological Survey for research related to wildlife-borne disease. The novel coronavirus is believed to have begun with animals before humans were infected.
The bill contains language to allow cannabis-related businesses that operate legally in their states to be able to secure banking and insurance services, and funds research into access for minority and women business owners in the cannabis industry. Cannabis is still illegal under federal law.
In addition to new laptops for members, the $5 million for House technology upgrades would cover the purchase of satellite phone, Wi-Fi Hotspots and satellite bandwidth expansion so Congress can work remotely.
The humanities and arts endowments would be able to use their boosted spending to provide grants and cover matching funds that entities aren't able to pay themselves.
At least $5 million in the bill would go to museums and libraries, while $250 million would be set aside for grants to help formerly incarcerated people and prevent recidivism.
Pelosi and her allies have defended the sweeping proposal as a necessary response to unprecedented times.
"There is pain; there is suffering; there is death throughout the land," Democratic Caucus Chair Hakeem Jeffries, of New York, said on the House floor Friday. "Congress must act now."
Some other items included in the bill:
Money for the U.S. Department of Agriculture to study soil health.
$50 million for the Legal Services Corporation.
$15 billion for state transportation departments.
$100 million for fisheries.
The Democrat-controlled House spent much of Friday debating the bill and was expected to pass it on a near party-line vote.