New Lawsuit Claims Coronavirus Relief Act 'Intentionally Discriminates' Against Immigrant Families
A new lawsuit filed on the behalf of seven U.S. citizen children claims that the government's $2.2 trillion CARES Act providing coronavirus relief funding for families in the U.S. "intentionally discriminates" against immigrants.
Filed in the U.S. District Court for the District of Maryland by Georgetown Law's Institute for Constitutional Advocacy and Protection (ICAP) and Villanova Law Professor Leslie Book on Tuesday, the lawsuit questions why U.S. children are being excluded from receiving the benefits of emergency cash assistance based on their parents' immigration status.
The CARES Act, which was signed into law on March 29, provides emergency financial assistance to millions of people with the distribution of immediate stimulus checks of up to $1,200 per adult and up to $500 for each of the adult's children under the age of 17.
Under the economic relief bill, immigrants who have a social security number are eligible for relief funds, but many other non-U.S. citizens and undocumented immigrants are not.
As a result, the new lawsuit argues, U.S. citizen children of undocumented immigrants who pay their taxes using an individual taxpayer identification number (ITIN) are being denied the benefits of financial assistance.
One plaintiff in the case, identified only as Norma, came to the U.S. from Mexico in 2005 and has a son who is a U.S. citizen.
According to the lawsuit, Norma had been working in a restaurant in the District of Columbia, but lost her job as a result of the COVID-19 workplace shutdowns.
She is currently living with a number of family members and her boyfriend, with three of the adults in the home having contracted coronavirus, according to Norma's lawyers.
With no income, the mother and her family have had to rely on food handouts from a local community center.
"I have lost my job, and in my home three adults have the coronavirus; none of us are working," Norma said in a statement shared with Newsweek. "My son is an American citizen, and we need him to receive the CARES Act benefit to provide food and a roof over his head until this difficult moment passes."
Speaking with Newsweek on Wednesday, Nicholas Katz, the senior manager of legal services for CASA, an organization assisting with the lawsuit, said the CARES Act was "structured in a way that makes it impossible for mixed-status families and families who may not have any legal status here, in terms of the parents, to receive this money, and that excludes these U.S. children."
As a result, Katz said, "all of our plaintiffs and the vast majority of mixed-status families and those who have undocumented parents are paying taxes and contributing to a system that they don't benefit from."
"They are also disproportionately represented on the frontlines [of the pandemic] and are putting themselves at risk to keep others safe during this crisis and at the same time, worrying about how to put food on their tables."
Katz said the number of children who could be affected by the exclusion is significant. "It numbers in the millions. This is not a small category of people. These are millions of children who don't have access to secure food. These are kids who now have to go to food banks or get meals offered by their schools, but even with that, there's a risk in accessing that food and there's limited access to it."
"The refusal to distribute this benefit to U.S. citizen children undermines the CARES Act's goals of providing assistance to Americans in need, frustrates the Act's efforts to jumpstart the economy, and punishes citizen children for their parents' status—punishment that is particularly nonsensical given that undocumented immigrants, collectively, pay billions of dollars each year in taxes," Mary McCord, the legal director for ICAP, further said in a statement shared with Newsweek. "More fundamentally, this discrimination violates the equal protection principles embodied in the Fifth Amendment's Due Process Clause."
Plaintiffs, including Norma, are asking for a declaration deeming the exclusion of U.S. citizen children of undocumented parents unconstitutional. They are also seeking payments of up to $500 for each U.S. citizen child, in accordance with the thresholds laid out in the CARES Act.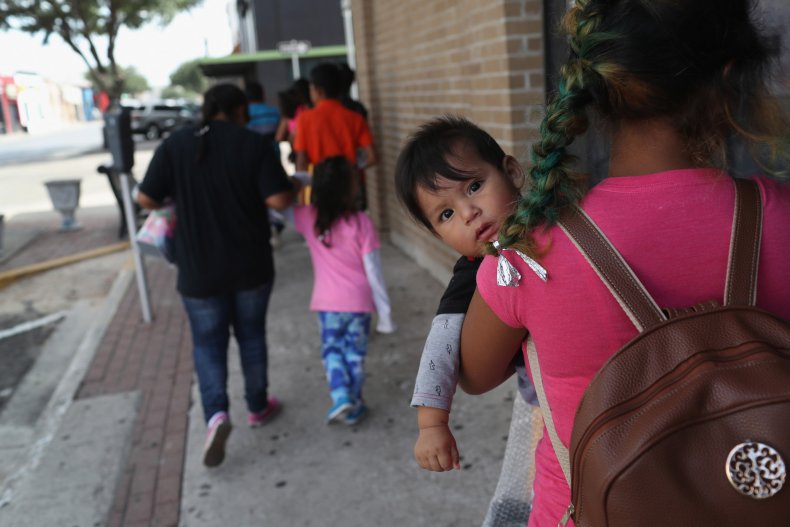 This article has been updated with a statement from Nicholas Katz of CASA.