A new lawsuit claimed Larry Nassar drugged, raped and impregnated Michigan State University field hockey player Erika Davis in 1992, who was named in the suit, according to the Lansing State Journal. Davis filed the lawsuit in Grand Rapids. It lists Nassar, Michigan State, the school's board of trustees and USA gymnastics as defendants. Nassar was an athletic doctor at MSU and USA gymnastics at the time.
According to the suit, Nassar asked Davis to drink a crushed up pill. She became unconscious but awoke to Nassar raping her. Months later, Davis discovered she was pregnant and was not sexually involved with anyone else at the time. Davis later miscarried.
At the time of the assault, Davis told coach Martha Ludwig about the incident and said Nassar recorded it. Ludwig confronted Nassar and demanded a copy of the recording, the suit said.
Former MSU athletic director George Perles asked Ludwig to return the tape and made her sign a non-disclosure agreement, the lawsuit explained. Perles resigned from the position that year but is currently on the MSU board of trustees.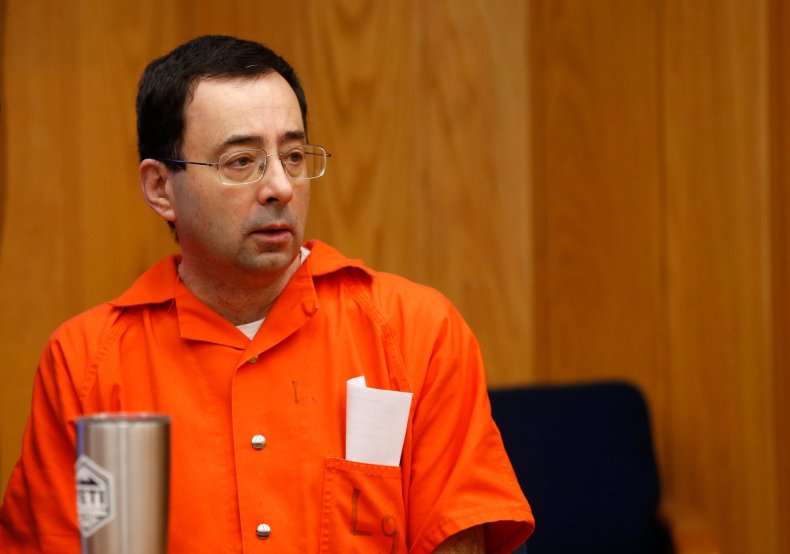 Davis also claimed she tried to file a report with police but was told it should be handled internally by the MSU athletic department. Davis later lost her athletic scholarship at the school.
MSU issued a statement about the lawsuit and apologized for Nassar's actions. "We are deeply sorry for the abuses Larry Nassar has committed and for the trauma experienced by all sexual assault survivors," an MSU spokesperson said. "Sexual abuse, assault and relationship violence are not tolerated in our campus community. While the protocols and procedures mentioned in this lawsuit do not reflect how sexual assault claims are handled at MSU, we are taking the allegations very seriously and looking into the situation."
Davis is not the first to come forward about sexual abuse by Nassar. In 2016, Nassar was investigated by MSU for sexual assault allegations. In total, over 150 of women claimed he had sexually abused them. Nassar pleaded guilty to 10 counts of criminal sexual assault in January. He is currently in prison on a child pornography charge as well as nine sexual assault charges serving a sentence 40 to 175 years, the New York Times reported January 24.
Olympic athlete Simone Biles released a statement on her Twitter account in January, revealing she had been assaulted by Nassar too. "I am not afraid to tell my story anymore," part of her letter read. "I too am one of the many survivors that was sexually abused by Larry Nassar. Please believe me when I say it was a lot harder to first speak those words out loud than it is now to put them on paper. There are many reasons that I have been reluctant to share my story, but I know now it is not my fault."