New Leader for the Senate? Mitch McConnell Should Resign, Republican Lawmaker Says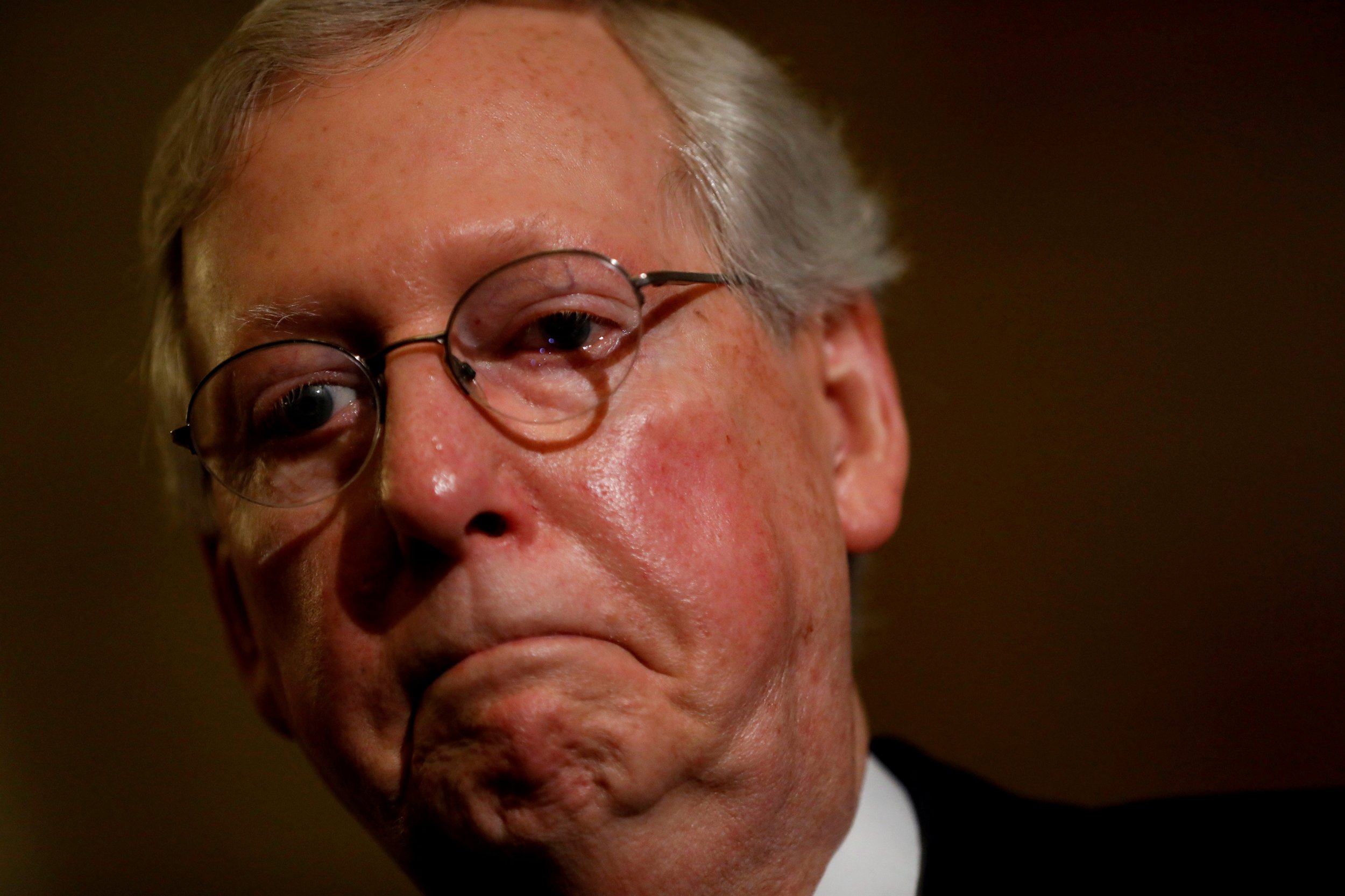 A Republican member of the House said he believes Mitch McConnell should resign as Senate majority leader after the Republicans tried and failed to repeal Obamacare this week.
"If I were Mitch McConnell, I would resign," Representative Mo Brooks of Alabama told Fox News on Friday.
Brooks, who is running in a special election to fill the Senate seat previously held by Attorney General Jeff Sessions, said McConnell and the Senate's Republican leadership are "unquestionably" responsible for the bill's failure. He said they should continue to work to repeal and replace Obamacare, and if they are not successful, McConnell should resign.
"If they're gonna quit, well then by golly, maybe they ought to start at the top with Mitch McConnell leaving his position and letting somebody new, somebody bold, somebody conservative take the reins," Brooks said on CNN's New Day.
The Senate voted against a partial repeal of Obamacare, as Republican Senators John McCain, Lisa Murkowski and Susan Collins joined with all 48 Senate Democrats in opposing the bill in the dramatic late-night vote.
"3 Republicans and 48 Democrats let the American people down," President Donald Trump tweeted following the vote. "As I said from the beginning, let ObamaCare implode, then deal. Watch!"
Trump has yet to achieve a major legislative victory sixth months into his presidency. McConnell said after the vote it was time for the Senate to "move on."
"If Mitch McConnell cannot get the job done on this, how is he going to get the job done on the rest of President Trump's agenda over the next three and a half years?" Brooks said on CNN.
Brooks was the first Republican to call for McConnell's resignation after the vote. He is currently engaged in a tough campaign in a crowded GOP field for the Senate, including recently appointed Senator Luther Strange and controversial former Alabama Supreme Chief Justice Court Roy Moore.
McConnell has been criticized by others for his attempts to wrangle the votes necessary to pass some kind of health care bill. Wisconsin Senator Ron Johnson expressed concern over McConnell's statements to GOP moderates about retaining Medicaid, which he said were a "breach of trust."