New Lev Parnas Video Shows RNC Chief Greeting Igor Fruman With Hug: 'So Glad You're Here'
A newly released Lev Parnas video shows his business partner Igor Fruman being warmly greeted by RNC Chair Ronna McDaniel at a Mar-a-Lago event where the pair mingled with President Donald Trump.
"Good to see you, I'm so glad you're here... we've met before, how are things?" said McDaniel to Fruman directly after entering a banquet room. The video was released Thursday by Parnas lawyer Joseph Bondy.
Fruman and Parnas were both indicted in October 2019 for allegedly attempting to illegally funnel foreign money to American politicians. Parnas has also said the pair were working with Trump's personal attorney Rudy Giuliani to dig up dirt on the president's political rival, former Vice President Joe Biden.
The new video suggests that both Trump and high-ranking GOP officials may have had multiple contacts with the pair, who had reportedly donated $600,000 to Republican candidates between 2016 and 2018.
"On a given day, the Chairwoman greets hundreds if not thousands of people at events across the country," said an RNC spokesperson in a statement responding to the recording. "This is nothing more than that."
The new video was taken on April 20, 2018 and primarily captures audio of Trump, McDaniel and attendees discussing the then upcoming midterm election. It ends with footage of Parnas posing for a picture with Trump.
Trump has also consistently denied knowing Parnas, most recently telling reporters that the former Giuliani associate is a "groupie" and "con man." The new video is the latest piece of evidence released by Parnas to counter the president's assertion. Multiple photos of the men together also exist, as well as a previously released video.
Newsweek reached out to the White House for comment but did not receive a response in time for publication.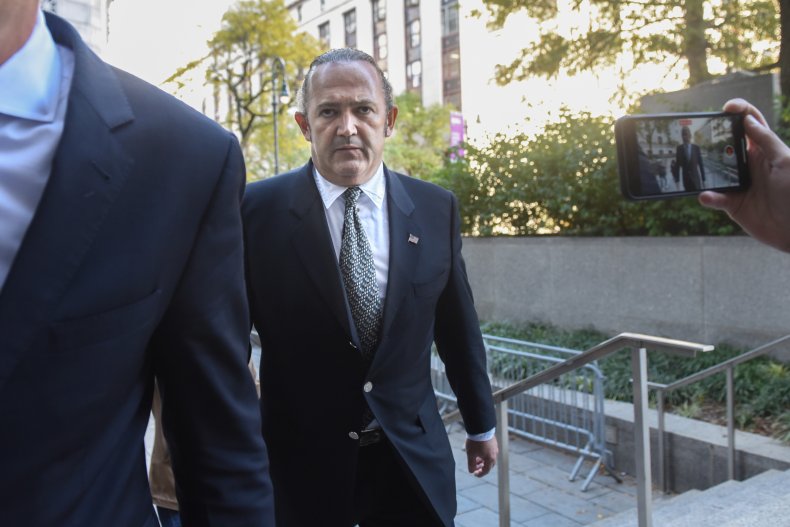 Parnas attorney Bondy had recently announced that further recordings of Parnas and Trump exist and could be publicly released. A letter from Bondy asking U.S. District Judge Paul Oetken for permission to hand over further evidence to House Democrats was entered into court Tuesday.
"I don't know why he [Fruman] made the recordings. Some people make recordings, they like to take pictures. I can't ascribe any kind of motive beyond that," Bondy told CNN's Anderson Cooper on Saturday.
The recording that was previously released was said the have been made on April 30, 2018. In addition to Parnas and Trump conversing, it also purportedly captures Trump urging associates to "get rid of" former U.S. Ambassador to Ukraine Marie Yovanovitch.
The ambassador was ousted a year later after allegedly getting in the way of a scheme to pressure Ukraine into announcing an investigation of Biden.
"Get rid of her," Trump says in the recording, according to ABC News. "Get her out tomorrow. I don't care. Get her out tomorrow. Take her out. Okay? Do it."
White House communications Director Stephanie Grisham dismissed any notion that Trump's comments about Yovanovitch were significant.
"Every President in our history has had the right to place people who support his agenda and his policies within his Administration," said Grisham in a statement to Newsweek.
It is unclear whether further recordings of Trump and Parnas exist or will be released. Trump's Senate impeachment trial is ongoing, and Republicans have so far resisted attempts to allow new evidence and the calling of witnesses.
Parnas has indicated that he would like to testify at the trial. A vote on allowing witnesses is expected by Friday.