New Lexus Sport, Sedan, SUV Concepts Show EV Future of the Brand
Three Lexus concept cars that were revealed in December 2021 have gotten the green light for a more in-depth study. The new BEV Sedan, BEV Sport and BEV SUV concepts are proposed to be part of a next-generation fully battery electric lineup of Lexus models.
The collective vision for these vehicles, and the evolution to electric powertrains, was unveiled during the December presentation. Lexus Electrified models feature low ride height and proportions that draw them close to current Lexus vehicles, only bolder.
Their origins are clear, with design that easily reminds Lexus brand enthusiasts of some of the most popular and well-loved models the company has ever produced.
The Lexus BEV Sport was inspired by the Lexus LFA sports car. Lexus proposes that a future BEV Sport-like model could move from zero to 60 mph in the "low two-second range" and have a range exceeding 430 miles.
That range is courtesy of the use of solid-state batteries. A solid state battery contains solid electrodes and a solid electrolyte. Typically, lithium-ion vehicle batteries feature liquid or polymer electrolytes.
In September 2021, Toyota Motor Corp., Lexus' parent company, announced that it would integrate solid state batteries into its hybrid lineup first, then expand them to battery electric vehicle (BEV) usage.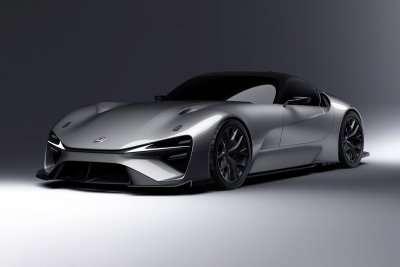 To date, the Lexus brand has introduced more than 30 vehicles in more than 90 countries and regions worldwide. Toyota Motor Corp. plans to roll out 30 battery electric vehicles by 2030, including the Lexus RZ.
The Lexus RZ is the brand's first all-electric car. It is the cousin of the Toyota BZ4X and Subaru Solterra, two models that go on sale in the next few months.
The automaker intends to roll the "Z" brand into new Lexus electric model names.