New Lincoln Project Ad Applauds Portland Moms, Says Trump's Filling Streets With 'Violent, Abusive, Lawless Forces'
A new ad released Sunday by the Lincoln Project applauds the Portland Wall of Moms organization and says President Donald Trump is flooding the streets with "violent, abusive, lawless forces."
The video, titled "Moms" begins with a narrator criticizing Trump, saying, "just when it seems his divisive language and cruelty have hit bottom, the worst president in history sinks to a new low."
The video goes on to show the ongoing anti-racism protests in Portland, Oregon, that have been filled with a group that refers to themselves as the Wall of Moms. Throughout the protests, the Wall of Moms organization has been protecting protesters from police forces by linking arms and acting as a wall.
The organization, according to their website, is a "PDX-based network of womxn and non-binary mother-identifying folx dedicated to supporting the current civil rights movement to end police brutality by defending and supporting BLM protesters on the front line and online."
As the video continues, the narrator discusses the Wall of Moms and how they have been battling against police officers during the protests.
"They're working moms, soccer moms, stay-at-home moms, Black, white, Latina, and Asian, straight, gay," the narrator says as videos of the moms are shown. "Moms who will fight for a country where their kids won't have their fundamental freedoms trampled by faceless paramilitary thugs, just for speaking out against a country where random arrests and beatings are the rule of the day."
After the video applauds the Wall of Moms and shows several photos and videos of them fighting off police officers throughout the ongoing protests, the narrator begins to talk more about Trump and his recent actions in response to the protests.
"Donald Trump is flooding the streets of Portland and other American cities with his violent, abusive, lawless forces but moms in every city will be waiting, protecting the rights of those protesting this administration," the narrator says.
"Donald Trump was so scared of protesters outside of the White House, he hid in a bunker, waiting till he sees what American moms do on November 3," the narrator says as the video ends, referencing the upcoming presidential election.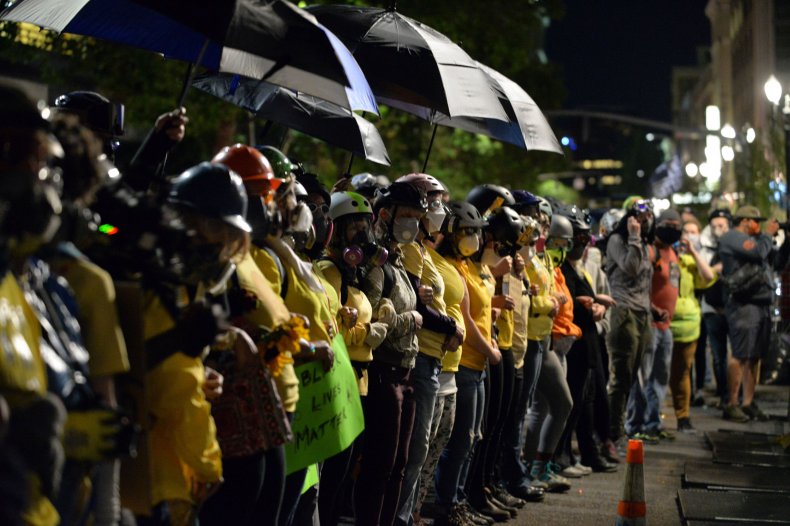 In a statement sent to Newsweek via email, Erin Perrine, director of press communications for Trump's campaign, wrote "this is the swamp – yet again – trying to take down the duly elected President of the United States. President Trump is the leader of a united Republican Party where he has earned 94% of Republican votes during the primaries – something any former president of any party could only dream of."
Newsweek reached out to the Wall of Moms organization for comment but did not receive a response in time for publication.