New Lincoln Project Ad Compares Lindsey Graham to Parasites With Gruesome Images
A newly released ad by the Lincoln Project compares South Carolina Senator Lindsey Graham to parasites for his relationship with President Donald Trump, using gruesome images.
"South Carolinians have voted for Lindsey before, but this is the first time they truly know who he is," the Lincoln Project wrote in a caption to the video, before providing a disclaimer stating that the video contains imagery not suitable for all viewers.
As the video begins, images of parasites are shown as the narrator says, "Some animals can't survive unless they take. They don't establish natural equilibriums. Some animals are parasitic."
The narrator continues, "They're often right under our noses, camouflaged, convincing their hosts they're not harmful at all," while more images and videos of parasites are shown.
The video then goes on to show several old clips of Graham criticizing Trump, where he says, "Every time I turn around, I'm being asked about Donald Trump. He's crazy."
"He's a race-baiting, xenophobic, religious pig," the video shows Graham saying in 2015. "He's unfit for office."
The narrator continues to talk about parasites, saying, "When their host is taken from them, they seek a new one," just before another clip of Graham is shown. But this time he is showing his support for Trump.
The video then shows several other clips of Graham, where he says, "I am all in. Keep it up, Donald." He adds, "The best commander in chief since Ronald Reagan."
Shortly after, the narrator says that "parasites don't care if they feed off a good host or an evil one," but is interrupted by two contrasting clips of Graham.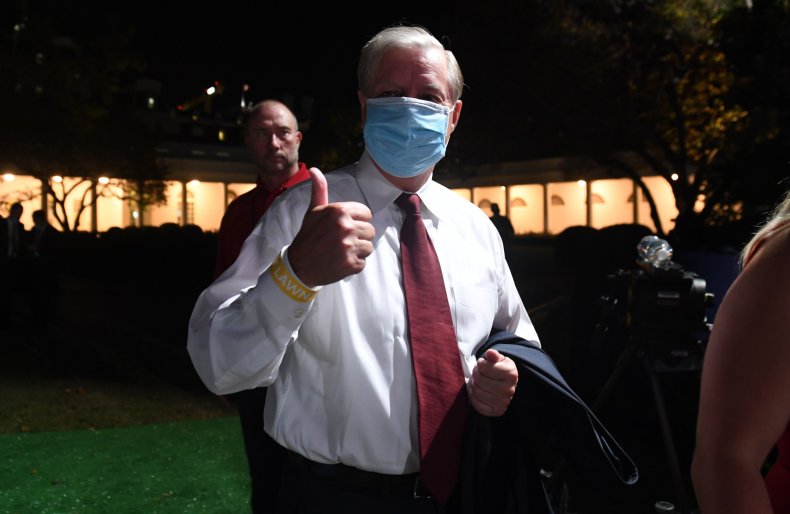 In one of the clips, from 2017, the senator applauds the late Senator John McCain, saying he loves him to death. But the second clip shows Graham praising Trump, saying, "We all have your back."
Trump has been a long-standing critic of McCain, and in 2015 he said the Arizona senator was "not a war hero, because he was captured. I like people who weren't captured."
The video's narrator goes on to talk about parasites while showing clips of Graham and Trump.
"There's only one way to stop a parasite. Deprive it of its host," the narrator says, just before a clip of Trump saying, "Oh, my Lindsey, my Lindsey. Thank you, Lindsey."
Graham is running for re-election and will face Democratic candidate Jaime Harrison on November 3.
Newsweek reached out to Graham's office for comment but did not receive a response in time for publication.