New Lincoln Project Video Shows Cartoon Trump Attacking Citizens With 'Noxious Gases,' Bowing to Vladimir Putin
A new attack ad released by the Lincoln Project shows a cartoon version of President Donald Trump attacking citizens with "noxious gasses" and bowing to Russian President Vladimir Putin.
"In 8 days, we'll make sure this story has a happy ending," the Lincoln Project wrote as the caption to its video, released on Twitter.
As the video begins, a narrator can be heard saying, "it sounds like a fairytale" as an animated storybook is opened, showing a castle.
"A man comes down from his tower and is crowned the most powerful man on earth. He gives to the rich and takes from the poor," the narrator says.
In the following scene, the animated cartoon of Trump is shown inside the castle bowing to a cartoon of Putin, who is seen sitting shirtless in a chair. "He makes friends with our enemies and enemies of our friends," the narrator says during this scene.
The video then transitions its focus to the novel coronavirus pandemic, as the narrator says "and then one day a disease came upon the land."
"'Fear, not,' he says, 'for it is a hoax and will not harm those who believe in me.' Thousands and thousands suffer and die. He lies and says all will disappear with a sip of his magic potion," the narrator says.
"When the people cry for help, he attacks them with noxious gasses and forces the children out of their homes and into the plague-filled air of a once-proud and healthy nation."
The "attacks them with noxious gasses" bit likely alludes to an incident in June when a group of people, protesting against police brutality, were hit with tear gas so Trump could pose for a picture with a bible outside of a church near the White House.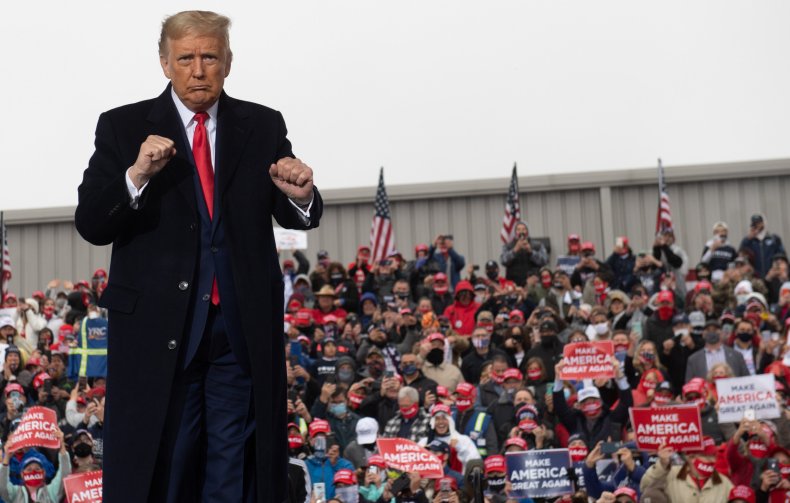 "We're living in a story as grim as any ever told, and the lesson? Vote," the narrator says. "And send the man back to his tower for good."
The Lincoln Project's newest video comes just eight days before election day, with Americans set to choose between Trump and Democratic candidate Joe Biden for their next president.
The Real Clear Politics average of several nationally conducted polls shows Biden ahead of Trump by 7.9 points.
Newsweek reached out to Trump's campaign for comment but did not receive a response in time for publication.