New MacBook Air M2 Review: Pro Versus Air Is Less of a Debate Now
For most people who want a Mac, this is the one to buy, even if they may have bought a MacBook Pro in the past. There's a new M2 processor inside for increased performance, a slightly larger display for more screen space and a better front-facing camera. Plus the computer got a new exterior design and a MacSafe magnetic charging port.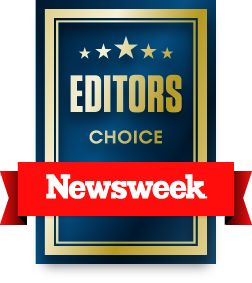 As someone who uses their laptop for professional purposes but doesn't ever push it like a music producer or video editor would, I have long been stuck in a middle, gray zone—do I get a MacBook Pro for power or a MacBook Air for portability? When Apple released the MacBook Air M1 in 2020, that choice became much easier. That machine had all the power I needed but with a lighter weight and without the fans and heat. It was topped off with incredible battery life.
My time with this new MacBook Air M2 has further proved to me that most people should probably be Air buyers. This computer has been a delight to use thanks to its evolved specs and minimal design. Some people do need a MacBook Pro and you might be one of them. But that number of people should be shrinking as the MacBook Air pushes forward.
TL;DR
Pros:
The machine's new, thin and light design is nice for portability
13.6-inch screen with rounded corners has a modern look
MagSafe is handy if you want it, but it doesn't distract if you don't use it
Cons:
Starting price with base specs increased over last version
Buy at Best Buy.
The Look and Feel of MacBook Air M2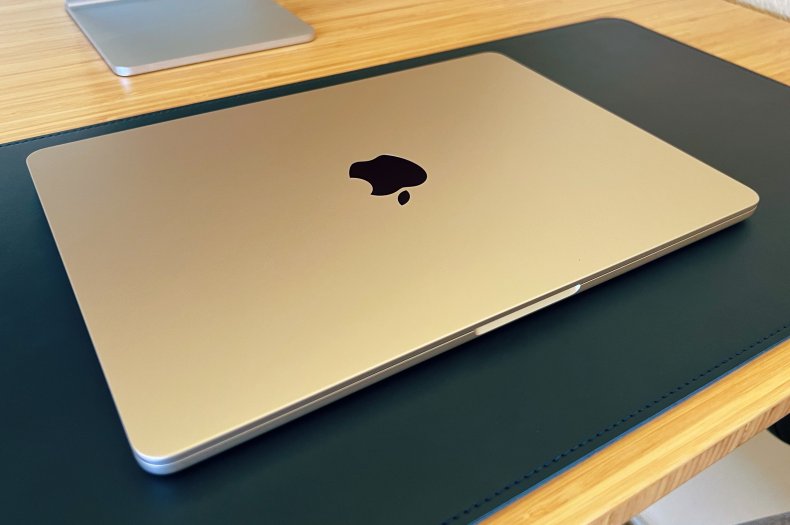 Everything about the new MacBook Air is better, but in subtle and minor ways. Instead of reinventing the wheel, Apple chose to chisel away excess and refine an already well-received product. If you showed someone familiar with Apple's hardware this new MacBook Air M2 a year ago, they would have had little problem identifying it as a successor to the M1. It bears a family resemblance. Still, despite its familiarity, the M2 feels very fresh and new
I tested a base-level MacBook Air M2 in Starlight. It had an eight-core CPU, eight-core GPU, 8GB of unified memory and 256GB of storage. This model retails for $1,199 but can be configured with higher specs for a price. This entry-specced machine performed well for me in general. I might suggest adding additional RAM to provide more headroom long into the future to run plenty of programs in parallel, without waiting.
Out of the box, the laptop felt slightly lighter to me compared with the MacBook Air M1 I had been using for the last 18 months. The difference in weight is not dramatic, but every ounce matters when I'm traveling.
I did appreciate the tweaked shape of the computer. Instead of a wedge design, the new MacBook Air M2 is flat from front to back and side to side. It's even thinner than the previous one. The new design felt nicer to grab and move around the house.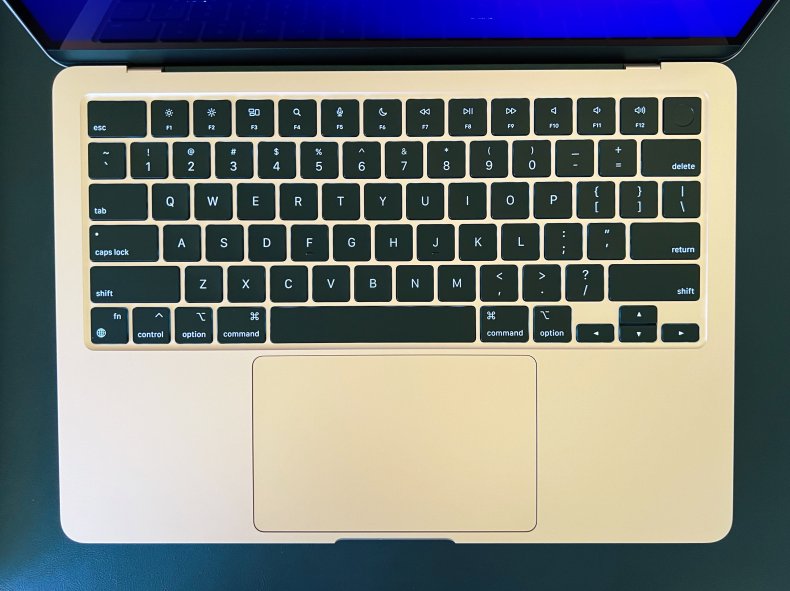 If you don't have a MacBook Air M1 sitting next to a new one, you might not notice that the M2's keyboard is different. The top row of function keys are full height now. The Touch ID key on the right side is more seamlessly integrated than the previous version. Again, these are subtle changes, but I found the keyboard to be better functionally.
The Best New Features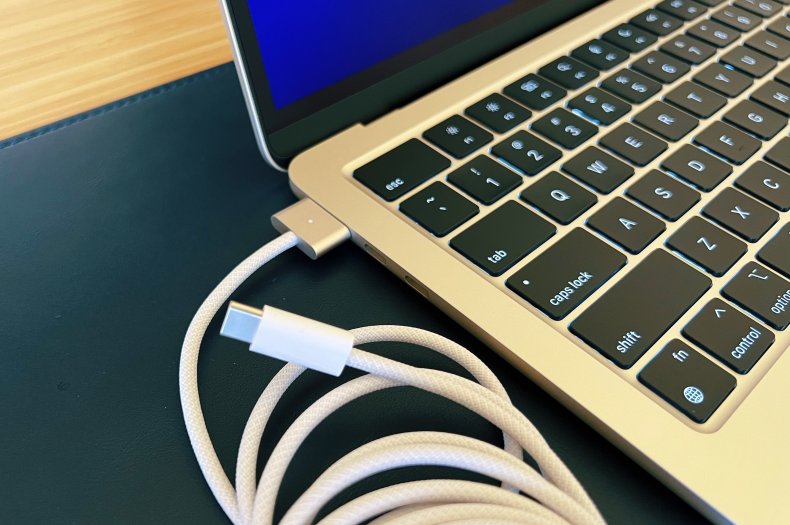 The performance of the new MacBook Air M2 is faster than with the M1. Lots of people and publications have run benchmark tests, if you're interested in the raw numbers. Those can provide good confirmation of what the hardware is capable of. Personally, I'm more interested in the subjective tests.
I ran a Chrome browser with a half-dozen tabs open and wrote in Google Docs during the week. I also kept Spotify or Apple Music playing most of the day. Slack is another app I had constantly running. I kept Pages open and used that for writing in the evenings. I also had an email app, notes app and a few miscellaneous menu bar items running while I used the computer.
Take this anecdote as you will, but my MacBook Air M1 had been noticeably sluggish the last two months. After transferring my settings and files over to it, this new MacBook Air M2 ran the same tasks, but without the same delays. Both computers had 8GB of memory and 256GB of storage. I don't suggest the entry level M2 model, universally, for everyone, but having used it for my job, I feel confident that it could work for plenty of people.
Among the nice, but subtle, new features is fast-charging when using a 67-watt-plus wall charger. Similarly, the return of MagSafe to the MacBook Air is neat, but I don't think the magnetic port has the gravitas it once did.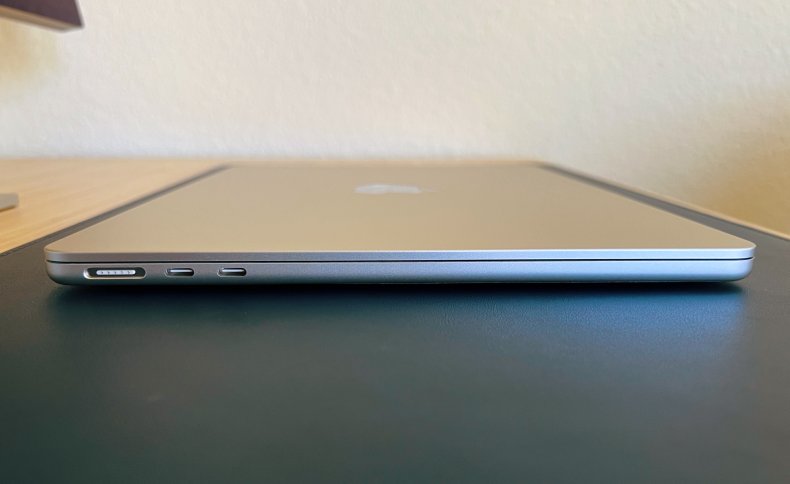 In recent years, I got used to carrying a single USB-C cable that could charge my laptop, iPad and whatever other USB-C devices I had with me. So going back to a proprietary charging cable felt bittersweet. MagSafe provides protection against a plugged in computer's being pulled off a table, but it requires using that specific cable to do so.
Of course, this new MacBook Air doesn't lose the ability to charge with USB-C. Since there are two USB-C ports plus MagSafe, the computer technically gains an additional port for peripherals if you do use the MagSafe capability to charge it.
The 13.6-inch display provides a bit more real estate—an extra menu bar's worth at the top. Overall I found the additional space to be negligible, in the best possible way. It takes advantage of the room available without making the overall device bigger. The noticeable aspect of the display is that each top side now curves to match the rounded corners of the laptop lid. That, along with thinner bezels, make for a modern-looking screen. I found it to be very pleasant to look at, partially thanks to its being 25-percent brighter than the previous model and having better color reproduction.
There's a notch for the front-facing camera. It hides in the center of the menu bar area. It disappeared to my eyes after the first hour I used it. The camera itself is improved, but only slightly. I looked a little less washed out compared with the camera on the MacBook Air M1. So, yes, the camera is better, but it was a low bar to clear.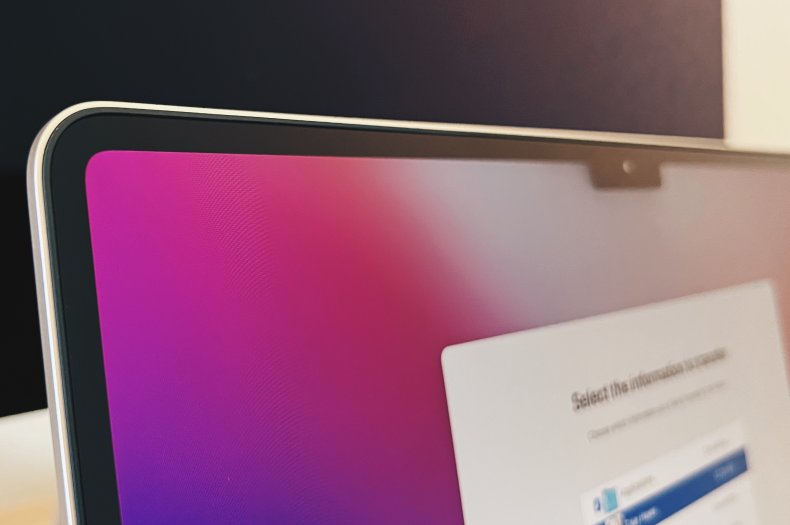 More Observations
With a redesigned computer around its own processor, Apple had the opportunity to add a much requested feature: cellular connectivity. It has been in iPads since 2010, and Apple's tablet and laptop even use the same silicone chips now.
Starlight is a delightful color. It's more interesting than silver but less intimidating than gold. Still, I want some actual colors like the ones the company put on its iMacs.
The speakers are louder and sound great for a thin laptop. There are no visible speaker holes next to the keyboard, if that matters to you.
The M2's starting price of nearly $1,200, an increase over the M1, is unfortunate. For people considering their first Mac laptop, the Air M1 that's still being sold for $200 less is worth considering, if the extra savings are meaningful to your budget.
Should You Buy the MacBook Air M2?
There's no single feature that makes the new MacBook Air M2 stand out. Rather, it's a success because of all the fine-tuning it went through to get to this point. It's a pinnacle of portable computing—at least until the next revision is released.
This is the Apple laptop to buy, unless you know you need raw, sustained performance because editing video or compiling apps is part of your job. Professional recording engineers and graphic designers should continue to shop the Pro line, but most other people can now join the Air heads. If you're unsure about whether you need a MacBook Pro, I would suggest getting this Air.
Having a laptop that never spins up a loud fan when another tab has been opened in the Chrome browser has been glorious. I've loved carrying an impossibly thin laptop while out of the house, but its weight and size have also been nice simply for moving it from room to room. While the debut of the MacBook Air M1 was a solid time to join the Air line of laptops, this new MacBook Air M2 feels like a defining marker for even more people to admit they don't need a MacBook Pro, because this one will do everything they need, and more.
Buy at Best Buy from $1,199.
Newsweek may earn a commission from links on this page, but we only recommend products we back. We participate in various affiliate marketing programs, which means we may get paid commissions on editorially chosen products purchased through our links to retailer sites.