New Mayor of Occupied Ukraine City Demands Russian TV for 'True Information'
The Russian occupied city of Melitpol has a new mayor who says more Russian TV channels must be broadcast through the Ukraine oblast for "more reliable information" about the Russia-Ukraine war that is closing on 20 days now.
Halyna Danylchenko was installed as the "acting mayor" of Melitopol after former Mayor Ivan Fyodorov was abducted by Russian forces. In a video address, she urged locals to reconfigure their TV sets or digital devices to get more Russian channels.
"Today we have an acute shortage of reliable information," Danylchenko said. "Therefore, from today on the territory of Melitopol and Melitopol district digital broadcasting of Russian TV channels begins. Reconfigure your TVs and get true information."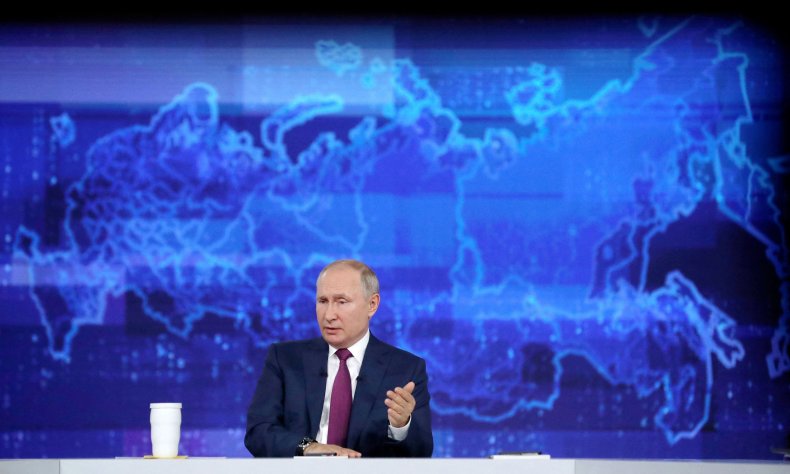 Russian media, including TV, radio, newspaper, and digital, is controlled mostly by the Kremlin. Danylchenko was previously a council deputy for the pro-Russian political party called Opposition Bloc during the 2014 Russia-Ukraine conflict when Russia took over the Crimean peninsula.
Danylchenko has been known for her pro-Russian sympathies, even prior to Fyodorov's abduction and continued unknown whereabouts. Ukraine President Volodymr Zelensky has indicated that Fyodorov has been tortured while in capture.
Meanwhile, Danylchenko has stated that people in her region should refrain from taking "extremist actions" against occupying Russian forces.
"Despite all our efforts, there are still people in the city who are trying to destabilize the situation, who are calling on you to take extremist actions," Danylchenko said in her address. "I ask you to be prudent [and] not to succumb to these provocations."
Melitopol is a city in southeastern Ukraine situated near the Sea of Azov. It's of particular importance to Russia because of its location close to the seaports, but also nearly the halfway point between Mariupol to the east and Odesa to the west.
The Russia-Ukraine war is entering its third full week of fighting, and the world has clearly taken sides—mostly with Ukraine to this point.
Russia surrounded Ukraine with more than 150,000 troops prior to the invasion in late February. Russia began with small attacks that were thwarted by Ukrainian fighters. It has since escalated to Russian missile attacks on hospitals, schools, and civilian residential places.
More than 1.5 million Ukrainian residents have fled to other countries like Poland and Moldova, and volunteer fighters from around the world have signed up to fight alongside Ukrainians.
Most countries, including the U.S., have placed severe economic sanctions on Russia, which includes banning all Russian oil imports.