Primaries 2018: New Mexico Could Pick First Democrat Who Backs Abolishing ICE
On Tuesday, New Mexico voters could guarantee that at least one candidate who supports abolishing U.S. Immigration and Customs Enforcement is on the ballot in November.
ICE abolitionist candidates Antoinette Sedillo Lopez and Deb Haaland are both running in the state's first congressional district, where a crowded field of six Democratic candidates are vying for the seat Michelle Lujan Grisham left behind to run for governor. It's looking likely that either Haaland, the former chair of New Mexico's Democratic Party, or Sedillo Lopez, the executive of an anti-domestic violence nonprofit, will clinch the party's nomination. The two have raised the most money of their competitors, and Sedillo Lopez has compensated for her lack of establishment clout with the help of a more than $400,000 ad campaign from Latino Victory Fund, a progressive PAC that backs Latino candidates.
As of last month, polling showed voters pretty evenly split among Haaland, Sedillo Lopez and former U.S. attorney Damon Martinez, with each candidate pulling in 20, 25 and 23 percent of the vote respectively, with Sedillo Lopez as the frontrunner. An additional chunk of 27 percent of voters were undecided, which means any of those voters could easily swing over to Haaland or Sedillo Lopez and deliver them a victory on Tuesday.
A win for either of them would be momentous for the movement to abolish ICE, a cause a growing number of 2018 candidates have gotten behind. Given the makeup of the state's first district—a solidly Democratic one—if Haaland or Sedillo Lopez win the party's primary it will be a virtual guarantee that soon a sitting member of Congress will support the defunding and dismantling of the agency.
For both women, being vocal about their position on ICE is absolutely vital to conversations surrounding the Trump administration's immigration policy, and how the Democratic Party will need to address it should it regain power of at least one chamber of Congress.
"It is time to pull our tax dollars from an agency whose policies demean and abuse people," Haaland told Newsweek in a statement. "The role of Immigration and Customs enforcement should never include killing people, ripping children from their parents' arms, or sexual assault. Until we can stop this violence and dehumanization, we must stop ICE."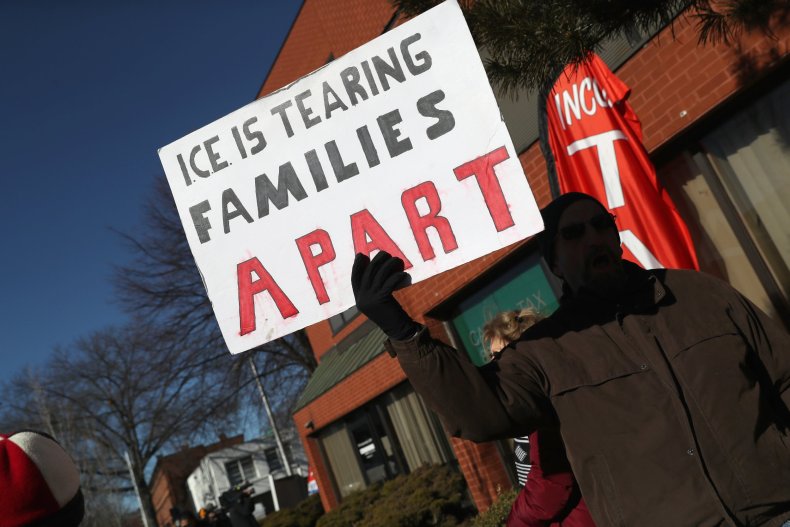 Recently, per the guidance of Attorney General Jeff Sessions, ICE has escalated its attacks on immigrant families, separating parents and children at the southern border. Haaland says this issue is personal for her: As a Native American woman, she's familiar with state-sponsored violence, having descended from grandparents who were "torn from their families" by the U.S. government.
"The story of brutal family separation—of ripping children from their parents' arms—is as old as America," Haaland said. "But we've had enough. We can rise above our past. Every human life has value and we cannot allow one rogue agency—under the direction of an immoral president—to terrorize people across America."
Sedillo Lopez has also experienced the effects of ICE's crackdown on immigration firsthand, as the director of Enlace Comunitario, her domestic violence nonprofit. Sedillo Lopez said that she saw a 70 percent drop in undocumented survivors reporting abuse because they feared detention and deportation.
"It's not merely a call for a change in policy, but is a call to stand up for human and women's rights," Sedillo Lopez said in March, when she first called for dismantling ICE. "A call premised on the fundamental pillar that all human beings deserve to live in dignity and security, and confronts the reality that this agency stands contrary to this principle."
Sean McElwee, a co-founder at progressive research firm Data for Progress who has been closely following candidates calling to abolish ICE, said he felt especially encouraged by Sedillo Lopez's endorsement to eliminate the agency, arguing that her background as a law professor lends the cause some legitimacy in the eyes of skeptics.
"This is coming from someone who has spent a lot of time thinking about the law and understanding the law really well," McElwee told Newsweek in April. "Every time we have a candidate like this step out and call for defunding ICE, it's one more piece of evidence that this movement has momentum and that it's a serious thing."
McElwee had been similarly heartened by news the same month that Randy Bryce, House Speaker Paul Ryan's challenger in Wisconsin, had voiced his support for abolishing ICE. At the time, Bryce rounded out a slate of more than a dozen candidates who felt the same way. Sedillo Lopez or Haaland's success Tuesday night would drive home what many of these candidates have long insisted: Calling to abolish ICE is no longer a radical position.
"The idea of 'abolish ICE' has been criticized from the center as an idea that's only gaining traction among fringe candidates," McElwee said. "Serious, [Democratic Congressional Campaign Committee]-endorsed candidates believe this issue should be taken seriously and be discussed and debated in their races."