New Mexico County Officials Face Lawsuit for Requiring Employees to Get COVID Vaccine
Officials in Doña Ana County, New Mexico, are being sued for mandating that county employees, including detention center officers and sheriff's deputies, receive a coronavirus vaccine to retain their jobs.
Isaac Legareta, an officer at the Doña Ana County Detention Center, filed a lawsuit against County Manager Fernando Macias and officials at the detention center for threatening to fire him over choosing not to be vaccinated, the Las Cruces Sun-News reported Tuesday.
The lawsuit came after Macias issued a memo in January mandating that all county-employed first responders, sheriff's deputies, firefighters and detention center officers receive the shot.
In the memo, Macias ordered that unless employees are granted a health accommodation, "being vaccinated is a requirement and a condition of on-going employment with the County due to the significant health and safety risks posed by contracting or spreading COVID-19."
Legareta, who refused the mandate, states in the lawsuit that he has been written up at work and threatened with losing his job if he does not take the vaccine, the Albuquerque Journal reported.
Legareta also included a notice from February 17 ordering him to submit proof that he has received a shot or registered on the state's COVID-19 vaccine registry within five days.
The lawsuit alleges that the county's vaccine mandate is in violation of the federal Food, Drug and Cosmetic Act, which gives individuals "the option to accept or refuse administration" of a federally administered product that has not yet been fully approved.
While coronavirus vaccines developed by Pfizer/BioNTech and Moderna were both approved for federal emergency use in December, they are still undergoing clinical trials.
Legareta is now seeking a temporary restraining order and preliminary injunction from threats of losing his job as a consequence for refusing the vaccine. His lawyer, Nancy Ana Garner, had previously sent the county a cease-and-desist letter to end the vaccine mandate.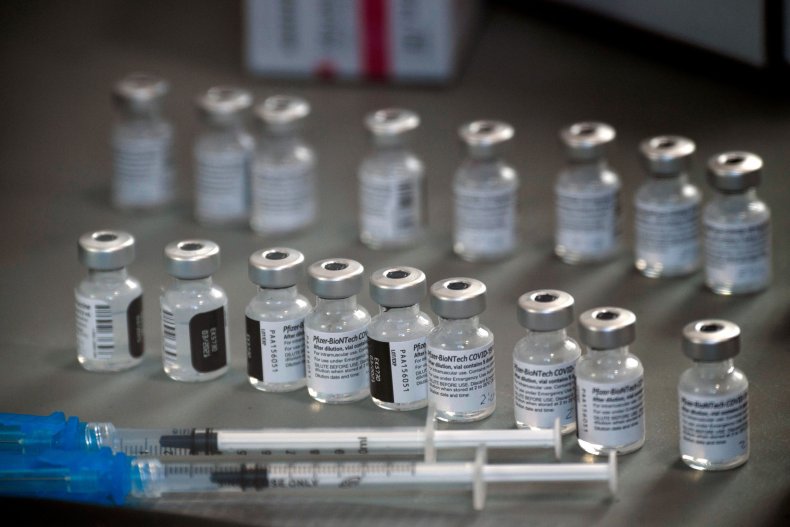 On Monday, the county acknowledged the complaint and restraining order, but had not yet begun a formal legal process, the Las Cruces Sun-News reported.
As of last week, 195 out of 203 Doña Ana County Detention Center staff has received at least one dose of the COVID-19 vaccine or a waiver, the publication reported.
Newsweek contacted Macias for additional information and comment, but did not hear back in time for publication.
COVID-19 vaccines are not currently mandated at a federal level, and President Joe Biden has said that he does not believe in requiring individuals to receive the shot, the BBC reported.
In January, Dr. Anthony Fauci, the nation's leading infectious disease expert, told Newsweek that while a federal vaccine mandate would likely not happen in the U.S., individual situations where vaccines are required for work will probably occur.
"I'm not sure it's [the COVID-19 vaccine] going to be mandatory from a central government standpoint, like federal government mandates. But there are going to be individual institutions that I'm sure are going to mandate it," he said.
"I would not be surprised, as we get into the full scope of [COVID-19] vaccination, that some companies, some hospitals, some organizations might require [COVID-19] vaccination," he added.
On Tuesday, the U.S. hit a milestone with roughly 10 percent of the adult population now fully vaccinated against the disease.