New Mexico Restaurant Vandalized, 'White Power,' 'Trump 2020' Graffitied
A restaurant in New Mexico was targeted in a racist attack in what the police have classified at a hate crime.
The India Palace, in downtown Santa Fe, was defaced with racist graffiti which included the phrases "White power," "Trump 2020," and racial slurs written across the restaurant's walls and doors. The owners have estimated that $100,000 worth of damage was caused, with the kitchen now out of use, equipment destroyed, and computers stolen, according to the Santa Fe Reporter.
The Singh family has owned the India Palace restaurant since 2013 and had only recently reopened following a closure due to COVID-19 lockdowns.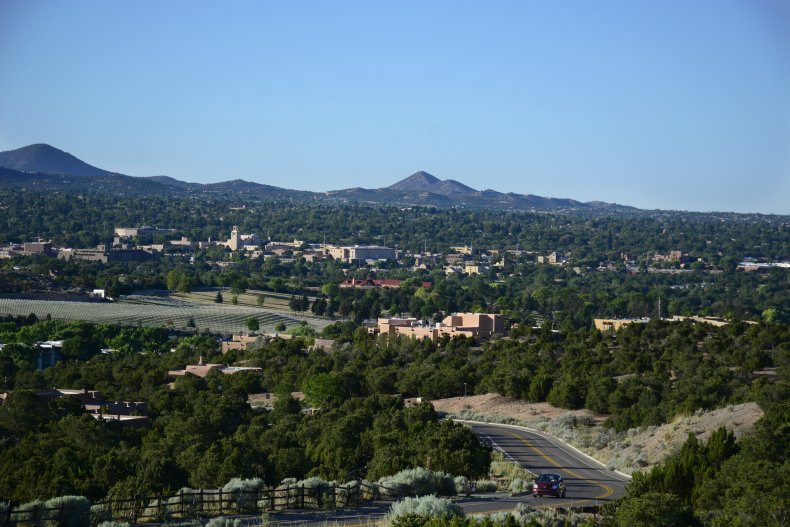 Cameron Brown, an assistant at the restaurant, told the Santa Fe Reporter that the owner, Bajit Singh, called him and said: "Someone broke into the restaurant."
Brown said: "I call his son to get down here and I get down here. I didn't think it was this bad until I came in."
The Santa Fe Police Department said that it is investigating the unlawful entry, criminal damage, and vandalism.
The Police Department said in a statement: "Detectives from the Criminal Investigations Division are working with patrol officers to identify and charge the individual(s) responsible. Sante Fe Police have also been in contact with the local FBI Office, who has offered their assistance in this case."
"This case has been classified as a hate crime and the Santa Fe Police Department is aggressively pursuing those responsible for this disgusting display [of] hatred and intolerance."
Michelle Lujan Grisham, the Governor of New Mexico said on Twitter: "I am absolutely heartbroken and disgusted by this racist attack. I spoke to Mr. Singh this morning and let him know that our community is with him. We will not stand for such hatred in New Mexico."
Ibrahim Hooper, National Communications Director of The Council on American-Islamic Relations (CAIR) said in a statement: "This disturbing hate attack once again demonstrates that growing white supremacy, xenophobia, Islamophobia, and racism target every minority community and must be challenged by people of all races, faiths, and backgrounds.
"We call on President Trump, whose name was used by the hate vandals, to stop promoting bigotry and division and instead seek to bring our nation together at this time of crisis."
Multiple crowdfunding pages have been created to assist the Singh family but as of Monday evening, they had not affiliated with any of the campaigns. Brown told the Santa Fe Reporter: "We're just going to try our best to fix it."