New Mexico Teens Missing Nearly Two Weeks After Snapchat Video Shows Brutal Beatings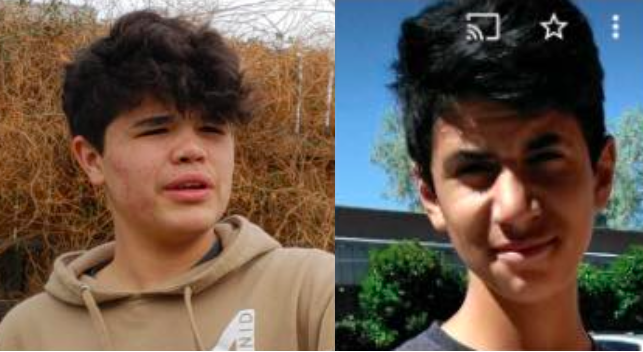 Two teenagers in New Mexico missing for nearly two weeks were last seen on a Snapchat video in which they were severely beaten.
Collin Romero, 15, and Ahmed Lateef, 14, went last seen on December 16, when they were allegedly attacked in West Mesa, New Mexico. The two boys may have been involved in a drug deal gone wrong in northeast Albuquerque, authorities said.
The teens' families continued to search for them during Christmas Day. "It's just not right to celebrate Christmas with them out here," Romero's mother, Amanda Kimbrel, told KOB4. "Christmas doesn't matter to me right now, it's not on my priority list."
Police said the two teens were last seen in a Snapchat video in which they were bloodied and beaten. Kimbrel told KOB4 that she had not seen the video but had heard about it.
"They were being beaten very, very brutally, pistol-whipped," she told the news station. "Snapchat has this information and they are refusing to hand it over."
Kelen Kimbrell, Romero's grandmother, told KRQE that they had received distressing tips about the missing teens. "We've been told there's a photo of the boys in the back seat of the car, with a man in the middle holding them as if they are trophies," she said.
Authorities said on Christmas Eve that social media had hindered the investigation into the teens's whereabouts. Albuquerque Police Officer Simon Drobik told KRQE that much of the information investigators had received about the case had been posted online instead of being submitted through normal channels.
"It's very dangerous for the investigation if people are putting innuendos out there, and rumors and speculation," Drobik said. "We need facts, and facts are what gets cases solved."
Kimbrel said on Tuesday that she wanted the "younger community to take this seriously. We're concerned with their whereabouts, not who did this or why." She said she was not giving up hope that her son and the other boy were still alive.
The families of the boys were searching the Mesa area after Lateef's Snapchat location last pinged there.
Police were offering a $1,000 reward to anyone with information on the missing boys, KOB4 reported. Albuquerque Police Department has urged anyone with information on the case to call Crime Stoppers at 505-843-7867.