New Migrant Caravan? 15,000 Hondurans Are Expected to Arrive in Mexico in Coming Days, Reports Say
A new group of migrants has reportedly departed from Honduras, and they're likely to be joined by Salvadorans and Guatemalans as they head toward southern Mexico, according to local reports.
Unlike the current asylum seekers stranded in the border city of Tijuana hoping to enter the U.S., at least 15,000 migrants are expected to stay in the southern state of Chiapas to seek employment, Irma Garrido of the Tijuana-based Reactiva Foundation told Mexican newspaper El Sol de Tijuana.
"A new caravan of 15,000 Hondurans are leaving their country, while people from El Salvador and Guatemala are very likely to join them, but their dynamic is to arrive in Chiapas and ask for employment, as part of President Andrés López Obrador's initiative to build the Mayan Train and begin reforestation in the area, so that the new migrants won't saturate Tijuana," Garrido said.
Prior to assuming office in December, López Obrador, who is often known by the acronym AMLO, pledged to offer employment visas to Central Americans who wish to live in Mexico. This move is part of a joint initiative between Mexico City and Washington to curb U.S. bound immigration. "Ideally, nobody should emigrate from their countries, but if they must leave they can have job opportunities in Mexico," López Obrador said in October.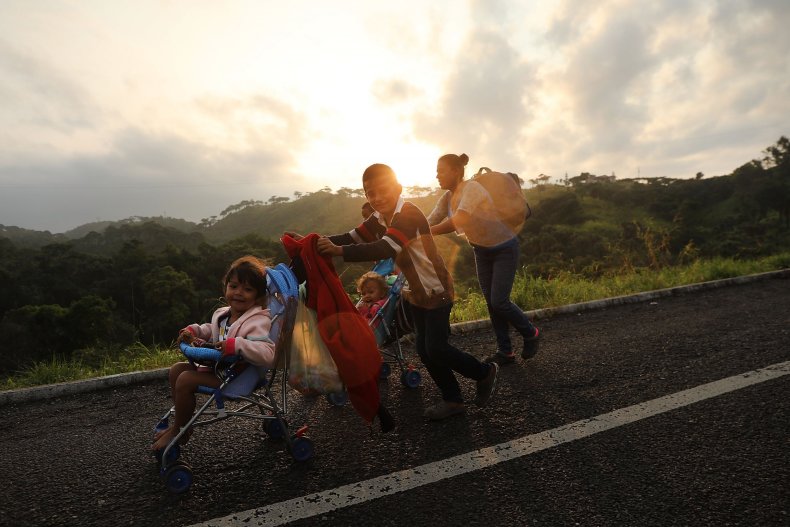 Last week, the Trump administration promised to earmark $5.8 billion in aid and investment for Central America and an additional $4.8 billion in development for southern Mexico.
However, some of the measures have sparked some skepticism. Adam Isacson, director of defense oversight at the Washington Office on Latin America (WOLA), told Newsweek, "Central Americans should be skeptical because a bunch of credits and guarantees for private investment will do almost nothing to address the reasons why migrants are fleeing." He added, "If they're fleeing poverty, they need assistance to make small farming viable, or decent formal-sector jobs. OPIC [Overseas Private Investment Corporation] credits might help with the latter, but those would probably be $10 per day, nonunion, no-benefits jobs in the export sector."
Additionally, López Obrador is proposing the creation of the Maya Train, an $8 billion project that seeks to connect several archeological sites in five southern Mexican states in four years and boost economic development in the area. The Mexican president vowed in October that the Maya Train and the reforestation of nearly 2,471,053 acres of land in the states of Chiapas and Tabasco would generate employment for locals and Central Americans alike.
While businesspeople and tourism entrepreneurs have expressed interest in the initiative, it has drawn scrutiny as well.
"Where is he going to get the resources? Is he going to raise taxes? He said he won't raise taxes. The salary cuts that AMLO has been talking about to fund these projects won't be enough," Bendreff Dessilus, a Mexico-based La Salle University researcher, told BBC Mundo in November.
Meanwhile, the migrant caravan that left the Northern Triangle in the fall still remains in Tijuana, and their hopes to cross into the U.S. continue to dim. Last week, Homeland Security Secretary Kirstjen Nielsen said asylum seekers will still have to wait in Mexico as their cases are processed in the U.S.